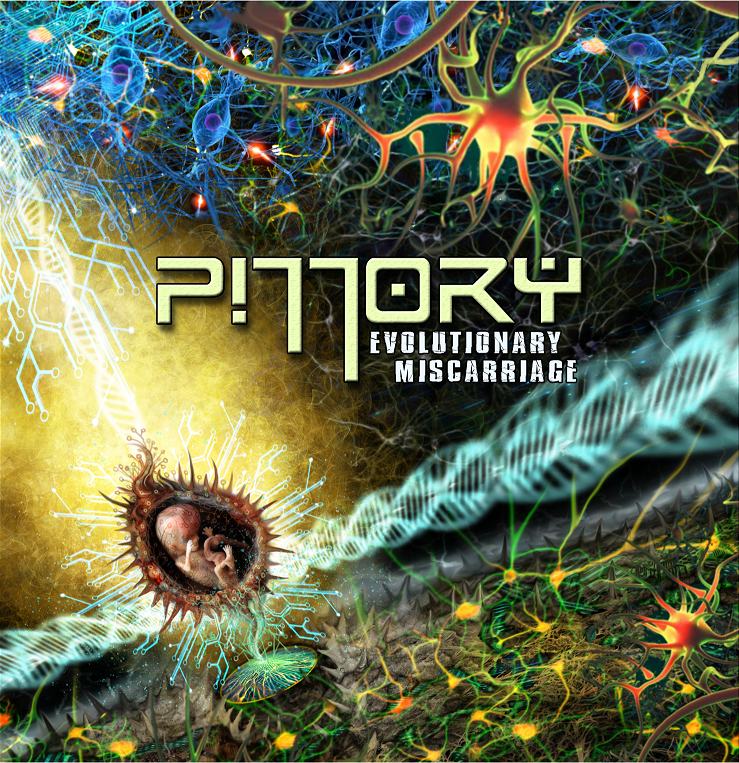 Boston technical death metal strategists, PILLORY, will release their sophomore full-length, Evolutionary Miscarriage, later this Spring via Unique Leader Records.
The follow-up to the pile driving, No Life Guard At The Gene Pool, released in 2005, Evolutionary Miscarriage finds PILLORY expanding upon their signature intricacies. Written, recorded and produced by founding drummer Darren Cesca (Arsis, Burn in Silence, Goratory et al) at his newly-launched House Of Grind Studios in Connecticut during 2013, Evolutionary Miscarriage is centered thematically around the de-evolution of mankind. A physically and mentally demanding listen, Evolutionary Miscarriage brandishes deranged rhythms, maniacal riff torrents, subtle white noise nuances and multi-layered vocals all executed together with near surgical meticulousness, the record's sharp production allowing each lacerating note to shine while retaining the blunt brutality of its predecessor.
Comments the band in a collective statement: "Evolutionary Miscarriage encompasses in totality what the PILLORY sound is by using different textures and an unbiased perspective to take listeners on a journey. It's impossible to catch everything on the first listen as the complexity will become more familiar with each new visit. PILLORY's sound will suck you in and not let go as it travels through your veins and contaminates your mind."
Get contaminated by an Evolutionary Miscarriage album teaser as well as a three-track album play-through video from Cesca that will likely make you want to practice more below.
Evolutionary Miscarriage Track Listing:
1. And The Defeated Emerge
2. Mass Enmity
3. Evolutionary Miscarriage
4. Imbeciles in Defiance
5. Phantasmagorical Beasts
6. Purify the Commonwealth
7. The Mental Defective
8. Nihilarian
9. Distorted Axiom
10. Lixiviated
11. Bipedal Prosecution
Evolutionary Miscarriage will be released via Unique Leader Records on June 10th, 2014.
http://www.uniqueleader.com
http://www.facebook.com/UniqueLeaderRecords
http://www.twitter.com/UniqueLeaderRec
http://www.youtube.com/uniqueleaderrecords