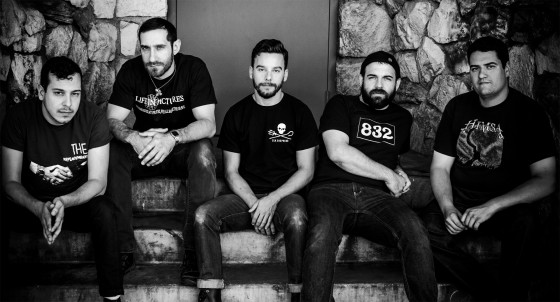 Arizona punk/hardcore unit, RUN WITH THE HUNTED, are pleased to untether the first official taste of their upcoming full-length via the pit perpetrators at Lambgoat.
Titled "Silent Spring," the noise-strewn number opens The Sieve And The Sand, the band's fourth long player. Engineered and mixed by Alex Estrada (Touche Amore, Nails, Joyce Manor),and mastered by New Alliance East (Converge, Dropdead, Doomriders), The Sieve And The Sand finds RUN WITH THE HUNTED at the true apex of their creative ambitions both sonically and lyrically. Elaborates the band in a collective statement, "The Sieve and the Sand is by far the most ambitious, musical and personal record we've ever made. 'Silent Spring' offers a glimpse into what you can expect from our upcoming album. The song is about learning how to let go and that's exactly what we did."
Point your ear holes toward Lambgoat, and check out "Silent Spring" at THIS LOCATION.
A name derived from classic dystopian novel Fahrenheit 451 by Ray Bradbury, The Sieve And The Sand serves as the follow-up to the band's 2011 self-titled full-length, which Punknews fittingly commended for its "heavy, lurching mosh parts," and "often fast and occasionally angular tendencies that seem to span the last 20 years well, mixing elements cleanly for a pulsating, scratchy take." Exploring a wider range of the emotional spectrum than its predecessors, The Sieve And The Sand defies genre norms, boasting a maturity seldom realized in hardcore. RUN WITH THE HUNTED manages to weave in and out of multiple genres seamlessly while maintaining the constant sense of urgency and desperation for which they are known. The result is a seven-track ogre of a record that encompass a lifetime of pain, struggle and a desperate search for meaning and purpose in an otherwise careless world. Vocalist/lyricist Drew Wilkinson lays his soul bare in his most honest and vulnerable performance yet, exploring existential dilemmas and exorcising private personal demons in the process.
The Sieve And The Sand will be released via Panic Records on June 3rd, 2014.
http://panicrecords.net
http://www.facebook.com/PanicRecords
http://www.thesieveandthesand.com
http://www.runwiththehunted.storenvy.com/products
http://www.runwiththehunted.bandcamp.com/
http://www.facebook.com/runwiththehuntedaz