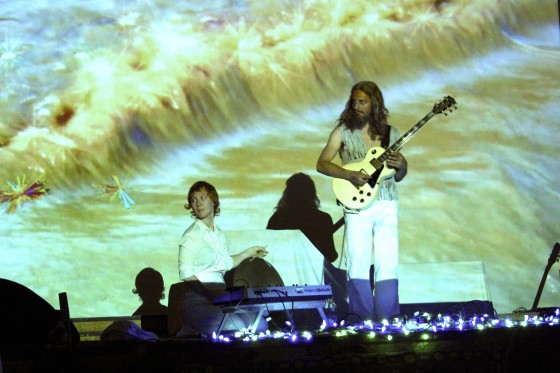 Baltimore-based duo, DARSOMBRA, has been confirmed to join Floor on their upcoming May tour. From May 3rd through the 11th, Floor will headline nine major cities on the East Coast and Midwest, with DARSOMBRA and Hot Victory providing opening support on all dates.
The news comes in while DARSOMBRA remains currently embarked on their most extensive tour to date, with nearly three weeks of their two-month-long voyage of the US remaining, as the band pulls into Denver to perform this evening. Stated the band, from their van, on the ongoing and upcoming tour experiences: "We are truly heartened and inspired by all the awesome bands we've played with so far on this tour! It's the wind in our sails–and we're really looking forward to our dates with Floor and Hot Victory, for the same reason! See you all soon!"
Following releases through At A Loss Recordings, Public Guilt, Underradar and others, DARSOMBRA signed with Exile On Mainstream for their Climax Community LP in mid-2012. The album traverses forty-five minutes of the outfit's slow-building, transcendental soundscapes, where searing guitar riffs, leads, loops, and samples, combine to form elements of metal, psychedelic rock, experimental/drone, prog and krautrock. Yet, Climax Community is also where the act transformed from a solo act to a duo and began incorporating immersive visual displays to their auditory experimentation, with mini-films created to accompany the music both on record and during live performances. DARSOMBRA is writing the follow-up LP to Climax Community as well as material for additional releases being slated for later in the year.
DARSOMBRA 2014 US Tour [remaining dates]:
4/08/2014 Lion's Lair – Denver, CO w/ Nightmare Boyzzz (Slovenly), Vegetable Children
4/09/2014 Knickerbockers – Lincoln, NE w/ Webb
4/10/2014 TBA – Kansas
4/11/2014 Record Bar – Kansas City, MO w/ Expo '70, Ancient River
4/12/2014 The Mill – Iowa City, IA w/ United Teachers of Music, Sweet Chariot
4/13/2014 Hexagon – Minneapolis, MN w/ Thunderbolt Pagoda, Comets Ov Cupid
4/15/2014 Wisco – Madison, WI w/ UuskiuU, Los Bastardos Guapos
4/16/2014 Quarters – Milwaukee, WI w/ Northless, Lost Spirit
4/17/2014 Empty Bottle – Chicago, IL w/ Bleeding Rainbow, Blizzard Babies, The Mraz Volta
4/18/2014 Melody Inn – Indianapolis, IN w/ Bible of the Devil, Leeches of Lore, Cocaine Wolves
4/19/2014 Ghost House – Bloomington, IN w/ Agakus, Charnel House, Two Bands From Canada
4/20/2014 Trumbullplex – Detroit, MI w/ Octopus, Collapse
4/21/2014 The Drinkery – Cincinnati, OH w/ New Strange
4/22/2014 Now That's Class – Cleveland, OH w/ Myra Gale, Dead Peasant Insurance, MDFL
4/23/2014 Brillobox – Pittsburgh, PA w/ Mrs. Paintbrush
4/24/2014 The Lair – Buffalo, NY w/ Ancients of Earth, Highest Leviathan, Amish Noise
4/25/2014 Monkey House – Winooski, VT w/ Astrocat, Blue Button
4/26/2014 Psychic Readings – Providence, RI w/ Queen Elephantine, Vomit Arsonist, Parasomniak Lustt, LVMMVX
5/02/2014 Windup Space – Baltimore, MD w/ Drone Theory, Drunk Victory
DARSOMBRA w/ Floor, Hot Victory:
5/03/2014 Tremont Music Hall – Charlotte, NC
5/04/2014 Rock & Roll Hotel – Washington, DC
5/05/2014 Saint Vitus Bar – Brooklyn, NY
5/06/2014 The Barbary – Philadelphia, PA
5/07/2014 Great Scott – Boston, MA
5/08/2014 The Tralf – Buffalo, NY
5/09/2014 Smiling Moose – Pittsburgh, PA
5/10/2014 Pyramid Scheme – Grand Rapids, MI
5/11/2014 Double Door – Chicago, IL
http://www.facebook.com/darsombra
http://darsombra.com
http://www.mainstreamrecords.de