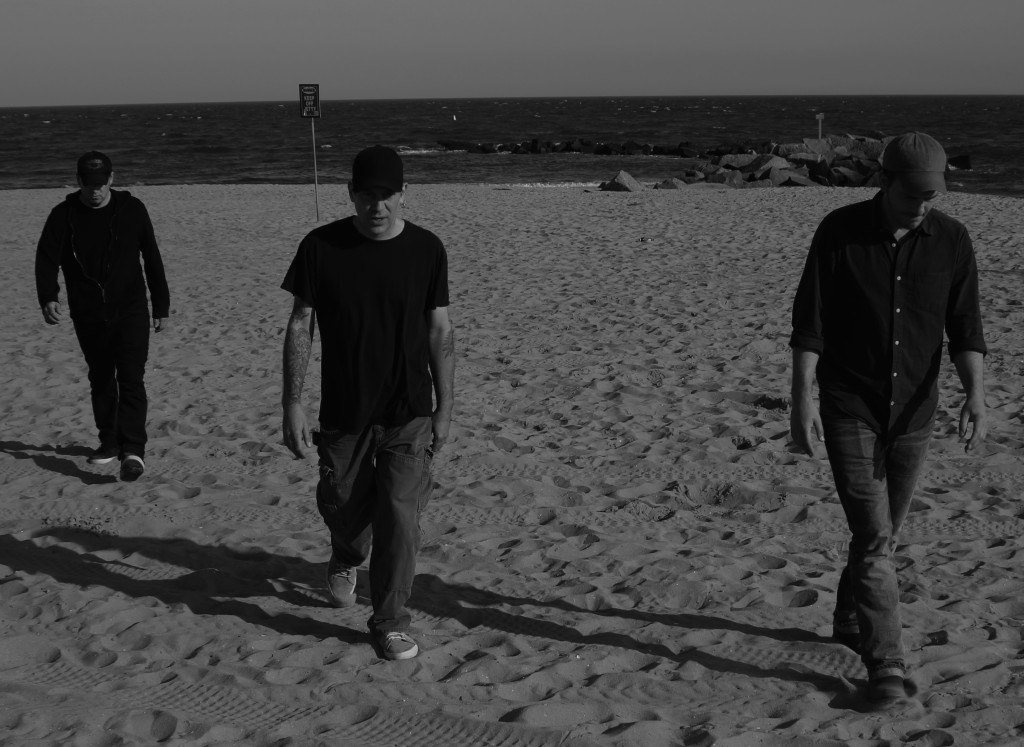 Brooklyn noise rock power-trio, PIGS has issued a new single from their impending Wronger sophomore LP through an exclusive premiere of "Amateur Hour In Dick City" via Decibel Magazine.
PIGS was founded by three raging New York City musicians known for their other musical creations with Unsane, Paradise Club, Julie Christmas, Throttlerod and many others in addition to their other countless contributions as engineers, producers, tour managers and more. Their noxious second album, Wronger was produced by the band and John Fulk at bassist Andrew Schneider's co-owned Translator Audio in Coney Island, after which it was mixed at Loho Studios by Schneider, mastered by Carl Saff and fitted with artwork by guitarist/vocalist Dave Curran and drummer Jim Paradise, the album delivering eleven torrid new anthems including guest vocal contributions from Made Out Of Babies and Battle Of Mice chanteuse Julie Christmas.
Decibel Magazine now slings the cynical destruction of PIGS' "Amateur Hour In Dick City" into the public domain, declaring alongside the melee, "Welcome to noise-rock heaven… This is good, good 90s-esque hammering, how do you not press play on a song called 'Amateur Hour in Dick City'?
You heard it; get ready for "Amateur Hour In Dick City" with PIGS and whip it out via Decibel RIGHT HERE.
Wronger's "The Life In Pink" was also previously leaked via Noisey THIS LOCATION.
PIGS will release Wronger through the outfit's trusted French allies Solar Flare Records on October 2nd, the label also to blame for the band's You Ruin Everything debut LP and Gaffe EP. Preorders are available in multiple formats and bundles — the Wronger CD, 12″ LP, and digital packages are available HERE, a CD bundle for Wronger and You Ruin Everything HERE, and a vinyl bundle for the Wronger 12″ and Gaffe 10″ HERE.
In support of Wronger, less than two weeks after the LP's release, PIGS will embark on a massive, month-long European tour with labelmates Sofy Major. The tour starts on October 15th and while there are shows in Germany, Holland, Belgium, Switzerland, the Czech Republic, Austria and Italy, more than half of the tour dates take place in cities all over France. Stand by for additional tour dates including stateside shows and more to be announced in the weeks ahead.
PIGS European Tour w/ Sofy Major:
10/15/2015 Power Lunches – Londres, FR
10/16/2015 Le Picolo – Paris, FR
10/17/2015 La Zone – Liège, FR
10/18/2015 Café Français – Vesoul, FR
10/21/2015 Sonic Ballroom – Cologne, DE
10/22/2015 La Péniche – Lille, FR
10/23/2015 Poppodium Baroe – Rotterdam, NL
10/24/2015 Magasin 4 – Bruxelles, BE
10/25/2015 L'Usine – Geneva, CH
10/26/2015 Exit Us – Prague, CZ
10/27/2015 Fluc – Vienna, AU
10/28/2015 Freakout Club – Bologna, IT
10/29/2015 Init – Rome, IT
10/30/2015 Raindogs House – Savona, IT
10/31/2015 Lo Fi – Milan, IT w/ Mutoid Man
11/03/2015 La Scène Michelet – Nantes, FR
11/04/2015 Black Sheep – Montpellier, FR
11/05/2015 Grrrd Zero – Lyon, FR
11/06/2015 La Girafe Ronde – Marvejols, FR
11/07/2015 Gare Mondiale – Bergerac, FR
11/09/2015 La Coopérative de Mai – Clermont-Ferrand, FR
11/10/2015 Iboat – Bordeaux, FR
11/11/2015 Pavillons Sauvages – Toulouse, FR
11/12/2015 Grand Café – Poitiers, FR
11/13/2015 Kalif – Rouen, FR
PIGS formed when Unsane bassist Dave Curran started writing songs on guitar with drummer Jim Paradise (Player's Club, Freshkills, Hellno). Producer Andrew Schneider of Translator Audio (Cave In, Converge, Made Out of Babies, Unsane, Keelhaul) was invited to fill-in on bass for a couple of shows and, much to their delight, has refused to leave. The sound? PIGS sounds like the last forty-five minutes of that interminable haul from Portland to San Francisco when both patience and air conditioning are long gone… like a petty, early-morning drunken argument in a gravel parking lot about the stupid, impossible math of how to divide forty-one dollars three ways… like when the left rear bearing on the van that's been squealing and then grinding for days finally gets hot enough to weld itself into the axle and the ancient Detroit Deathtrap grates to a final, shuddering halt. PIGS sounds like three guys who have played countless shows in many bands for a couple of decades in several dozen countries and still can't leave it alone; a scathing, groove-heavy, noise metal thunder with more hooks than a meat packing plant.
Following PIGS' criminally slept on You Ruin Everything debut LP in 2012, and subsequent Gaffe EP in 2013, the band's sophomore album Wronger was written and recorded sporadically over the last year or so, when each member wasn't focused on feeding their families, detailing race cars or doing sound for like-minded ogres Melvins, Big Business, and Murder City Devils. But the sound of Wronger boasts crazy rhythms that never slip into self-indulgence, and is backed by a groove and bark that are equal parts sinewy Touch & Go and the southern rock bastardizing of Surgery's first album.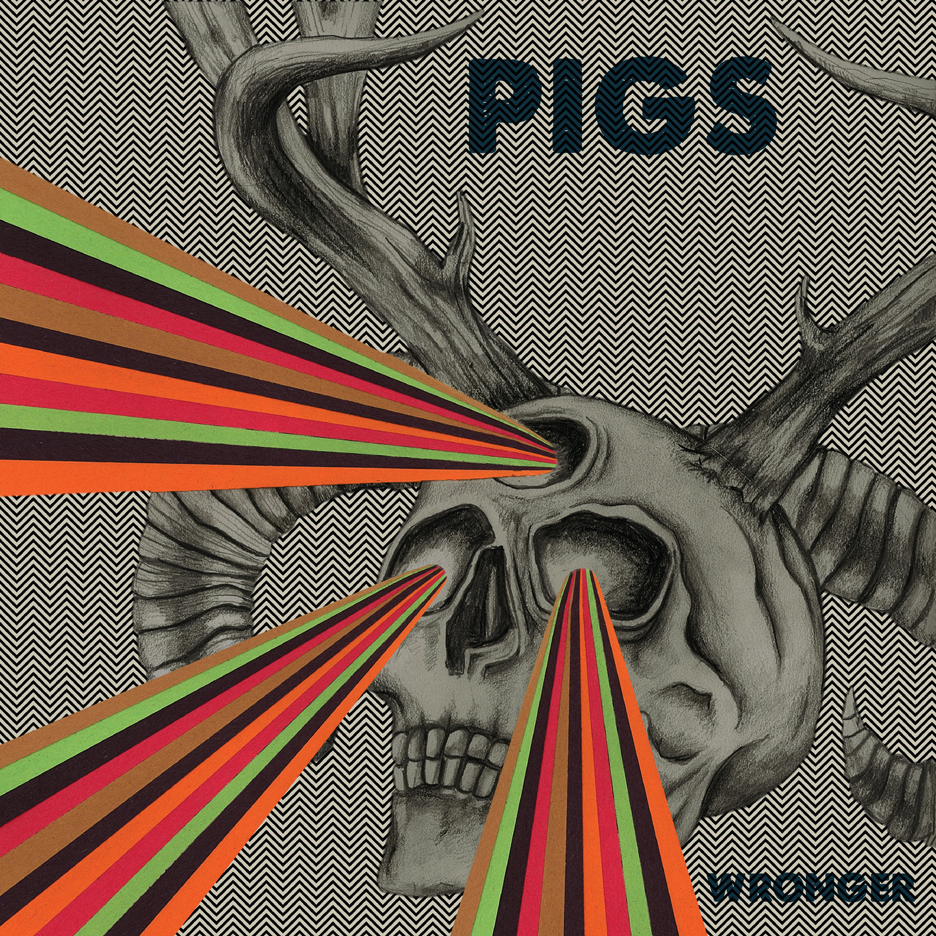 http://www.pigsnyc.com
http://www.facebook.com/pigsnyc
http://www.solarflarerds.com
http://www.facebook.com/solarflarerecords
http://shop.solarflarerds.com