[photo by Katie Hovland]
Nearly a year in the making, and including a cast of thirty musicians, J.R. Robinson delivers his towering third album as WREKMEISTER HARMONIES entitled Night Of Your Ascension, set for release this November via Thrill Jockey Records.
As with previous WREKMEISTER HARMONIES albums, the ensemble is made up of an all-star cast of musicians from the metal, new music and rock communities. Musicians include Lee Buford and Chip King (both of The Body), Alexander Hacke (Einsturzende Neubauten), Cooper Crain (Cave), Marissa Nadler, Mary Lattimore, Olivia Block, Eric Chaleff (Bloodiest), Dylan O'Toole and Ron DeFries (both of Indian), Bruce Lamont (Yakuza), Sanford Parker (Buried At Sea), Mark Solotroff (Anatomy Of Habit), Solomon Lee Walker, Chris Brokaw (Come), and Jaime Fennelly (Mind Over Mirrors). Robinson has long been fascinated with those whose habits or actions have set them beyond the reach of redemption. Through his video art and his music, Robinson continues to explore humanity's darkest impulses and society's response to them. The death of Father John Goeghan and the life of Don Carlo Gesualdo were starting points for the two compositions on his new album.
Featuring two epic psalms, the title track, "Night Of Your Ascension," was as much influenced by Don Carlo Gesualdo's horrific act as it was by the extreme nature of his compositions. There are many that have been inspired by Gesualdo's imaginative and complex works, from Herzog's "Death For Five Voices," to Igor Stravinsky who created "Monumentum Pro Gesualdo." All were perhaps drawn to the unanswerable question whether or not the violence of his life was related to the violence of his music. Robinson, while intrigued by that question, focuses on evoking the extreme nature of Gesualdo's act while using the man's music as a vehicle. The resulting composition is compelling, and the hopes are that we ask why such horror is so captivating to the collective mindset. "Night Of Your Ascension" is built around a reworking of Gesualdo's madrigal "Ahi Dispietata e Cruda." Intrigued by its microtonal qualities, Robinson re-structured the madrigal so that it could fit modally into the key of A and to extend into the rest of the composition. This includes a haunting and lovely feminine presence voiced by Marissa Nadler, a presence Robinson fades into the ether with a complex arrangement of strings and choral voices before the impending doom renders all hope obsolete. This essentially becomes both a re-imaging of Gesulado's complex musical work and the re-enactment of the famous murder.
Second movement, "Run Priest Run," traces the death of Father John Geoghan, a priest convicted of molesting some one-hundred-fifty children who was violently executed by a fellow inmate while held in solitary confinement. The piece opens in a cold, dank space, evocative of the cell where the violent scene played out. As rumbling bass and brooding drums usher our killer into the frame (the hair raising shrieks of The Body's Chip King), the track takes us into the depth of horror of that cell and the minds of those within it.
As a precursor to its release, today Decibel Magazine offers up the first available Night Of Your Ascension teaser. View the stunning trailer, created by Joe Martinez, at THIS LOCATION.
Following the record's release, Robinson will take the eclectic sound manifestations of WREKMEISTER HARMONIES to the stage on an extensive North American tour in December. Instrumentation for the tour will be provided by Bell Witch along with Esther Shaw who will be performing the pieces Then It All Came Down and Night Of Your Ascension.
WREKMEISTER HARMONIES:
12/02/2015 Barboza – Seattle, WA
12/03/2015 TheCobalt – Vancouver, BC
12/04/2015 Obsidian – Olympia, WA
12/06/2015 Ash Street Saloon – Portland, OR
12/07/2015 The Metro – Oakland, CA
12/08/2015 Starlite Lounge – Sacramento, CA
12/09/2015 Complex – Los Angeles, CA
12/10/2015 Alex's Bar – Long Beach, CA
12/11/2015 Flycatcher – Tucson, AZ
12/13/2015 Mohawk – Austin, TX
12/14/2015 Double Wide – Dallas, TX
12/15/2015 Record Bar – Kansas City, MO
12/16/2015 7th Street Entry – Minneapolis, MN
12/17/2015 Empty Bottle – Chicago, IL
12/18/2015 Vaudeville Mews – Des Moines, IA
12/20/2015 Marquis – Denver, CO
12/21/2015 Diabolical Records – Salt Lake City, UT
Robinson has long been pre-occupied with society's unwanted, observing the horror of their acts while trying to identify with their conflict. Why do we gawk at those ravaged by violence or mental illness? Why do we turn a blind eye to the unspeakable barbarity committed by "civilized" nations? Night Of Your Ascension is a commentary on our own fascination with bloodlust and our seemingly insatiable appetite for lurid depictions of depravity. The music on WREKMEISTER HARMONIES' Night Of Your Ascension is as hauntingly beautiful as it is brutal, the questions it provokes are weighty.
WREKMEISTER HARMONIES' Night Of Your Ascension will be released on CD and digitally November 13th, 2015 via Thrill Jockey. Preorders are currently available at THIS LOCATION.
"A harrowing tableau of lonesome drones, hiss, degraded noise and moans that build to a towering schizm of thunder, earth, sky and guitar that feel just as destructively chaotic as the crest of any storm." – Raven Sings The Blues
"A roiling blend of drone, funeral doom, and black metal that grows to Olympian heights, and as you wade deeper into the song, its undertow takes hold." – Stereogum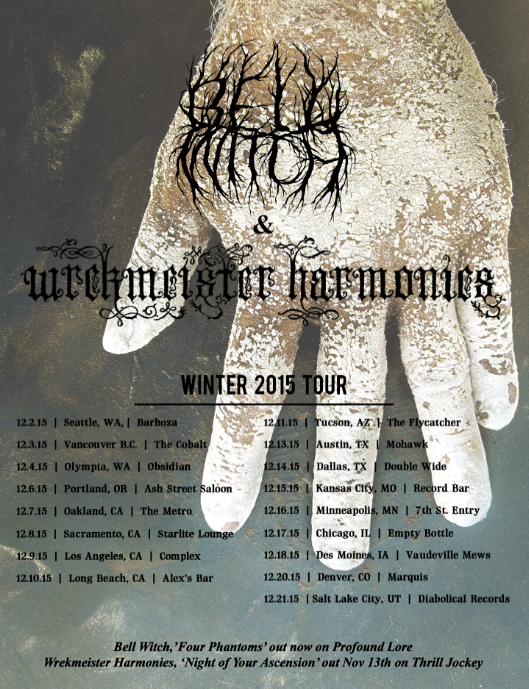 http://www.facebook.com/wrekmeisterharmonies
http://www.thrilljockey.com
http://www.facebook.com/ThrillJockey