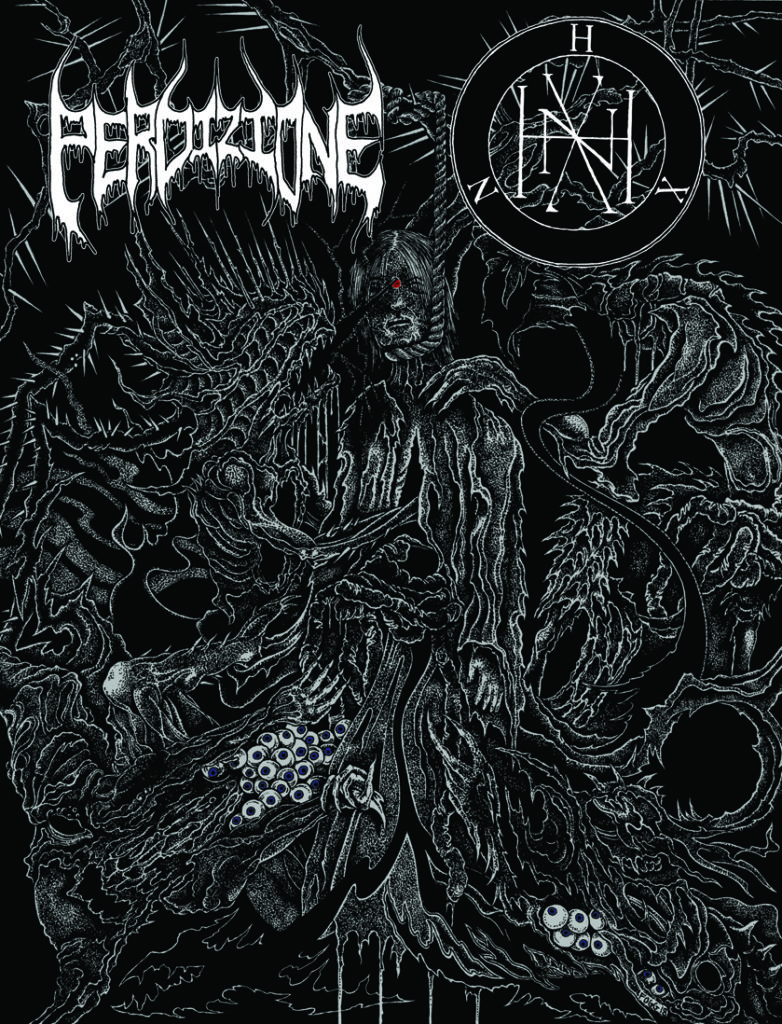 PERDIZIONE and HAXEN have united to unleash a six-track split of relentless blackened filth. The venomous offering is currently streaming via Captured Howls on the eve of its official release via Eternal Death.
Writes Captured Howls, "The storied history of black metal's musical encapsulation of utter devastation continues with vigor in the confines of the new split release from U.S. acts PERDIZIONE and HAXEN. Each band contributes three tracks, and while they're similarly manic, the respective artists hack themselves out unique places commanding attention on this record. PERDIZIONE's songs deliver twisting, grinding black metal that sounds like a drill bit going straight through flesh with enough atmosphere coursing through the songs' veins for the pain to really land. The tones defining PERDIZIONE's tracks prove devastatingly bleak, like the feeling of wind landing on your skin after blowing through a frigid wasteland pockmarked with corpses…. HAXEN fall further down into the pit whose opening PERDIZIONE hacks out. The sweeps of grind get even more pronounced and vicious; pouring on more weight following the build delivered by the first tracks, the HAXEN songs prove backbreaking."
Read more and stream the PERDIZIONE/HAXEN split in its unforgiving entirety at Captured Howls at THIS LOCATION.
The split will be released on September 6th on limited cassette and digital formats. Find preorders at the Eternal Death Bandcamp page at THIS LOCATION.
PERDIZIONE (Italian for "perdition") is the anonymous black metal project of one Diavolo Odioso. All lyrics and song titles are delivered in Italian. Title translations like "La Lussuria del Traditore" ("Betrayer Lust") and "Cieli del Zolfo" ("Sulfur Skies") are just a hint at the bleakness that abounds PERDIZIONE's compositions. PERDIZIONE's union with HAXEN follows a 2017 split with Nihtglóm.
For over a decade, HAXEN has remained virtually unknown outside the Providence, Rhode Island metal underground. Beginning as a solo project at the turn of the century, HAXEN later became a longstanding duo producing various demo recordings yet remaining in the shadows for several more years. HAXEN began performing live as a full band in 2008. 2011 saw a newly assembled lineup that has remained the same to this day. Their self-titled debut, released in 2016 on Eternal Death Records, was HAXEN first major statement of what they are capable of delivering. The three tracks occupying this split with the mysterious PERDIZIONE takes listeners through a vast landscape of dark and haunting black metal. Always raw and minimalistic, HAXEN deliver both aggression and atmosphere with inexorable authority.