[photos by Cliff Montgomery]
In support of their smoldering new LP, High Fantasy, Ventura, California's GYGAX will pillage several metropolis areas this October on a swift but prevailing run of tour dates through the country's western territories.
GYGAX delivers their third, and most triumphant album to date with High Fantasy. Here, the band's fantastic themes and creative storylines once again arise through powerful riffs, incredible harmonization, and unavoidable hooks, delivering infectious attributes for nine brand new tracks. High Fantasy was recorded live in The Captain's Quarters Studios in the band's hometown with former guitar player Armand Tambouris at the helm. As with their prior album, the High Fantasy artwork was completed by Fares Maese, who is also a renowned artist through his works in the gaming community, including Warhammer, Pathfinder, and more.
Following several recent bouts of touring, GYGAX will head back out in October. The High Fantasy Tour will storm the Western US from October 9th through 13th, invading Fullerton, San Diego, Reno, Oakland, and San Francisco. GYGAX will be joined by their allies in Haunt for four of the five shows, the final show also featuring Space Vacation and labelmates Crepuscle.
GYGAX High Fantasy Tour:
10/09/2019 Slidebar – Fullerton, CA w/ Haunt
10/10/2019 Acid Vault – San Diego, CA w/ Haunt
10/11/2019 Jub Jub's – Reno, NV
10/12/2019 Elbo Room JL – Oakland, CA w/ Haunt
10/13/2019 The Knockout – San Francisco, CA w/ Haunt, Space Vacation, Crepuscle (3pm show)
GYGAX will announce new tour dates throughout the coming months with plans of raiding the Eastern realms of the country and beyond in the months ahead.
High Fantasy is out now on CD, LP, and all digital platforms. Find merch bundles including three vinyl color variants, new shirts and other items, merch bundles, and more, have been posted at the Creator-Destructor webshop HERE and Bandcamp HERE.
"…dual guitar harmonies and Lynott-esque singing to tell stories of wizards, monsters, and spellcraft. It feels more confident than its predecessor, 2nd Edition, with cleaner production and smoother melodies that give songs like 'Spell Shaker' and 'Mage Lust' a classic feel." – Bandcamp
"GYGAX are just about the best trad metal time you can have right now and "High Fantasy" proves that by honoring the classics: this band is on the verge of forging a stone-cold classic of its own." – Blabbermouth
"There isn't one bad track on this album. This is one of the most re-playable albums of the year…" – Ghost Cult Magazine
"…it delivers exactly what you're expecting. And in this case, that's a beautiful thing, because you won't find many modern bands playing this kind of up-tempo hard rock full of boogie rhythms and bright, harmonizing guitars. 9.5/10" – Live-Metal
"Assuredly, high fantasy runs deep within these guy's souls. The blending of the lyrical themes with such an honest devotion to classic metal is more than admirable but rather doing a service to the scene at large." – Metal Temple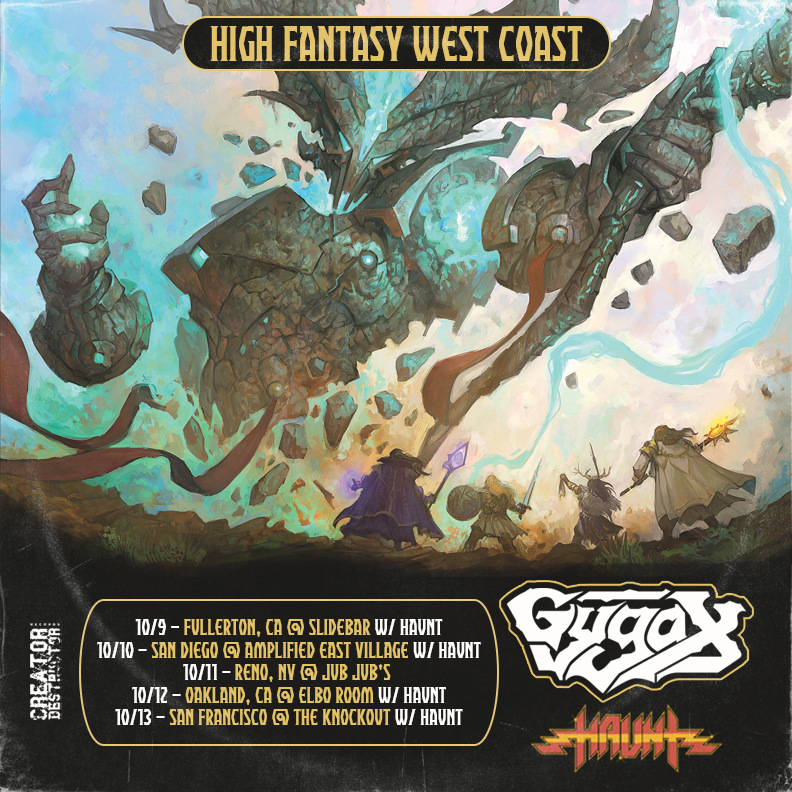 https://www.facebook.com/GygaxGuild
http://www.gygaxguild.bandcamp.com
https://www.instagram.com/gygaxguild
http://www.creator-destructor.com
http://www.facebook.com/creatordestructorrecords
http://www.creator-destructor.bandcamp.com