"Eschatology is a record full of purpose, and the realization of not just a plotline, but a creative vision fleshed out across the work…of multiple songwriters coming together toward a common end. It is simultaneously gorgeous and troubling, thoughtful in composition and impact-making in result." — The Obelisk
Eschatology is the impending new full-length from Columbus, Ohio-based psychedelic garage doom unit PALE GREY LORE. Set for release this September via their new label home, Small Stone Recordings, PALE GREY LORE blends elements of garage psych, space rock, post-punk, and stoner doom to create focused, hook-driven, heavy, rock 'n' roll.
In advance of the release of Eschatology, The Obelisk is pleased to unveil "Before The Fall." Notes the band of the track, "Thematically, 'Before The Fall' is about longing for the past, mourning lost futures, and the psychic trauma that accompanies survivor's guilt. The long nuclear winter they must endure is a source of constant overwhelming dread, engendering uncanny pangs of nostalgia for the old techno-feudalist police state – something they never thought they would feel. By the end of the song, however, the darkness subsides and there is a glimmer of hope as the sludgy, plodding riffs give way to soaring twin guitar leads set over swelling mellotron, like clear light spilling into a darkened room."
Adds The Obelisk of the record overall, "In theology, 'eschatology' refers to the ultimate fate of humanity, whether that's the apocalypse or being one with the universe or whatever it might be in a given belief system. For Ohio heavy rock four-piece PALE GREY LORE… it's a fairly grim picture of environmental destruction, capitalist ravaging, and otherworldly semi-salvation, and it comes expressed in ten tracks and forty-two minutes of varied, atmospheric songcraft that roughs up the sound of the first album somewhat without losing the underlying structure that helped make those songs so memorable, so that from opener 'Sunken Cities' onward, PALE GREY LORE establishes a balance between spaciousness and hook-making, and whether that's heard in the massive low-end roll of 'Before The Fall' or the winding, Queens Of The Stone Age-style "Greed Springs Eternal" just before it, the sense of poise comes through in overarching vocal melodies and harmonies between guitarists Michael Miller and Xander Roseberry as well as in the fluidity of groove from bassist Donovan Johnson and drummer Adam Miller."
Read more and hear "Before The Fall," courtesy of The Obelisk, at THIS LOCATION.
Produced by the band's own Xander Roseberry and Michael Miller, engineered and mixed by Andy Sartain, and mastered by Harold LaRue, with artwork and layout by Adam Eckley, Eschatology will be released on CD, limited LP, and digital formats on September 6th. For preorders visit the Small Stone Bandcamp page at THIS LOCATION where opening track "Sunken Cities" can be streamed.

PALE GREY LORE began as a collaboration between brothers Michael (guitar, vocals) and Adam Miller (drums), with Donovan Johnson (bass) joining up in the summer of 2014. Xander Roseberry (guitar, backing vocals) was added to the lineup in the winter of 2016, just prior to their signing with Oak Island Records, an imprint of German label Kozmik Artifactz.
The band's eponymous debut full-length was originally self-released on limited-run CD and digitally in June of 2016 and consequently landed at the #13 spot on TheObelisk.net's Top 20 Debut Albums of that year. Conceived as a series of surreal vignettes, it brought forth allegorical scenes from a dystopian, post-apocalyptic world in which the lines between science and the occult, technology and superstition, were hopelessly blurred. The album was released on vinyl in December 2017 via Oak Island Records.
Building on the momentum of the vinyl release, PALE GREY LORE began playing more live shows throughout the Midwest, landing spots on heavy music festivals such as the Chicago Doomed & Stoned Fest, Descendants Of Crom, and the Maryland Doom Fest. They've shared the stages with the likes of Pelican, Monolord, Lo-Pan, and Le Butcherettes, and are primed to release second album Eschatology. Fans of Failure, Lo-Pan, Black Sabbath, Irata, and Sundrifter, pay heed.
PALE GREY LORE:
Michael Miller – lead/backing vocals, six-string electric/acoustic guitars, theremin, mellotron
Xander Roseberry – backing vocals, six-string/twelve-string electric/acoustic guitars, theremin, chimes
Donovan Johnson – bass
Adam Miller – drums, auxiliary percussion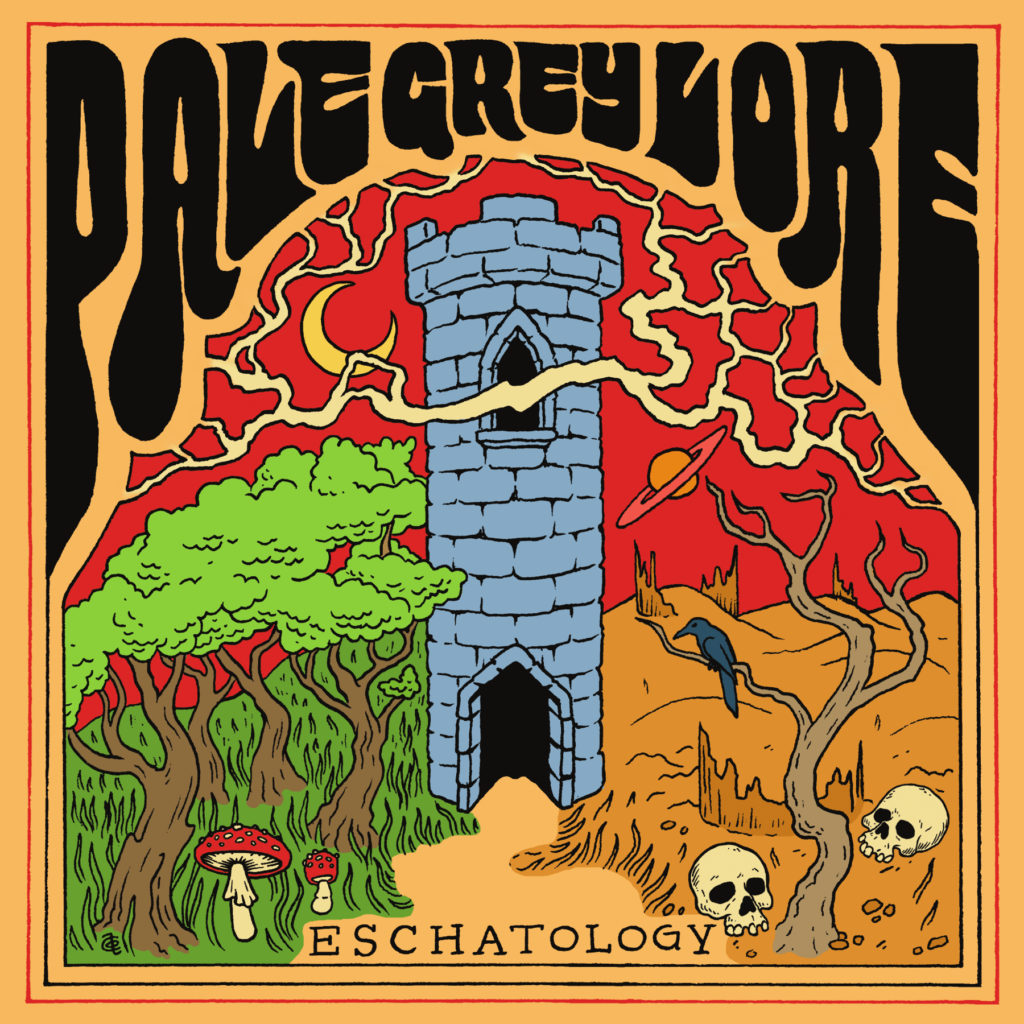 http://www.facebook.com/palegreylore/
http://www.smallstone.com
http://www.facebook.com/smallstonerecords
http://www.smallstone.bandcamp.com