Aarhus, Denmark-based avant-hardcore act OXX presents a video their belligerent new LP, The Skeleton Is Just A Coat Hanger; These Are The Black Strings That Make You Dance, following its release through Nefarious Industries in August. The new video for the track "Labyrinth" makes its public debut through a premiere at Cvlt Nation, just days ahead of the band's maiden US tour which begins next week.
OXX offers, "For this video, we've teamed up with our friend, the splendid Christoffer Kroyer Magelund. He was the host from whom this parasitic chest-burster of self-promotion sprung forth, so naturally all the credit is his. Since this is the first video for our first release at Nefarious Industries, we set out with the ambition of creating a video worthy of our magnanimous label overlords. Quickly realizing that Nick Cage was way outside of our budget however, our youthful excitement quickly and severely dampened.
Luckily our Cagelessness turned out to be but a speedbump: At Christoffer's behest, we opted instead to binge watch Kenneth Anger and heaps of Japanese new-wave until at the brink of sanity, and by some manic Charlie-Sheen-esque possession, the video sort of wrote itself from there. Resisting the pretentiousness of self-analysis, we've chosen just to contend with the fact that sound and video has entered some perverse symbiosis with no consideration whatsoever to whichever ambitions of symbolism and meaning we might have had. It probably means something, but thankfully I've no idea what the fuck it is. It looks fucking sick though."
See OXX's "Labyrinth" video at Cvlt Nation RIGHT HERE.
The Skeleton Is Just A Coat Hanger; These Are The Black Strings That Make You Dance is out now through Nefarious Industries on LP and digital via the label webshop HERE and Bandcamp HERE.
OXX is preparing to launch their first US tour in the coming days. The sprawling DIY-booked trek begins on September 25th in Philadelphia and rampages across the country for more than a month, ending in New York City October 26th. Along the way, OXX will perform the new LP in its entirety, and will share the stage with a wide range of artists including Gnaw, Machinist!, Nefarious Industries kin Nequient, PAK, Mine Collapse, Those Darn Gnomes, Gridfailure, and Blackthorne, among others. OXX will also infuse members of Those Darn Gnomes into their lineup on the West Coast shows, and Gridfailure into some of the East Coast shows. See all confirmed dates below.
OXX US Tour 2019:
9/25/2019 Century Bar – Philadelphia, PA w/ Gridfailure, Somnolent, Warp and Weft [info]
9/26/2019 JC Studios – Jersey City, NJ w/ Cruelty, Psilocybe [info]
9/27/2019 Wonderland – Richmond, VA w/ Paint Store, Gorrak [info]
9/28/2019 The Come – Cincinnati, OH w/ Lashes, Eunoia [info]
9/29/2019 Part Wolf – Minneapolis, MN w/ Blackthorne, Conscripts [info]
9/30/2019 High Noon Saloon – Madison, WI w/ The Swizzle, The Central, Hex House [info]
10/01/2019 Riot Room – Kansas City, MO w/ Le Grand, HMPH, Braingea [info]
10/02/2019 TBA – Denver, CO
10/03/2019 The Beehive – Salt Lake City, UT w/ Social Stigma, PTTGDBD [info]
10/04/2019 The Shredder – Boise, ID
10/05/2019 Azøth – Portland, OR w/ Huldrekall, Leafminer [info]
10/06/2019 Highline – Seattle, WA w/ Turian, Minority Whip [info]
10/07/2019 Old Nick's Pub – Eugene, OR w/ Kawaii Busters [info]
10/09/2019 Peace and Justice Center – San Jose, CA w/ Cyberplasm, Obsolete Sun
10/11/2019 The Void – San Bernardino, CA w/ Those Darn Gnomes, Christian Lovers
10/13/2019 Sweet Springs – Los Osos, CA w/ PAK, Mountaineer [info]
10/14/2019 Palo Verde Lounge – Tempe, AZ w/ Corkys Leather Jacket, Crank Lab Explosion, Stages of Grief [info]
10/16/2019 Sister Bar – Albuquerque, NM w/ Belinda, Mephalta [info]
10/17/2019 Unicorn's Lair – Midland, TX
10/18/2019 Rubber Gloves Studios – Denton, TX w/ Akkolyte, Funeral Horse, Vaults of Zin [info]
10/19/2019 Santos – New Orleans, LA w/ Nequient, Leafdrinker
10/20/2019 Valdosta DIY House – Valdosta, GA w/ Nequient, Machinist! [info]
10/21/2019 529 – Atlanta, GA w/ Nequient, Apostle, The Lost Hours [info]
10/22/2019 Hi Tone – Memphis, TN w/ Nequient, Naildriver [info]
10/23/2019 Free Base – Indianapolis, IN w/ Nequient, Olam, Truus
10/24/2019 Liar's Club – Chicago, IL w/ Nequient, Mine Collapse [info]
10/25/2019 Gooski's – Pittsburgh, PA w/ Unfurl, Wastegate [info]
10/26/2019 El Cortez – Brooklyn, NY w/ Gnaw, bbigpigg [info]
OXX pushes their genre schizophrenia to its painstaking limits. Eschewing click-tracks, endless overdubbing, and micro-managing, the album is the sound of a cathartic, organic explosion bereft of glossy production and studio fuckery. The raw, spontaneous sound of the record acts as an extension of the lyrics; an unfiltered, feverish stream of thought – bits and pieces of novels, obscure cinema, video games, and more, all rushing by in a maelstrom of impressions of existence filtered through the eyes of the thoroughly unstable. The Skeleton Is Just A Coat Hanger; These Are The Black Strings That Make You Dance, was recorded by OXX, mixed by Klaus "Q" Hedegaard, mastered by ET Mastering, with artwork by Aske A. Hvidtfeldt, photography by Malte Riis, and design by Greg Meisenberg.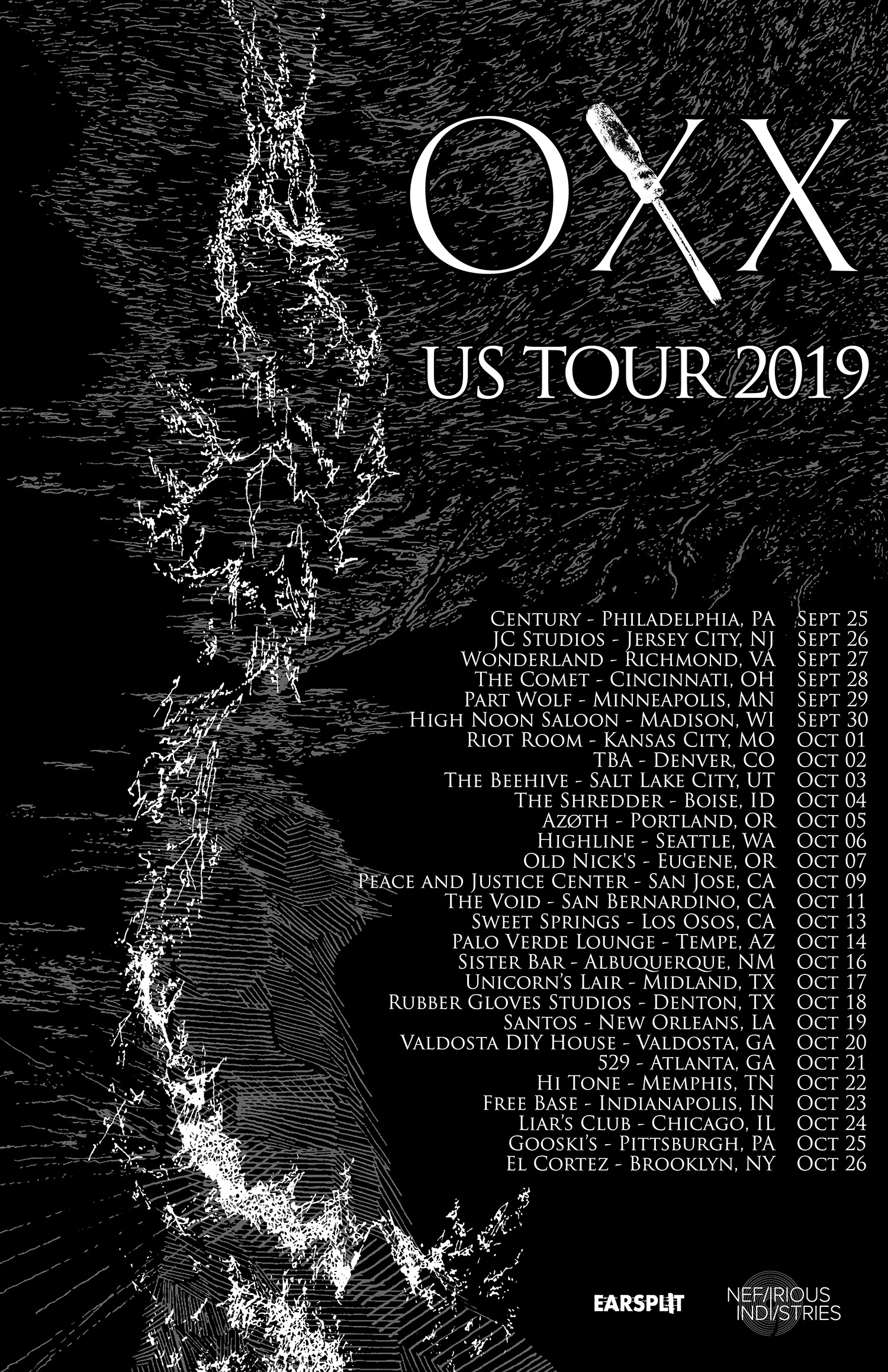 http://oxxmusic.com
https://twitter.com/oxxmusic
https://www.facebook.com/oxxmusic
https://oxxmusic.bandcamp.com
http://nefariousindustries.com
http://www.facebook.com/NefariousIndustries
http://www.twitter.com/NefariousInd
https://www.instagram.com/nefarious_industries