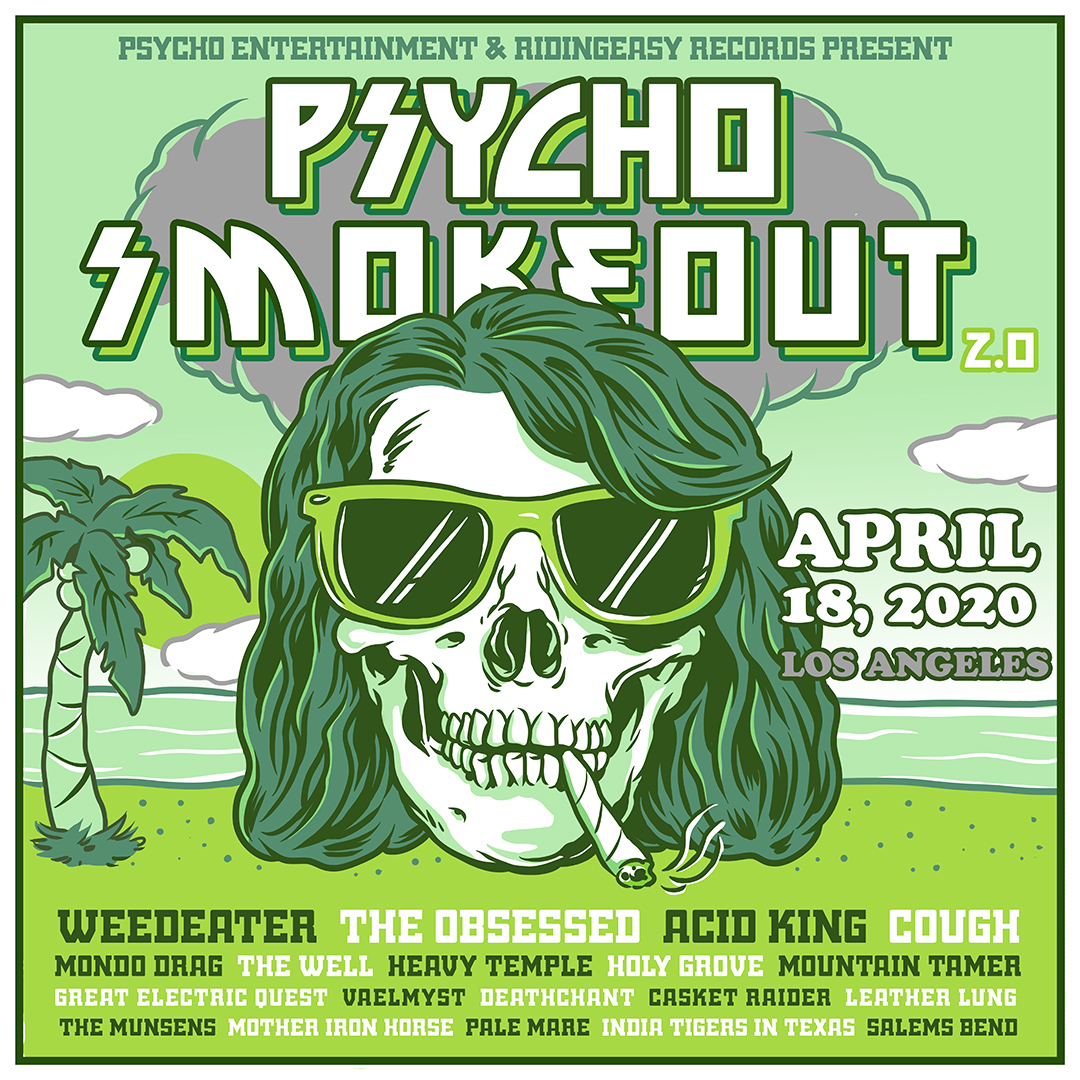 Behold! PSYCHO SMOKEOUT 2.0 will make its annual descent upon Los Angeles' multi-level Catch One Riff Compound April 18th, 2020.
Brought to you by Psycho Entertainment and RidingEasy Records, this year's day-long puffathon features performances from nearly two-dozen artists including North Caroline stoner metal goliaths Weedeater, Maryland doom icons The Obsessed, California stoner rock veterans Acid King, and Virginia sludge bringers Cough, with the final headliner to be unveiled later this fall. Spread across three stages, the glassy-eyed gala will include a massive vendor market and more surprises to be announced in the weeks to come.
Early bird tickets for PSYCHO SMOKEOUT 2.0 go on sale Thursday September 19th. The limited early bird tickets are a cool $39 plus fees and are expected to sellout within 48 hours of being announced. The next tier will be $49 plus fees. The final tier will be $59 plus fees. Don't sleep on this!
Nab your tickets today at THIS LOCATION.
PSYCHO SMOKEOUT 2.0 is a 420 friendly, 18 and over event.
Psycho Entertainment & RidingEasy Records Presents:
PSYCHO SMOKEOUT 2.0
April 18th, 2020
Catch One Riff Compound
Los Angeles, California
Lineup (in alphabetical order):
Acid King
Casket Raider
Cough
Deathchant
Great Electric Quest
Heavy Temple
Holy Grove
India Tigers In Texas
Leather Lung
Mondo Drag
Mother Iron Horse
Mountain Tamer
Pale Mare
Salem's Bend
The Munsens
The Obsessed
The Well
Vaelmyst
Weedeater