OKKULTOKRATI has been awarded Best Metal Album Of 2016 in the prestigious Norwegian Spellemann Awards, for their Southern Lord-released Raspberry Dawn album! The award is the Norwegian equivalent of a Grammy, making this a massive landmark for the band and their incredibly adventurous, genre-entangling style of eclectic hardcore punk.
As recently announced, the Norwegian mavericks are hitting the road again this Spring, with new tour dates constantly being updated. See all confirmed live listings HERE, and watch for more dates to be announced.
While paying homage to their native region's 1990s black metal heritage, the cinematic synth/goth rock of the prior decade, and the raging early punk movement ahead of that, OKKULTOKRATI still manages to create sincerely original and infectious music through every bar of Raspberry Dawn, resulting in a starkly raw and original sounding album.
See OKKULTOKRATI's videos for "Magic People HERE, "Raspberry Dawn" HERE, and "Hidden Future" HERE, and stream all of Raspberry Dawn at Bandcamp HERE.
Raspberry Dawn is available on CD, LP, and digital platforms via the Southern Lord store.
OKKULTOKRATI Tour Dates:
3/21/2017 Gleis 22 – Münster, DE
3/22/2017 The Plaque – Leipzig, DE
3/23/2017 DasBACH – Wien, AT
3/24/2017 P.M.K – Innsbruck, AT
3/25/2017 Tetris – Trieste, IT
3/26/2017 Scum – Pescara, IT
3/27/2017 Freakout Club – Bologna, IT
3/28/2017 Cinema Metropolis Umbertide – Umbertide, IT
3/29/2017 Spazio Ligera – Milano, IT
3/30/2017 Trokson – Lyon, FR
3/31/2017 Hipster Cafe – Rouen, FR
4/01/2017 301 Live Club – Lille, FR
4/02/2017 The Flapper – Birmingham, UK
4/03/2017 Black Heart – London, UK
4/05/2017 Audio Glasgow – Glasgow, UK
4/06/2017 The Cluny – Newcastle, UK
4/07/2017 Antwerp Music City – Antwerp, BE
4/08/2017 Merleyn – Nijmegen, NL
4/09/2017 The Pit's – Kortijk, BE – Bang Zoom Noise Produktions VZW
4/10/2017 Magasin 4 – Bruxelles, BE
"A genuine album of the year contender…OKKULTOKRATI have blown all notions of what Scando-punk is clear across the Barents Sea… Stunning." – Metal Hammer
"Commendably individual, and coated in a dirty film of fuzz." – Terrorizer
"…nostalgia for those who went through a powerful goth phase in high school, while offering a vision into an alternate timeline when the '80s never ended, only got weirder. It must be heard to be believed…" – Invisible Oranges
"Norway's OKKULTOKRATI takes the age-old black metal imprint of snarling Venom-style vocals and general nihilism, and updates the proceedings with fresh approaches that employ punk, hardcore, death metal, goth and much more… Imagine Motörhead at their beer-raising fun best, but with synths, occasional piano, and more, then you may have the idea." – Clrvynt
"Like Venom meeting Warfare…Equally rocking and experimental – a rather brilliant balance to strike." – Zero Tolerance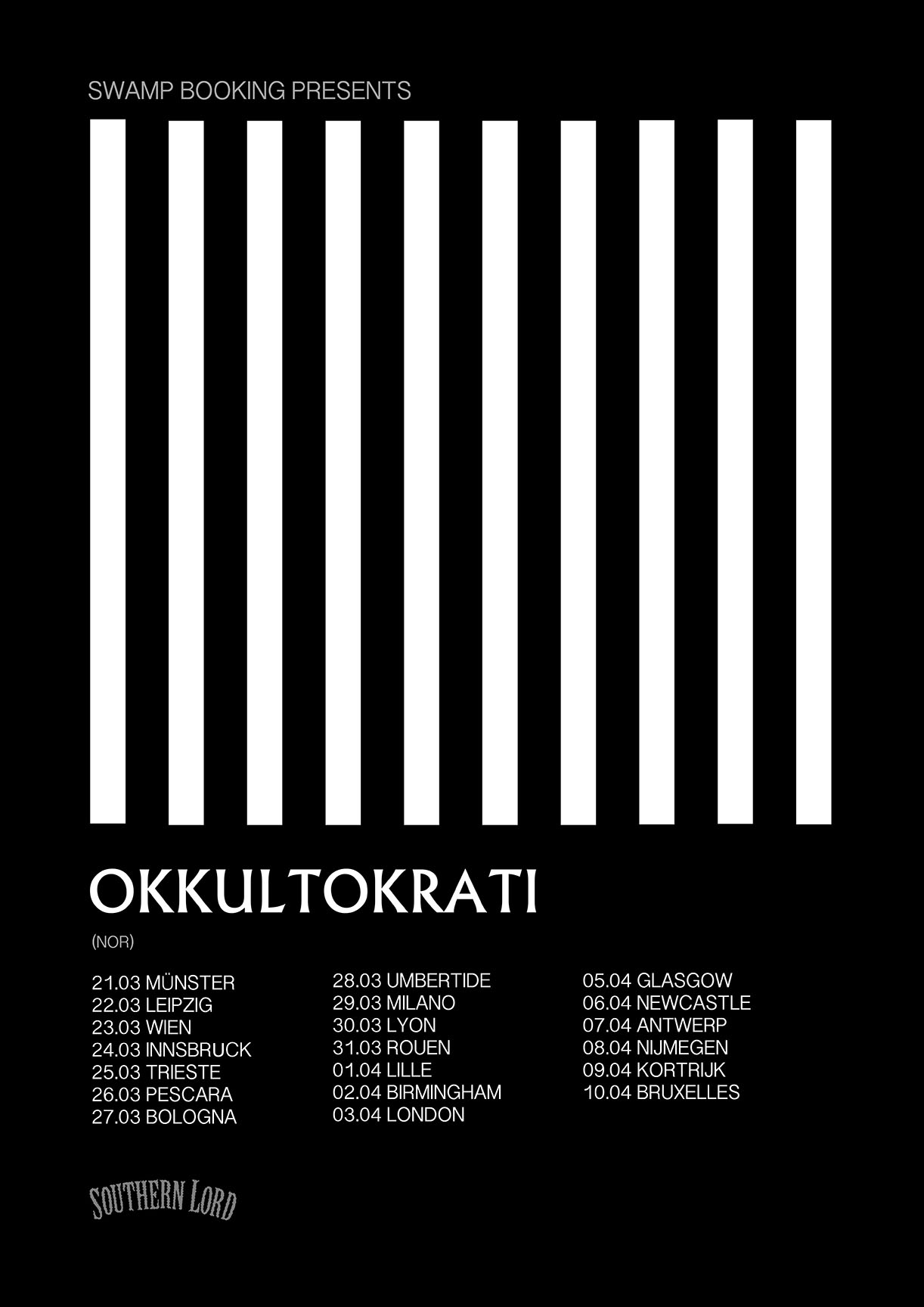 http://www.facebook.com/okkultokrati
http://www.okkultokrati.bandcamp.com
http://www.okkultokrati.blogspot.com
http://www.southernlord.com
http://www.southernlord.bandcamp.com
http://www.facebook.com/SLadmin
http://www.twitter.com/twatterlord