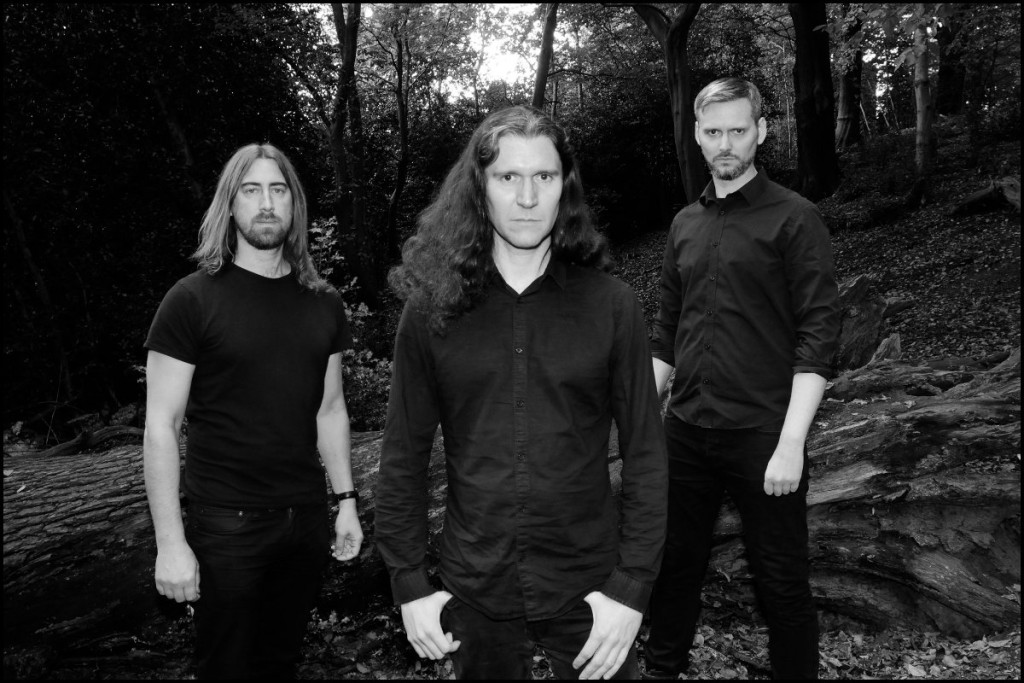 Winter is the impending new full-length from aatmospheric black metallers FEN. Set for release on March 10th via Aural Music imprint Code666, the six-track production and fifth full-length overall was captured by Jaime Gomez Arellano at the Orgone Studios in London (Ulver, Altar Of Plagues, Grave Miasma, Primordial, Solstafir) and stands among the band's most enticing piece of work yet for the English three-piece; rich in sound, beguilingly delicate, and shrouded in darkness.
As a precursor to its release, today Decibel Magazine is offering opening track, "I (Pathway)" for communal feasting.
Issues the band of the consuming track, "This opening chapter ushers in on the sibilant, sinister winds that slice across the mist-wreathed peat bogs of the fens. It represents the start of the journey – uncertainty and resolve warring with each tread across a landscape laced with questions, ghostly voices of past failings drifting from stagnant waterways and thin lines of bent trees. Drawing ever closer on the horizon lies the cathedral – a rearing megalith bleeding the promise of succour across the landscape. What will be found there? Penance? Redemption? Or something as-yet unsought? 'I' presents sixteen minutes of FEN delivering their trademark blend of punishing black metal and desolate, delicate atmospherics – nevertheless, the cold darkness that lurks at the heart of Winter is palpable throughout the track as it unfurls. It is an inexorable journey towards an ominous fate, the pull of destiny at once unyielding and yet ephemeral, nebulous. Musically, the band alloy subtle progressive touches and experimentation alongside a forceful, seismic delivery whilst The Watcher and Grungyn's vocals seem to summon the very spirits that sank millennia ago into the dark soils."
Hear "I (Pathway)" courtesy of Decibel Magazine at THIS LOCATION.
Winter, which comes sheathed in the cover art of FEN bassist/vocalist Grungyn, will be available in standard CD, double black vinyl limited to 300 copies, and digital formats in North America on March 10th followed by a European street date of March 17th. Additionally, FEN's Winter will be available in a Special Collectors Box limited to 199 copies which will include the standard CD, an additional bonus CD, the DLP with Side A/Side B in a smashed splatter effect of transparent aquamarine and opaque cream, an exclusive T-shirt and poster, and a certificate of authenticity signed by the band. Preorders will be available at THIS LOCATION.
Formed in early 2006 with the goal of producing atmospheric black metal that incorporates elements of post-rock, FEN has, since then, found themselves at the vanguard of a resurgent UK black metal scene. With an EP, four full length albums, several splits, and compilations, two European tours and numerous appearances at prestigious festivals under their belts, Winter serves as the band's most ambitious, and yet most fundamental expression, yet.
It is an album in which, conceptually, FEN has returned to the roots of their ideology, seeking to embrace and distill all that inspired them when they first set out on this path over a decade ago – that is, to invoke the ambience of bleak reflection and ancient sorrow that permeates the mysterious landscapes of the fens of Eastern England. Winter's six movements are thematically and compositionally linked flowing into each other seamlessly. Ideally, the whole record is intended to be listened to in one sitting to allow the full journey to be absorbed. Musically, the band have sought to push themselves further than ever before and FEN's trademark use of atmospheric black metal and spacious clean segments have been complimented by shades of '70s progressive rock, shoegaze, and doom metal.
http://www.facebook.com/fenofficial
http://www.fenuk.bandcamp.com
http://www.fenmerchandise.bigcartel.com
http://www.auralmusic.com
http://www.code666.net