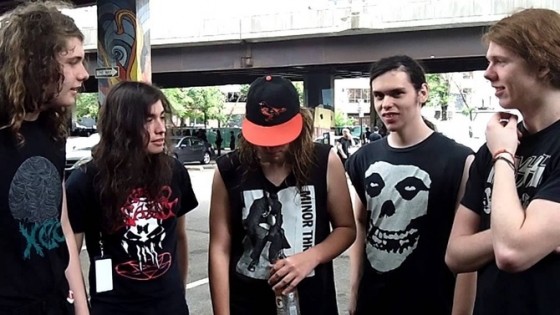 Baltimore thrash metal savages NOISEM are loading their axes of aggression into the van as we speak, preparing to take off on their most widespread and extreme tour to date as support for Skeletonwitch and The Black Dahlia Murder on stages across North America. Sharing the support slot with Fallujah, the NOISEM crew will hit more than two dozen cities across the US and Canada with the massive tour from October 24th through November 19th, followed by a newly-confirmed run of headlining dates on their way back to the East Coast. Get there early and watch these young assassins lay down a wall of divebomb-strewn high-octane thrash intensity.
Following the Summer release of their killer debut LP, Agony Defined, which has been butchering its way through top-end international media outlets including Guitar World, Decibel, Terrorizer, NPR and more since its release, NOISEM has just wrapped up sessions at Developing Nations, recording a new single for A389 and some compilation tracks that will surface early 2014.
For now check out the band's brand new website, RIGHT HERE, and continue to stream the Agony Defined LP HERE.
NOISEM w/ The Black Dahlia Murder, Skeletonwitch, Fallujah:
10/24/2013 Peabody's Concert Club – Cleveland, OH
10/25/2013 Chameleon Club – Lancaster, PA
10/26/2013 Knitting Factory – Brooklyn, NY
10/27/2013 The Met – Pawtucket, RI
10/28/2013 Higher Ground – Burlington, VT
10/29/2013 Le Cercle – Quebec City. QC
10/30/2013 La Tulipe – Montreal, QC
10/31/2013 Ritual – Ottawa, ON
11/01/2013 Rum Runners – London, ON
11/02/2013 Mod Club – Toronto, ON
11/04/2013 Crocks – Thunder Bay, ON
11/06/2013 West End Cultural Centre – Winnipeg, MB
11/07/2013 Louis' Pub – Saskatoon, SK
11/08/2013 Avenue Theatre – Edmonton, AB
11/09/2013 The Den – Calgary, AB
11/11/2013 The Biltmore Cabaret – Vancouver, BC
11/12/2013 The Center – Spokane, WA
11/13/2013 WOW Hall – Eugene, OR
11/14/2013 Whiskey Dick's Saloon – South Lake Tahoe, CA
11/15/2013 Strummer's – Fresno, CA
11/16/2013 Glasshouse – Pomona, CA
11/17/2013 The Rock – Tucson, AZ
11/18/2013 Tricky Falls – El Paso, TX
11/19/2013 Club Patron – Odessa, TX
NOISEM Headlining Dates:
11/20/2013 The Tofu House – San Antonio, TX
11/21/2013 Sons Of Hermann Hall – Dallas, TX w/ Cleric
11/22/2013 Vinos – Little Rock, AR
11/23/2013 The Owl Farm – Nashville, TN
11/24/2013 Haymarket Whiskey Bar – Louisville, KY
11/25/2013 Carabar – Columbus, OH
http://www.noisembaltimore.com
https://www.facebook.com/pages/Noisem/100512316809410?ref=ts&fref=ts
http://www.a389records.com
https://www.facebook.com/a389recordings
https://twitter.com/a389recordings