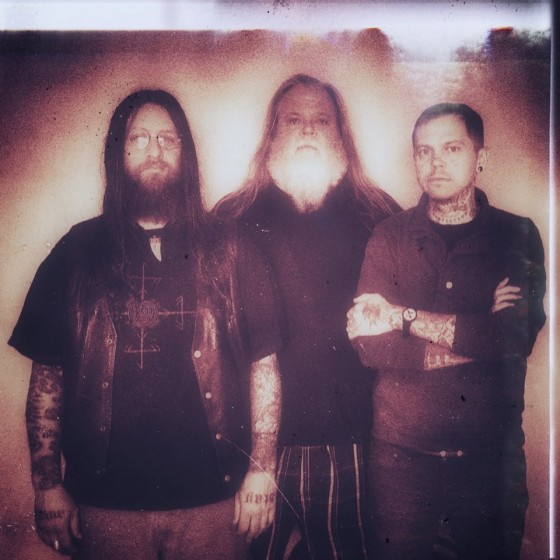 The First And Last Days Of Unwelcome, the debut LP from the trio known as LUMBAR — founded by Aaron Edge (Iamthethorn, Roareth, Rote Hexe, Brothers Of The Sonic Cloth), who is joined by Mike Scheidt (YOB, VHÖL) and Tad Doyle (Tad, Brothers Of The Sonic Cloth) — is just over a month from release. The brainchild of Aaron Edge, LUMBAR came together earlier this year when he was unexpectedly diagnosed with multiple sclerosis. What would be his final musical endeavor before waves of rapidly-spreading pain engulfed him and extended hospital stays became more than frequent, is now his most imperative.
On LUMBAR's debut album, The First And Last Days Of Unwelcome, Edge is joined by Mike Scheidt and Tad Doyle, who helped bring this intense and important project to fruition. The musical result is as diverse and destructive as one may expect from such a lineup, with the varied influence from this trio of musicians coalescing into seven organic and tonally oppressive movements. Ethereal ghostly passages and spacious expanses of minimalistic disharmony cone to an end in sonic obliteration through mesmerizing and pulverizing, as an array of distinct vocal mantras echo from the heart of it all.
The Obelisk — the authority on all things sludge/stoner rock — recently set up lengthy interrogations with both Edge and Scheidt on the project, with very personal accounts of the creation of the album as well as its creator's debilitating illness, as well as the first single from the album to be publicly unveiled.
Endure the crushing swell of "Day Six" at The Obelisk RIGHT HERE.
Preorders for the digital download and 12″ LP are up at Southern Lord now, HERE.
Southern Lord will release The First And Last Days Of Unwelcome on LP and digital formats on November 26th, followed by a CD version direct from the band and a cassette version via Holy Mountain Music, with all of the band's proceeds going to aid Edge's medical expenses and treatments. In the meantime, LUMBAR launched a new webstore this week, hosting exclusive new shirts and merch items, with 18″ x 24″ posters and more to be added soon; check it out HERE.
https://www.facebook.com/thelumbarendeavor
http://www.southernlord.com
https://www.facebook.com/SLadmin
http://twitter.com/twatterlord