Having been out of print for twenty-five years, this week, Suicidal Records proudly re-unleashes the mighty Widespread Bloodshed (Love Runs Red), the sole LP by legendary Venice Beach crossover outfit, NO MERCY.
Guitarist Mike Clark founded NO MERCY in the mid-'80s, the band performing throughout the region and the West Coast amidst releasing several demos and supplying several tracks to the iconic Welcome To Venice compilation featuring Suicidal Tendencies. Soon after that release, Clark recruited Suicidal Tendencies' frontman Mike Muir to handle the position, and joined by bassist (and O.G. Suicidal artist) Ric Clayton, drummer Sal Troy, the band's sole full-length recording, Widespread Bloodshed (Love Runs Red) came into existence. Engineered by Palm Neal and produced by Mike Muir, the album was released on LP and cassette by Suicidal Tendencies' own Suicidal Records in 1987, and has since remained virtually out of print and unattainable in a legit format, until now.
Following the 1987 release of Widespread Bloodshed (Love Runs Red), Mike Clark joined Suicidal Tendencies as guitarist full-time, for their landmark Will I Laugh Tomorrow When I Can't Even Smile Today, which brought NO MERCY to an end. Clark parted with Suicidal once again in 2012 and has since somewhat rebuilt NO MERCY, this time playing lead guitar and singing in his new band, WAKING THE DEAD, named after one of the most infectious tracks on Widespread Bloodshed (Love Runs Red). More news on WAKING THE DEAD is expected shortly.
Two-and-a-half decades after its initial release, Widespread Bloodshed (Love Runs Red) now sees its official rebirth, once again on Suicidal Records, bringing NO MERCY's timeless anthems back into public circulation in upgraded quality, the entire album having been remastered by "Big Bass" Brian Gardner at Bernie Grundman Mastering in Hollywood. The record was released on CD and digitally across Europe yesterday, and today — Mike Clark's birthday — sees North American release on digital, CD as well as black vinyl 12″ and, for the first time ever, picture disc 12″. Orders for Widespread Bloodshed (Love Runs Red) LP and picture disc can be placed HERE and the CD HERE.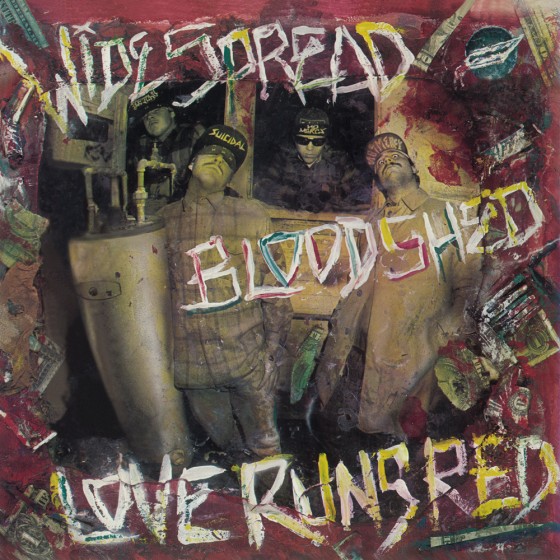 http://www.suicidaltendencies.com
http://www.facebook.com/suicidaltendencies
https://twitter.com/OFFICIALSTIG
http://www.youtube.com/user/suicidaltendencies