Extreme death metal architects, ANNIHILATED, today drop the audio devastation that is their XIII Steps To Ruination debut, upon North American shores today via Unique Leader.
Produced by ANNIHILATED drummer Scott Fuller, also of Abysmal Dawn, the record hurls forth eleven mutinous, methodically-composed psalms of hate and hostility fueled by political/corporate disgust and societal revulsion. As an added bonus of brutality, XIII Steps To Ruination features guest appearances by Sven De Caluwe (Aborted), Monte Pittman (Prong), Peter Truax (Vesterian, Eyes Of Fire) and Eric Stobel (Plaguereaper, P.O.R.).
Elaborates Glacially Musical, "This album is a full on cacophony of metal but built on perfect timing. The vocals are a chorus. There are always two growls creating an effect of maximum brutality. It kind of sounds like Carcass through a Peavey 5150 amp on the highest gain setting. And it just kills. There are no lulls in this record." Adds Dead Rhetoric, "ANNIHILATED provide some real 'kick you in the pants' material and it's played with some genuine intensity."
Get kicked in the pants with opening demoralizer, "Global Enslavement" currently streaming at Ghost Cult HERE.
And if you slept on 'em, you can still deafen yourself with the venomous ritual of "Eradication Profit," now playing at Metal Assault HERE or gore your eye holes with some audio/visual carnage of the title track, still playing at Revolver, at THIS LOCATION.
Formed in 2008, ANNIHILATED features within its ranks, current and former members of Abysmal Dawn, Grotesque, Excretion, and Arkaik. Intent on composing music with a purpose, ANNIHILATED stands resolutely against society's prevalent "sheep mentality" in favor of rational thought, questioning the motives of government and news media outlets though debilitating auditory domination.
XIII Steps To Ruination is out TODAY via Unique Leader Records in North America, October 31st, 2014 in Europe and November 3rd, 2014 in the UK. Order your copy today at THIS LOCATION.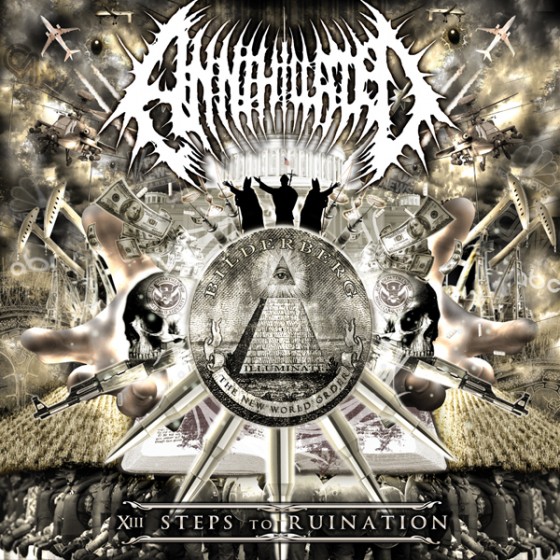 http://www.facebook.com/Annihilatetheworld
http://www.uniqueleader.com
http://www.facebook.com/UniqueLeaderRecords