NO FUNERAL — featuring within their corrosive ranks former members of Sourvein and Ashen – will bring their demoralizing sludge to the stage on an autumn mini tour next month. The journey will commence on October 18th and decimate a total of thirteen venues through October 30th. See all confirmed dates below.
NO FUNERAL plays bleak sludge in the vein of Grief, Dystopia, and Buzzov*en, with influences ranging from crust and sludge to death metal. The band's suffocating output stems from a range of deep personal struggles to complete misanthropy. Hate, misery, and the sheer disdain for the day-to-day activities have molded NO FUNERAL's songs into a soundtrack for loathsome scum.
NO FUNERAL:
10/18/2017 Hexagon – Minneapolis, MN [info] w/ Sunless, Ulkum, Death Blossom
10/19/2017 Quarters – Milwaukee, WI [info] w/ Pig's Blood, Law / Less, No Weakness
10/20/2017 Annabells – Akron, OH [info] w/ Fistula, Midmourner, TIWWAN
10/21/2017 Bar Matchless – Brooklyn, NY [info] w/ Black Tomb, Dutchguts, Devoidov
10/22/2017 Ralph's Rock Diner – Worcester, MA [info] w/ Ice Tomb, Undercliff, Ozeki
10/23/2017 The Meatlocker – Montclair, NJ w/ Hagmug
10/24/2017 Cherry St Station – Wallingford, CT [info] w/ Undercliff, When The Deadbolt Breaks
10/25/2017 Mill Creek Tavern – Philadelphia, PA w/ Pig's Blood
10/26/2017 Gooski's – Pittsburgh, PA [info] w/ Pig's Blood, Hellfuck
10/27/2017 Al's Sidecare – Lexington, KY [info] w/ Pig's Blood, Pyromancer
10/28/2017 State Street Pub – Indianapolis, IN [info] w/ Pig's Blood, Nak'ay, Cronus
10/29/2017 Livewire – Chicago, IL [info] w/ Baba Yaga, Stondar, Lung Wrecker
10/30/2017 Mickey's Tavern – Madison, WI w/ Tunic, Blessed, Poney
NO FUNERAL released a split LP doom metal kingpins Livid last month. With two tracks by NO FUNERAL leading the charge, and one monolithic track by Livid on the B-side, this cooperative release truly presents some of the most engaging and crushing pairings of slow-motion, dredging, riffage and sonic terror.
Cvlt Nation covered the record as their "Favorite Split Of The Month," offering in their praise of the album, "both bands bring the monolithic pain on this release in different ways! NO FUNERAL is one of the most slept on sludge/doom bands doing it right now. I'm going to make it my mission to make sure more people recognize what a fucking gnarly gem this band is!… Livid takes a different approach to the way they draw the listener into their expansive universe of sound. Their eighteen-minute tune is a cosmic journey where black waterfalls of melody crash over giant emotional rocks of despair." Two Guys Metal Reviews posted, "When it comes down to it this is a great split because not only does it combine likeminded bands from a similar geographical region but it gives us a unique look at both bands… When all is said and done it's a pleasure to lose yourself in these things and I'm very curious to see how both bands evolve!" Wonderbox Metal's review includes in part, "I haven't come across sludge metal as satisfyingly played as this for a while now… this really is a top-quality split. With a lot more material than you usually get for something like this, and with each track a very definite winner, this is something that any doom/sludge fan should get their hands on."
Elsewhere, The Sludgelord notes, "The combination of these two bands on one mammoth slab of wax is a marriage made in hell. No Funeral and Livid are definitely acts to check out now if you like it slow, heavy and desolate," while Hellbound hails, "37 minutes of downtuned despondency and despair." Adds Cadaver Garden, "This split between these two abyss dwellers is something to behold… monolithic, heavy and an overall great listen."
The NO FUNERAL/LIVID split LP is now available digitally and on colored 12″ vinyl limited to 500 hand-numbered copies worldwide. Place orders for the LP at Earsplit Distro HERE and the vinyl and digital at Live Fast Die Recordings' Bandcamp HERE.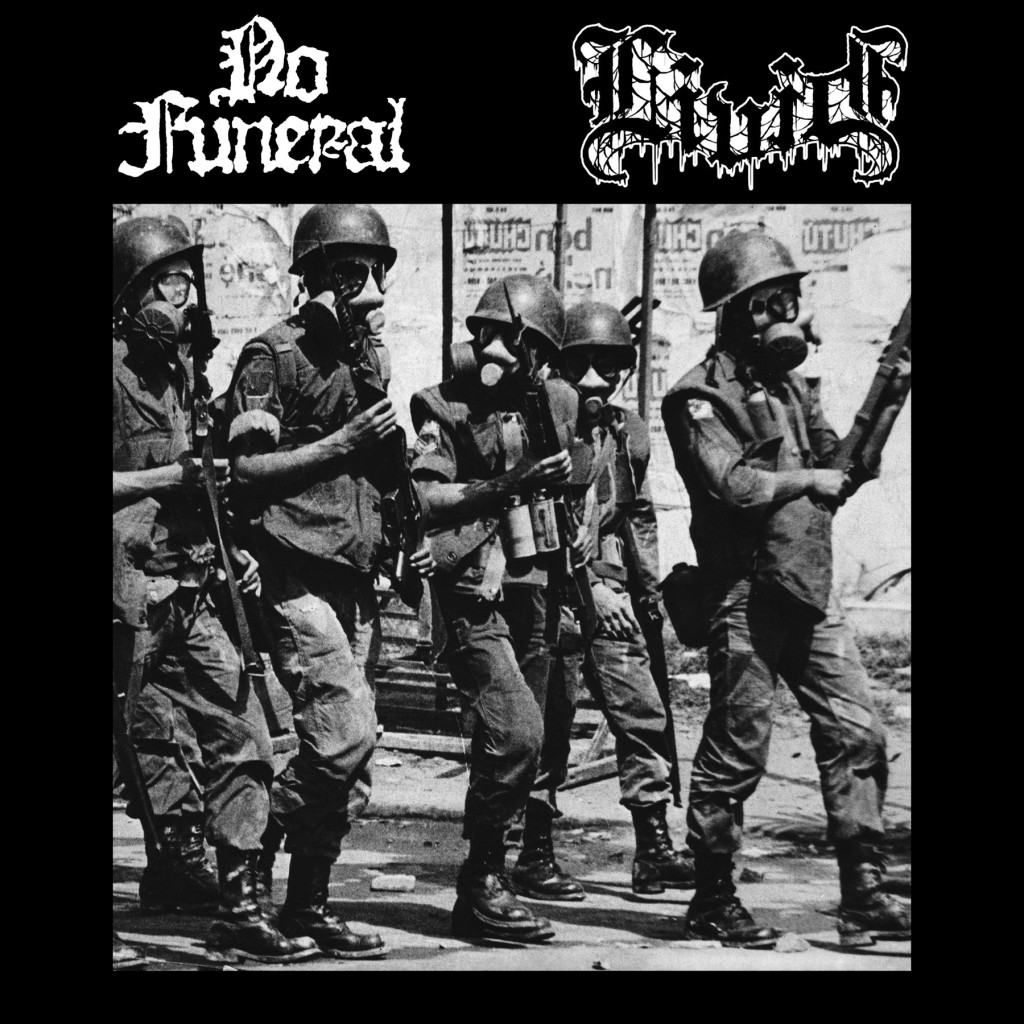 http://www.facebook.com/nofuneralmpls
http://www.facebook.com/lividirate
http://www.livefastdierecs.bandcamp.com