Baltimore, Maryland black metal quintet NIXIL has shared a guitar playthrough for "Collapsing The Poles," taken from the band's second full-length, From The Wound Spilled Forth Fire, recently released via Prosthetic Records. The playthrough comes in conjunction with NIXIL's US tour set to begin tonight, September 29th, in Youngstown, Ohio and run through October 6th in New York City.
Speaking on the guitar playthrough, Shane Gardner comments, "My number one 'BuZzy' is a partscaster — a fender body and neck — that I purchased for $200 and added a Seymour Duncan Hot Rail Humbucker and a killswitch, no toggle. For the playthrough I overdubbed my track using an SM57 through a Marshall CODE 50 Practice amp into Adobe Audition.
"I use the inverted triad on a lot of our songs. 'Collapsing…' has them throughout the verse sections. I think they add texture to a simple chord structure, and it adds a hypnotic effect with the addition of Alden's guitar note bend. It's all in the hands I guess."
Of their upcoming tour, the band adds, "We leave this Friday, September 29th, for eight dates in the Northeastern US to celebrate the release of From The Wound Spilled Forth Fire. This album — like all of our music — is best experienced live and loud; bring your rage, your aching heart, your unquenchable thirst for catharsis, and join us."
Watch NIXIL's guitar playthrough for "Collapsing The Poles" at THIS LOCATION.
Watch NIXIL's previously released video for "Abyss Unto Abyss" HERE, "In Thrall" HERE, and "Collapsing The Poles" HERE.
From The Wound Spilled Forth Fire is available CD, LP, and digitally. .For orders, visit THIS LOCATION.
NIXIL Live:
9/29/2023 Westside Bowl – Youngstown, OH
9/30/2023 Kung Fu Necktie – Philadelphia, PA
10/1/2023 Ralph's Rock Diner – Worcester, MA
10/2/2023 Cherry Street Station – Wallingford, CT
10/3/2023 Windsor Exchange – Windsor, VT
10/4/2023 Geno's Rock Club – Portland, ME
10/5/2023 Dusk – Providence, RI
10/6/2023 El Bunker del Diablo – New York City, NY
Having made their presence known with their 2021 debut, All Knots Untied, NIXIL has steadily garnered a loyal following through live appearances across the United States sharing stages alongside Hulder, Evoken, Molder, Yatra, and an appearance at Maryland Deathfest 2022 along the way. Time spent on the road served to sharpen their collective musicianship and fully realize NIXIL's desire for collaborative unity and authenticity within the group ahead of From The Wound Spilled Forth Fire's creation.
NIXIL's scorched earth approach to black metal's sonic extremities offer a radical alternative to secular approaches to, and readings of, their craft. Where All Knots Untied was an introductory affair for the quintet, 2023 sees the band further expand upon concepts of chaos Gnosticism, ego-death, self-empowerment, and freedom.
After solidifying their lineup in its current form, with the arrival of guitarist/backing vocalist Alden, NIXIL opted to record From The Wound Spilled Forth Fire live at Magpie Cage Recording Studio with J. Robbins. The resulting six songs seethe with a frenzied despair, whilst more ominous passages breathe with a disquieting existential terror in every percussive and rhythmically meditative trance, exactly as the band intended to capture before handing mastering duties to James Plotkin.
NIXIL's latest offering is more than invocation and manifestation alone, From The Wound Spilled Forth Fire is an invitation for those shackled by earth and flesh to dispel from regressive human made traditions and misplaced guilt and shatter the illusion of a self.
NIXIL:
C. – vocals
Key – drums
Aurora – bass, backing vocals
Alden – guitar, backing vocals
Shane – guitar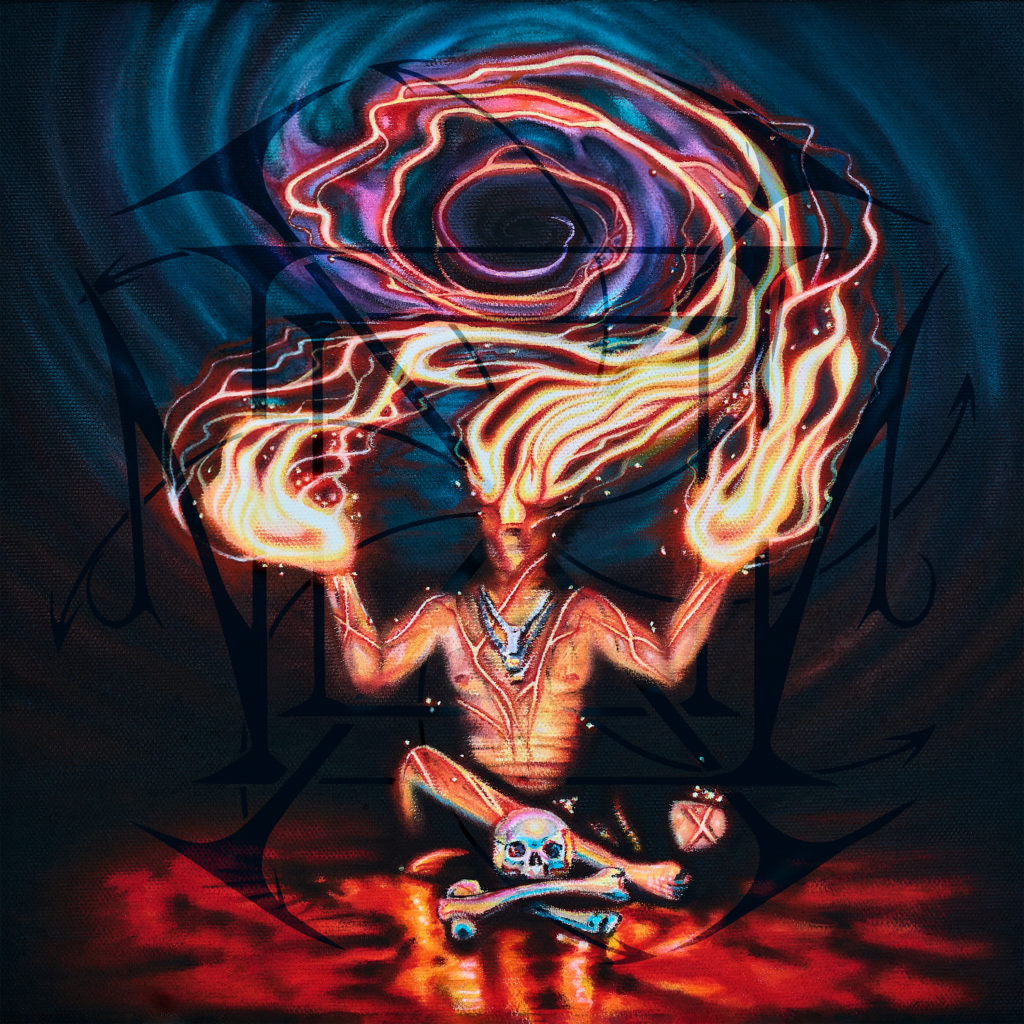 http://www.nixilnothing.com
http://www.facebook.com/nixilnothing
http://www.instagram.com/nixilnothing
http://www.twitter.com/nixilnothing
http://www.prostheticrecords.com
http://www.facebook.com/prostheticrecords
http://twitter.com/ProstheticRcds
http://www.instagram.com/prostheticrecords