Bay Area death cult NECROT will kick off the long-anticipated Blood Offerings Over Europe tour this week. Slated to commence September 8th at Kill-Town Death Fest, the journey will rumble the stages of nearly three-dozen cities upon its conclusion October 14th. The trek, which follows their crushing performance at Psycho Las Vegas last month, marks the band's first-ever European tour.
Comments the band, "We're about to pulverize Europe with the nastiest, ugliest, and utmost disgusting death metal! Thirty-five cities in eleven countries are targeted for destruction. We will be crushing venues, bodies, and minds on this month-and-a-half-long tour. You have been warned!"
Additionally, NECROT will play the inaugural Decibel Metal & Beer Fest: Los Angeles. Set to take place December 1st and 2nd at the historic Wiltern, the band will share the stage with the likes of Testament, Triptykon, Godflesh, Pig Destroyer, YOB, Power Trip, Khemmis, Trappist, and so many more. See all confirmed dates below.
NECROT Blood Offerings Over Europe 2018:
9/08/2018 Kill Town Death Fest – Copenhagen, DK
9/09/2018 Hafenklang – Hamburg, DE
9/10/2018 Plaque – Leipzig, DE
9/11/2018 Durer Kert – Budapest, HU
9/12/2018 T Klub – Roznov, CZ
9/13/2018 Hellroom – Kassel, DE
9/14/2018 Urban Spree – Berlin, DE
9/15/2018 Bloodshed Fest – Eindhoven, NL
9/16/2018 The Boston Music Room – London, UK
9/17/2018 Aatma – Manchester, UK
9/18/2018 Temple Of Boom – Leeds, UK
9/19/2018 Fuel – Cardiff, UK
9/20/2018 Wheatsheaf – Banbury, UK
9/21/2018 Magassin 4 – Bruxelles, BE
9/22/2018 NRW Festival – Wermelskirchen, DE
9/23/2018 Het Bos – Antwerp, BE
9/24/2018 Cafè Trauma – Marburg, DE
9/25/2018 Bobble Cafe– Lille, FR
9/26/2018 Cirque Electrique – Paris, FR
9/27/2018 TBA – Brest, FR
9/28/2018 Le Zinc- Poitiers, FR
9/29/2018 VOID – Bordeaux, FR
9/30/2018 Ferme de Mauriac – Mauriac, FR
10/01/2018 Les Pavillons Sauvages – Toulouse, FR
10/02/2018 Laudio – Orbeko Etxea, ES
10/04/2018 Metal Point – Porto, PT
10/05/2018 Stairway Club – Cascais, PT
10/06/2018 Sala La Petite – Grenada, ES
10/07/2018 Zona Rock – El Ejidio, ES
10/08/2018 La Residencia – Valencia, ES
10/09/2018 Upload Club – Barcellona, ES
10/10/2018 Rock 'N' Eat Live – Lyon, FR
10/11/2018 Blue Rose – Milan, IT
10/12/2018 Tikitaka – Pescara, IT
10/13/2018 CPA – Florence, IT
10/14/2018 Freakout – Bologna, IT
12/1-2/2018 Decibel Metal & Beer Fest @ The Wiltern – Los Angeles, CA [tickets]
NECROT unleashed their critically-adored Blood Offerings full-length via Tankcrimes in 2017. Captured by Greg Wilkinson (Vastum, Graves At Sea) and mastered by Brad Boatright (Nails, Gatecreeper), the record earned the #29 spot on Billboard's Hard Rock Chart and #52 on Billboard's New Artist Chart upon its first week of release. Additionally, Blood Offerings earned year-end accolades from the likes of Decibel Magazine and Revolver and continues to reap the praise of fans and critics globally.
Necrot's Blood Offerings is out now on CD, digital, and vinyl formats and well a recently-issued deluxe cassette edition. Tankcrimes recently repressed the LP (now available on limited-edition splatter or olive vinyl). Find physical orders at THIS LOCATION. Stream Blood Offerings in full at THIS LOCATION where you can also purchase the record digitally.
Forged in 2011, NECROT – founded by current and former members of Acephalix, Vastum, Saviours, Watch Them Die, Atrament, and more – unleashed their The Labyrinth full-length in 2016 via Tankcrimes. Spewing forth eight tracks amassed from three hard-to-find and long out-of-print demo tapes, the record reaped critical acclaim from fans and media alike compelled by the band's unrepentant Autopsy, Bolt Thrower, and Sacrilege worship.
"Packed with killer riffs, thunderous blast beats and the death-defying leads of Saviours guitarist Sonny Reinhardt, the debut album from this hotly touted Oakland death metal trio bristles with a raw intensity that's frequently lost in the modern era of triggered, overproduced extremity. By keeping it real, NECROT keep it awesome." – Revolver
"Blood Offerings is all old ground, but it is hallowed earth. We've heard everything played on this album before, but we've never heard it played quite like this. If you're that curmudgeon who keeps saying nothing can displace your aging death metal album collection, it might be finally time to buy a new record." – Decibel
"Metaphorically, it's like putting your ear up to the chest of a rotting corpse and listening to the parasites eat it from the inside out. NECROT has recorded an album so putrescent you can almost smell it." – Paste Magazine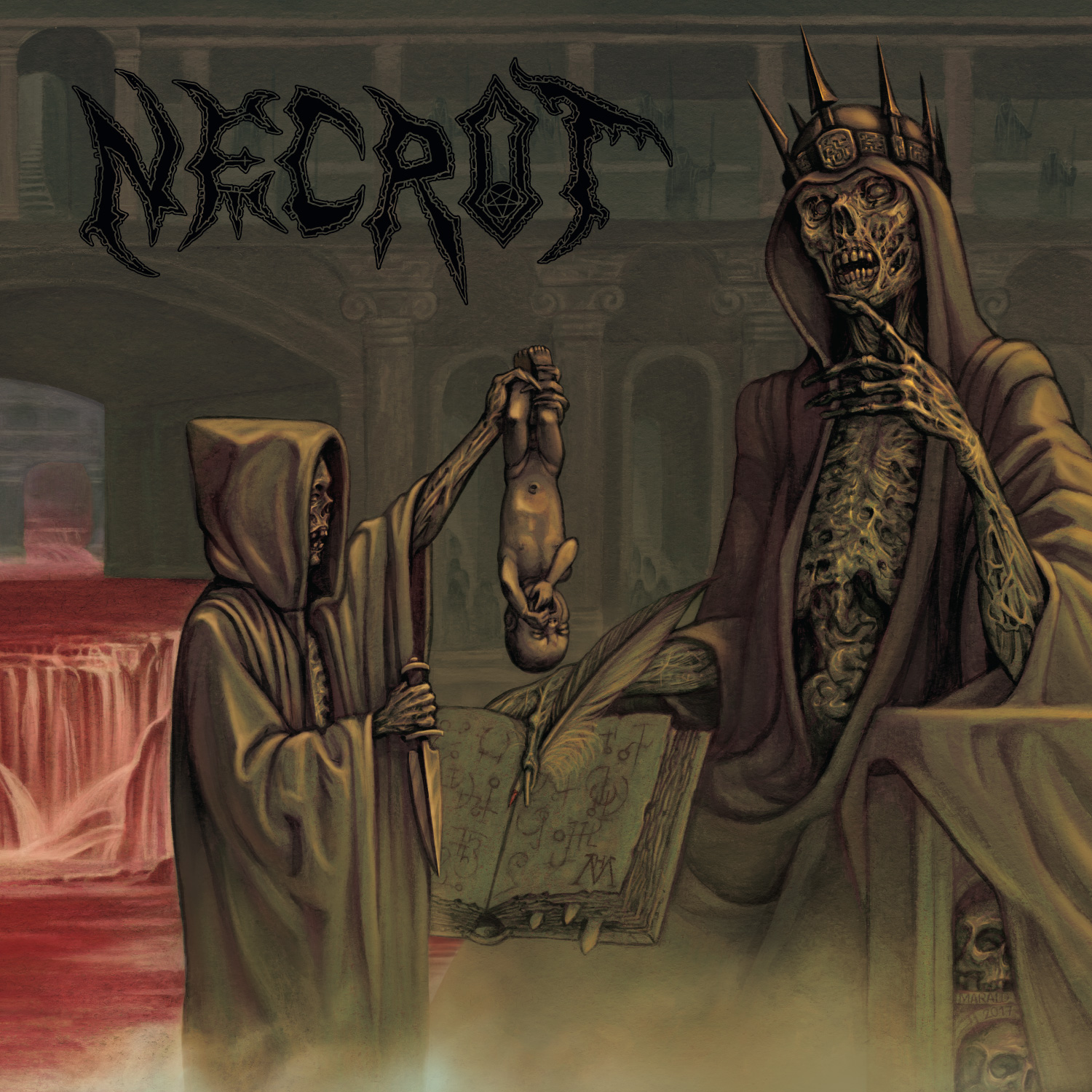 http://www.facebook.com/cyclesofpain
http://www.tankcrimes.com
http://www.facebook.com/tankcrimes
http://www.tankcrimes.merchtable.com