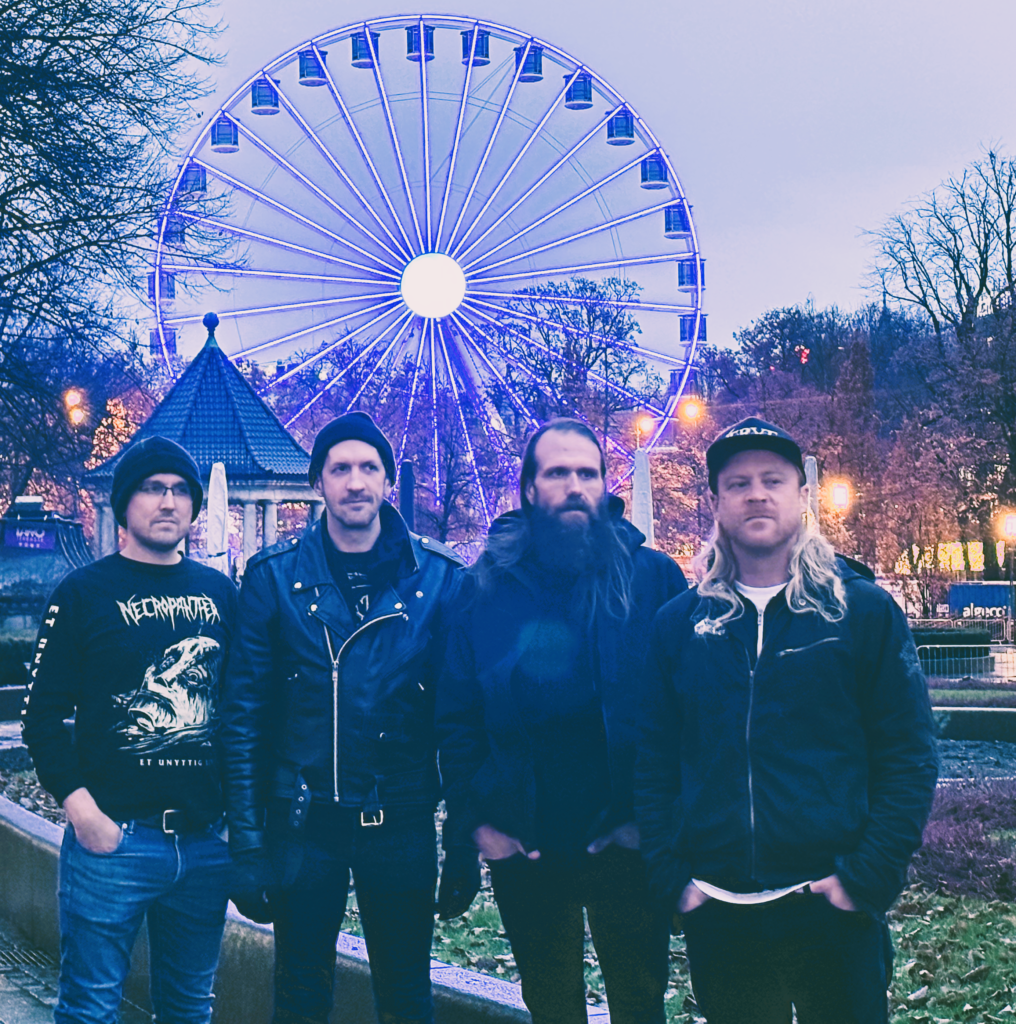 Colorado-based death/thrash outfit NECROPANTHER will release their long-awaited fourth full-length, Betrayal, March 3rd, today unveiling the record's artwork, track listing, and first single.
The metal genre-manipulating band from Denver has always crafted their full-length releases around cult sci-fi/dystopian future cinema. Betrayal intertwines the movie The Warriors with the Greek story of Anabasis by Xenophon (on which The Warriors is based).
The eleven-track album features the rigorous musicianship and energetic riffs that NECROPANTHER fans have come to expect, with the addition of experimental executions and techniques that put the band in fresh territory. "These are areas we've never explored before, like backwards guitar, Marcus using a screwdriver on a bass track, and harmonized whammy leads," notes guitarist Joe Johnson. Betrayal sees the addition of guitar solos from vocalist/guitarist Paul Anop and deeper vocals from bassist Marcus Corich to complement Anop's signature rasp.
"This is the first album where I have guitar solos," states Anop, "It definitely challenged me and helped me grow as a musician." Corich echoes these sentiments, "Testing the limits of my bass performance, playing with atypical sounds and taking on vocals was both massively challenging and rewarding." Adds Johnson, "It was a lot of fun trading solos with Paul and to have that new lead voice. Combining that with Marcus's vocals adds dimension to our orchestration and sound that helps make this the richest record we've ever done."
This musical progress was born from the pandemic-imposed hiatus from live shows, leaving the band to focus on practicing, writing, and developing material in the practice space. "Everyone in the band composes songs, but everyone has different styles and influences. Continuing to elevate these collaborative voices is what stimulates our growth and exploration as musicians, and makes NECROPANTHER unique," says drummer Haakon Sjogren.
When it came time for Betrayal's technical production, NECROPANTHER knew the right partner was critical. They enlisted the mixing talents of metal legend David Castillo (Carcass, Kreator, Katatonia) of Ghost Ward Studios in Stockholm, Sweden. "This record has more lead guitar than any we've ever done, and based on his incredible past work, we knew Castillo could help us reach our goals," elaborates Anop. Adds Johnson, "His catalog speaks for itself. Our sound is a combination of different metal subgenres, sometimes in rapid succession. He was able to present those details with clarity so our listeners can enjoy that variety in its correct context."
From a technical aspect, Castillo was a good fit. Explains Corich, "His hybrid workflow, with a mixture of analog and outboard reverbs, compression and console summing, fit this production perfectly." And there was another benefit. "We got the added bonus of visiting Scandinavia," Sjogren points out, "I'm from Norway, so we visited Oslo before going to the studio in Sweden. It was really cool to introduce the band to my origins, both personal and musical."
Adds Castillo, "I loved working with these guys. Their music and performances are so pure and raw in a very good way. You can hear that each one of them put their heart into the music and the delivery is outstanding. They need the cred that they deserve, and I wish them the best of luck!"
NECROPANTHER chose The Warriors as subject matter for Betrayal after exploring the history of the movie. "The Warriors is based on the ancient Greek war story of Anabasis. The tales are parallel: A small group is betrayed and isolated in dangerous enemy territory and must fight their way back home," states Johnson. Adds Sjogren, "Much like The Warriors, we explored new territory on this album and often found ourselves in unfamiliar places but working together to make it 'home.' Also, it's just a great, fun movie with wisdom that's still relevant in today's world."
In advance of the release of Betrayal, the band is pleased to unveil first single "One And Only." Notes Johnson of the track, "'One And Only' is a melodic thrash song with some twists and turns featuring extended performance techniques on guitar and bass and introduces Marcus Corich's low vocals for the first time. This is the third album in a row opening with a song written by Haakon Sjogren. He has a great thrash sensibility and it made sense for us to establish that we're developing artistically but not reformatting on this record."
NECROPANTHER's Betrayal, which comes adorned in the cover art of Max Sherman, will be released on CD, vinyl, and digital formats. Find preorders at THIS LOCATION.
Betrayal Track Listing:
One And Only
Covenant
Breathe Evil
If You Can Count
Into Danger
Revenants
Wanderers
Furies
Don't Stop For Death
Out To The Sand
Betrayal
NECROPANTHER will play an official record release show on April 8th in Denver joining metal legends Vader, Krisiun, and Decrepit Birth with additional live performances to be announced in the weeks to come.
NECROPANTHER:
4/08/2023 The Marquis Theater – Denver, CO * Record Release Show w/ Vader, Krisiun, Decrepit Birth
NECROPANTHER hails from the metal music cauldron of Denver, Colorado. Masters of genre manipulation, the band blends elements of death, thrash, black metal, and more to create riff-heavy albums for a dystopian future. All four band members are composers and collaboratively create their full-length albums. Since 2014 they have amassed a catalog of startling diversity and consistent quality.
NECROPANTHER:
Paul Anop – guitar, vocals
Marcus Corich – bass, vocals
Joe Johnson – guitars
Haakon Sjogren – drums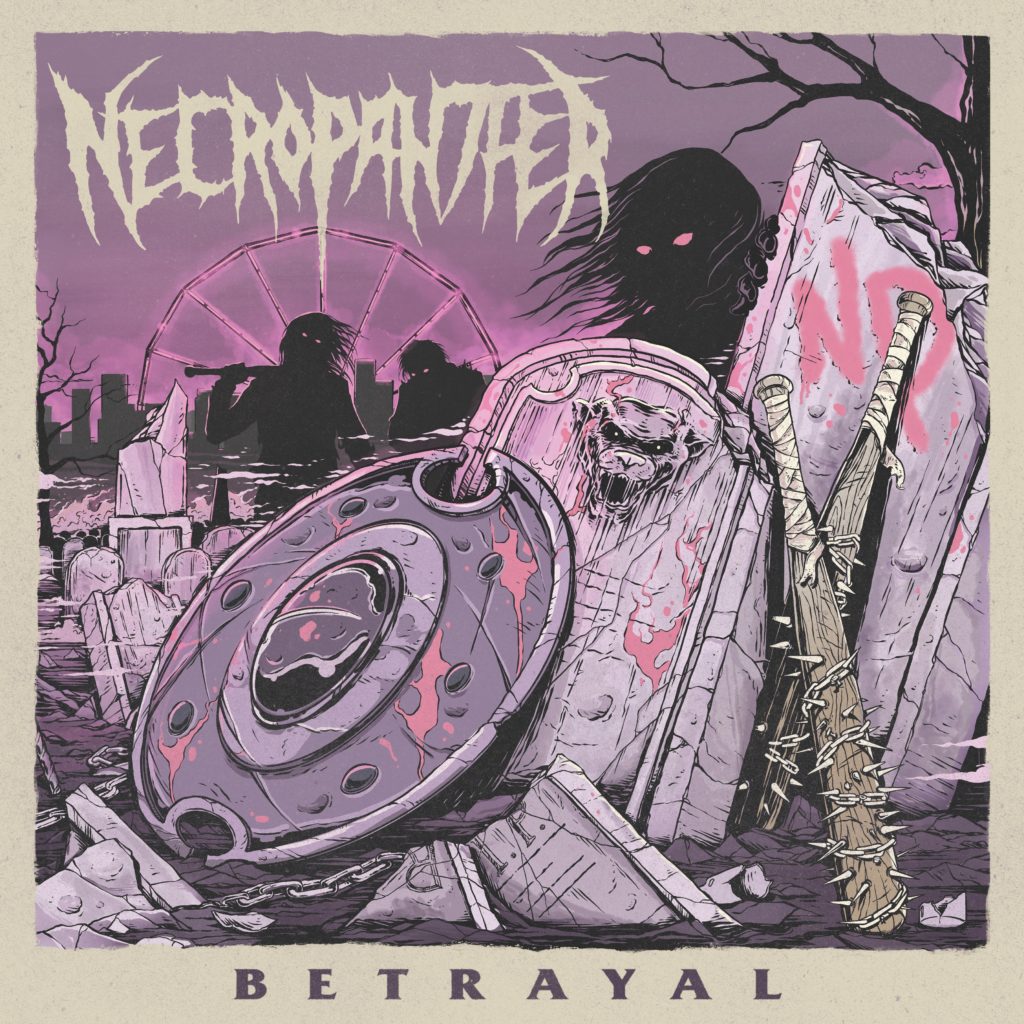 http://www.necropanther.com
http://www.facebook.com/Necropanther
http://www.instagram.com/necropanther
http://necropanther.bandcamp.com