Santa Fe, New Mexico-based thrashing death metal outfit STREET TOMBS will unleash their Reclusive Decay debut full-length via Carbonized Records February 17th!
Formed in 2017, STREET TOMBS was forged in the flames of the legendary underground venue, The Cave, where the band hosted numerous shows for the DIY punk/metal community of Santa Fe and surrounding cities. The collective has released three demos since 2018. Combining the death metal grit of early Sepultura and Bolt Thrower with the rabid D-Beat/street punk of Discharge and G.B.H., Reclusive Decay presents a unified vision for all that is dark, heavy, and fast. As death and disease rage through our modern world, STREET TOMBS rip the abyss of suffering.
Reclusive Decay was recorded, mixed, and mastered by Augustine Ortiz at The Decibel Foundry with additional recording by Galen Baudhuin, cover art by Todd White, additional interior artwork by Lucas B, and logo by Ben Brodsky.
In advance of the record's release, today the band releases first single, "Rising Torment." Comments guitarist/vocalist Damian Jacoby, "'Rising Torment' follows the lonely, cursed fate of a man consumed by greed, victim only to the vices he extorted for gain. The turmoil inside him festers and a spirit is born, one that will torment him to his death; an internal decay. The worst of us often remains hidden this way, and it slowly rises to consume each of us in its turn; the curse of humankind."
Stream STREET TOMBS' "Rising Torment" at THIS LOCATION.
Reclusive Decay will be released on CD, LP, cassette, and digitally. Find preorders at The Carbonized web shop HERE or Bandcamp HERE.
Reclusive Decay Track Listing:
Wretched Remains
Diseased Existence
Devour
Rising Torment
Commanding Voices Of The Damned
Volcanic Siege
STREET TOMBS:
Damian Jacoby – guitar, vocals
David McMaster – guitar, vocals
Ben Brodsky – drums
Galen Baudhuin – bass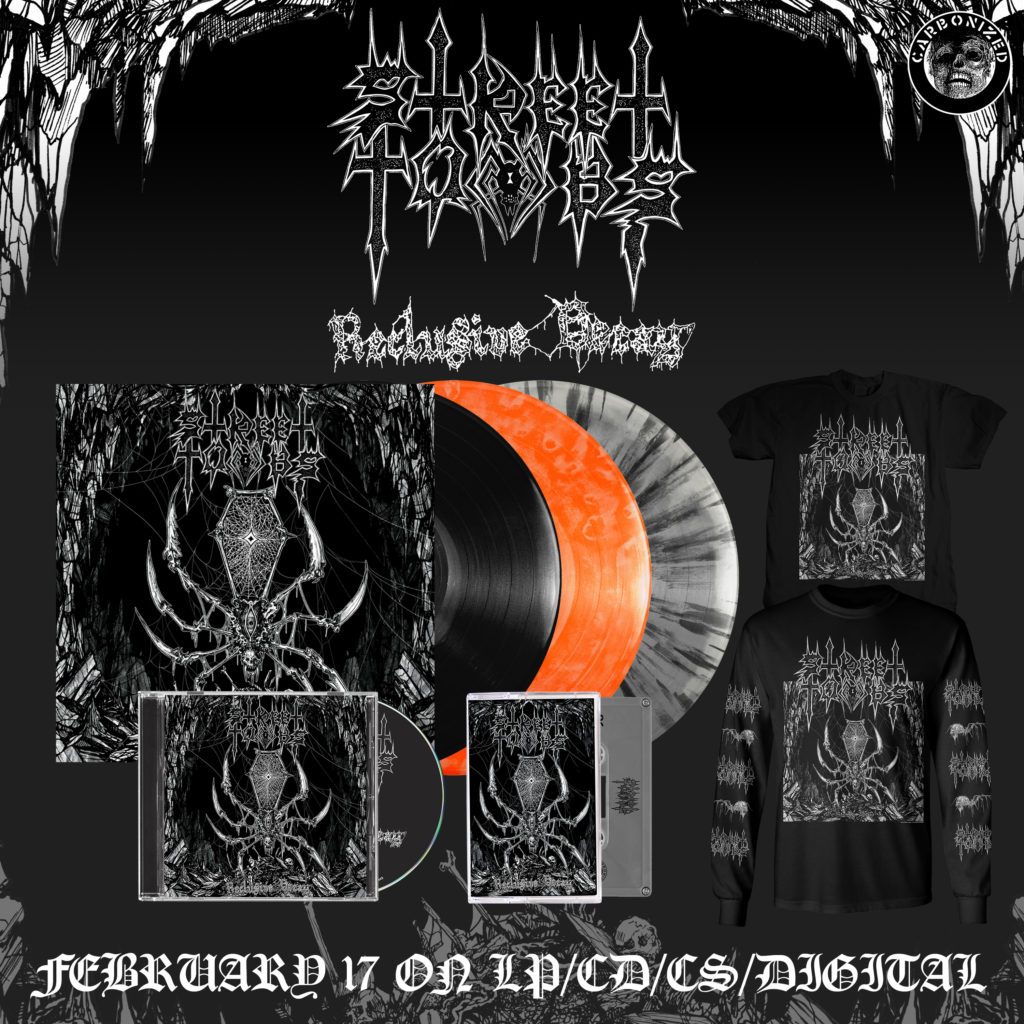 http://www.instagram.com/streettombs
http://www.streettombs.bandcamp.com
http://www.carbonizedrecords.com
http://www.facebook.com/Carbonized-Records
http://www.twitter.com/Carbon_Forms
http://www.instagram.com/carbonizedrecords