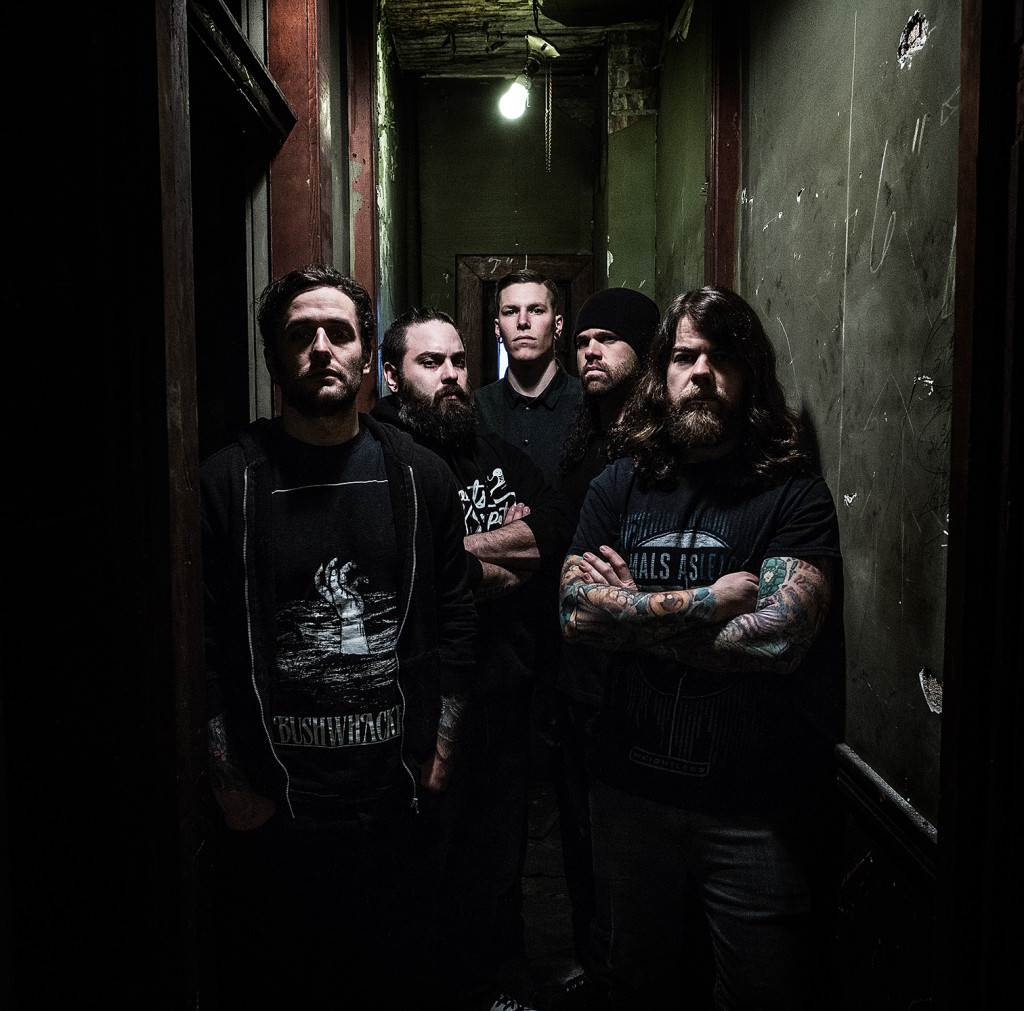 [photo by Shimon Karmel]
The Passenger, the debut full-length release from Vancouver, British Columbia-based progressive death metal outfit NECK OF THE WOODS is out now through Basick Records. The crushing record was issued in mid-September as the band stormed across Canada on tour in support of the album.
NECK OF THE WOODS' slick but brutalizing blend of progressive, groove-laden, technical death metal is delivered through nine crushing tracks on The Passenger, drawing comparisons to the likes of Misery Signals, Opeth, Darkest Hour, Between The Buried And Me, Gojira, and more. The album was recorded at Rain City Recorders by Stu McKillop, produced by Stu McKillop and NECK OF THE WOODS.
Stream NECK OF THE WOODS' The Passenger and find ordering options at THIS LOCATION. Also see the video for "You'll Always Look The Same To Me" HERE.
Metal Hammer issued, "Merging the power and technicality of Opeth, Gojira, and Between The Buried And Me, the Vancouver five-piece's debut album is sure to set the minds of prog-metalheads ablaze." Decibel Magazine posted, "Progressive metal outfit NECK OF THE WOODS have combined deep grooves, technicality and progressive elements and merged them with death metal on their upcoming debut release, The Passenger."
MetalSucks offered, "their influences come from all over the prog metal spectrum (and beyond), and as such there really is no way to get any more specific. You'll be tempted to compare them to Opeth, Between the Buried and Me, Soilwork and even Every Time I Die… and then there's the guitar solo, which some straight up, epic Zakk Wylde shit. And that's just on this one track from an album of nine." No Clean Singing reported, "Citing bands such as Between The Buried and Me, Opeth, and Gojira amongst their primary influences, the nine tracks which make up The Passenger offer a riveting blend of big riffs, big grooves, and equally big hooks which should readily appeal to fans of similarly Prog/Death-inspired acts like Iron Thrones (RIP) and Black Crown Initiate."
NECK OF THE WOODS is currently working on several new visual accompaniments to the album including playthrough videos and more, which will be issued over the weeks ahead. The band will continue to announce regional live performances throughout the next several months, with plans of touring heavily and internationally throughout 2018.
http://www.neckofthewoodsmetal.com
https://www.youtube.com/user/NOTWmetal
https://twitter.com/notwmetal
https://www.facebook.com/neckofthewoodsmetal
https://www.instagram.com/neckofthewoodsband
http://www.basickrecords.com
https://www.facebook.com/basickrecords