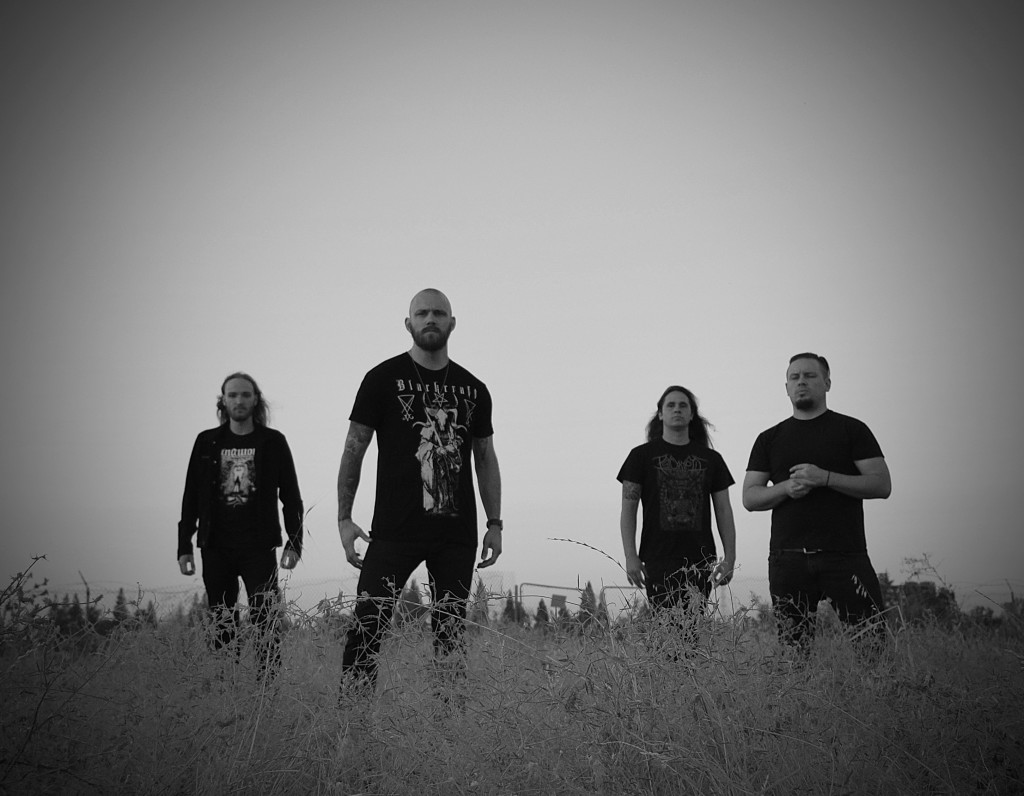 Imperium is the impending new full-length from brutalizing California death metal unit THE KENNEDY VEIL. Slated to drop on October 20th via Unique Leader Records, the eight-track offering was produced, mixed, and mastered by Zack Ohren (Animosity, Suffocation, All Shall Perish et al) at Castle Ultimate Productions, features guest appearances by Trevor Strnad of The Black Dahlia Murder, Sven de Caluwé of Aborted, and Dickie Allen of Infant Annihilator, and comes swathed in the cover art of Robert Cook.
In advance of its release, today MetalSucks is hosting the official premiere of opening crusher, "Godslaughter." Issues the band, "The opening lyric of 'Godslaughter' simply states, 'reclaim death.' To us, it is a statement of remaining true to what the genre was built from, while still bringing our own ideas of modern death metal into the fold. From blast beats to slow, heavy parts, 'Godslaughter' has something that we think all fans of the genre can sink their teeth into."
Sample the audio punishment of "Godslaughter," now playing at MetalSucks RIGHT HERE.
And if you missed it, check out "Flesh Of The Sun," featuring The Black Dahlia Murder's Trevor Strnad HERE.
Preorder Imperium at THIS LOCATION. For digital orders visit THIS LOCATION.
The occult has been a construct within civilizations all over the world, varying in degree and modernity, but always present. Each individual culture derives its occultism from the dark myths that permeate within its subconscious hive mind. America as a culture — as an experiment — has been volatile since day one. Plagued by a history of genocide, slavery, and corruption, its burgeoning occult is in its fragile yet violent infancy. Imperium highlights themes of this encapsulation: That is, fear, myth, despair, and humanity's inclination toward utter corruption.
Taking influence from a purer, more ancient evil of European descent, THE KENNEDY VEIL has incorporated symphonic, blackened themes that parallel the lyrical aesthetic. Moving one step away from the more technical side and two steps into a deeper, darker, more blackened aggression. "The world of metal has become flooded with your quintessential 'tech' bands," says drummer Gabe Seeber. "It seems to me that many metal bands of today put so much focus on cramming as many notes as possible into songs, and playing the most difficult riffs with less focus on song structures as a whole. Without taking anything away from the obvious creativity and talent of today's generation of death metallers, we in THE KENNEDY VEIL are aiming to harken back to a more primal and aggressive form of the genre."
THE KENNEDY VEIL 2017 features new recruits, bassist Tyler Hawkins and vocalist Monte Bernard. "Lyrically, I drew from the current culture of our nation's short but bloody history," Barnard notes. "In such a short time, this political experiment has not only uncovered, but proudly enacted some of mankind's most hideous acts. This album draws from these events, highlighting a theme of universal evil hiding under the surface of all races, cultures, and peoples."
In related news, THE KENNEDY VEIL will embark upon the Bloodletting North America tour featuring Origin, Archspire, Defeated Sanity, Visceral Disgorge, and Dyscarnate. The trek — sponsored by MetalSucks and Indiemerch — will begin October 20th in Kansas City, Missouri and run through November 18th in Denver, Colorado. See all confirmed dates below.
THE KENNEDY VEIL: Bloodletting North America Tour w/ Origin, Archspire, Defeated Sanity, Visceral Disgorge, Dyscarnate:
10/20/2017 The Riot Room – Kansas City, MO
10/21/2017 Club Garibaldi – Milwaukee, WI
10/22/2017 Cobra Lounge – Chicago, IL
10/232017 The Token Lounge – Westland, MI
10/24/2017 Mod Club – Toronto, ON
10/25/2017 Bungalow – Manchester, NH
10/26/2017 Saint Vitus Bar – New York, NY
10/27/2017 Stanhope House – Stanhope, NJ
10/29/2017 Motorco Music Hall – Durham, NC
10/31/2017 Groundzero – Spartanburg, SC
11/01/2017 Exit/In – Nashville, TN
11/02/2017 The Masquerade – Atlanta, GA
11/03/2017 Walters – Houston, TX
11/04/2017 The Shrine – Tulsa, OK
11/05/2017 The Curtain Club – Dallas, TX
11/06/2017 Come And Take It Live – Austin, TX
11/07/2017 Jake's Sports Cafe – Lubbock, TX
11/08/2017 Rockhouse Bar – El Paso, TX
11/09/2017 Club Red – Mesa, AZ
11/10/2017 Gideon's Hall – Upland, CA
11/11/2017 Brick By Brick – San Diego, CA
11/12/2017 The Catalyst – Santa Cruz, CA
11/13/2017 Rock Hard PDX – Portland, OR
11/14/2017 Studio Seven – Seattle, WA
11/15/2017 Rickshaw Theatre – Vancouver, BC
11/17/2017 Metro Music Hall – Salt Lake City, UT
11/18/2017 The Roxy Theatre – Denver, CO
http://www.facebook.com/thekennedyveil
http://www.facebook.com/UniqueLeaderRecords
http://www.uniqueleader.com