"Spanning almost twenty minutes (six minutes longer than the original!), LAROCHETTE's vision both flatters and redefines Agalloch, presenting the band's tender and emotive music in a new light." – Invisible Oranges
Musk Ox/The Night Watch guitarist and Agalloch collaborator, NATHANAEL LAROCHETTE, today unveils a stunning reimagined solo interpretation of Agalloch's treasured "In The Shadow Of Our Pale Companion." The track is currently streaming at Invisible Oranges.
Issues LAROCHETTE, "Anyone who knows Agalloch's music can agree that 'In The Shadow Of Our Pale Companion' is one of their most iconic songs. When I first heard it back in 2003, it completely blew me away, just as it has for fans around the world since its release. When someone suggested I do a solo arrangement from The Mantle, I casually began playing around with this piece, not really believing a song this layered and epic could work on a solo instrument. However, as the arrangement took shape its magic was revealed because even in its starkest form, the progressions and melodies retained all their majesty and wonder. When the arrangement was complete, I realized that the song's deep feelings of solitude translated beautifully to solo guitar. At its core, it's a piece about wandering alone, with the notes of the classical guitar at times feeling like solemn, weary footsteps. It still amazes me that twenty years since discovering it, this song has lost none of its beauty and I sincerely hope that fans of the band will enjoy my interpretation of this legendary composition. Huge thanks to my brother Simon Larochette for his engineering/mixing skills, Phil Bova for his fantastic mastering and, of course, massive thanks to Agalloch for all the years of inspiration."
Adds Invisible Oranges in part, "To cover such an iconic song as Agalloch's mighty 'In The Shadow Of Our Pale Companion' is already a feat within itself, but to completely re-orchestrate all its melodic parts into a solo classical guitar arrangement takes this now-classic song into a new realm."
Stream LAROCHETTE's rendition of Agalloch's "In The Shadow Of Our Pale Companion" at THIS LOCATION.
LAROCHETTE will appear at this year's edition of Prophecy Fest in Germany later this week playing guitar in Dutch folk project, Thurnin. Find more information at THIS LOCATION.
LAROCHETTE released his Old Growth full-length in July. A moving collection of solo acoustic compositions recorded live (often by candlelight) in a woodland cabin on the shores of White Lake, Ontario, the idea for Old Growth was simple enough: record each of the album's pieces live in a single take, capturing the atmosphere of the moment in all its delicate glory. After three grueling days of recording, what emerged is the starkest and most immediate record of NATHANAEL LAROCHETTE's rich catalog. Deeply inspired by the acoustic realms of legendary records like Agalloch's The Mantle, Opeth's Morningrise, and Ulver's Kveldssanger, Old Growth is a woodland meditation capable of entrancing minimalist folk enthusiasts and metal aficionados alike.
Created with generous support from the City of Ottawa, Old Growth was engineered by Gareth Auden-Hole in a cabin on White Lake, Ontario, mixed by Gareth Auden-Hole at Là Là Studio, and mastered by Philip Shaw Bova, with layout by Isaac Valentin.
To take the project even further, NATHANAEL LAROCHETTE teamed up with Norwegian composer Martin Romberg of Raven Music Editions (Emperor, Myrkur, Ulver) to publish a complete guitar tablature book in hopes of inspiring acoustically minded metalheads to explore the art of fingerpicking. In a world where noise has become synonymous with life, the fragile instrumentals of Old Growth offer a private soundtrack to the quiet truths within, reminding us of our place in this vast forest of existence.
Old Growth is available on LP, tab book, and digitally at the official NATHANAEL LAROCHETTE Bandcamp page at THIS LOCATION.
A lifelong musician who began with the violin at four years old, Canadian guitarist/composer/producer NATHANAEL LAROCHETTE's musical journey didn't truly take flight until he set aside the violin and picked up the electric guitar as a metal obsessed teenager. During this time, a fascination with metal's acoustic side found him immersed in private classical guitar studies, further nurturing his love of the instrument while sparking his desire to compose. NATHANAEL LAROCHETTE's guitar explorations eventually gave birth to the celebrated chamber folk ensemble Musk Ox (now a long-time collaboration with renowned cellist Raphael Weinroth-Browne of Leprous, The Visit, and Kamacello) and the instrumental post-folk metal project The Night Watch.
When Agalloch invited LAROCHETTE to compose and perform original interludes for their fifth record The Serpent & The Sphere (2014), his passion for metal inspired acoustics had come full circle. Following this collaboration, NATHANAEL LAROCHETTE's debut full-length appeared as the sprawling double-album Earth And Sky (2016), part Opeth inspired solo acoustic explorations, part This Will Destroy You and Mogwai-worshipping ambient post-rock soundscapes. Though much of his creative attention focused on Musk Ox and The Night Watch over the convening years,  LAROCHETTE has returned with Old Growth, an emotive set of unaccompanied acoustic miniatures representing his starkest and most intimate release to date; a love letter to the teenage metal nerd consumed by the beauty of the calm before the storm.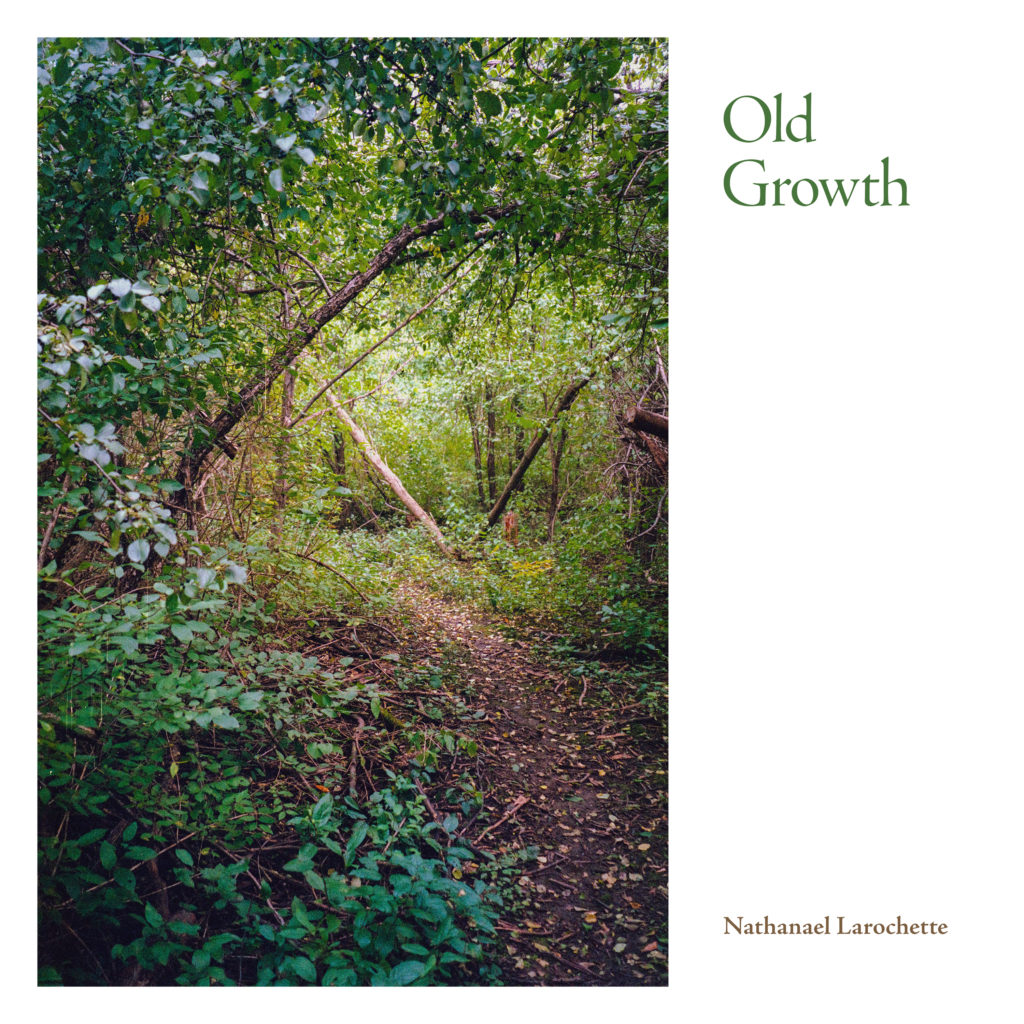 https://www.nathanaellarochette.com
https://www.nathanaellarochette.bandcamp.com
https://www.youtube.com/@n_larochette
https://www.facebook.com/nlarochette
https://www.instagram.com/n_larochette
https://www.twitter.com/n_larochette