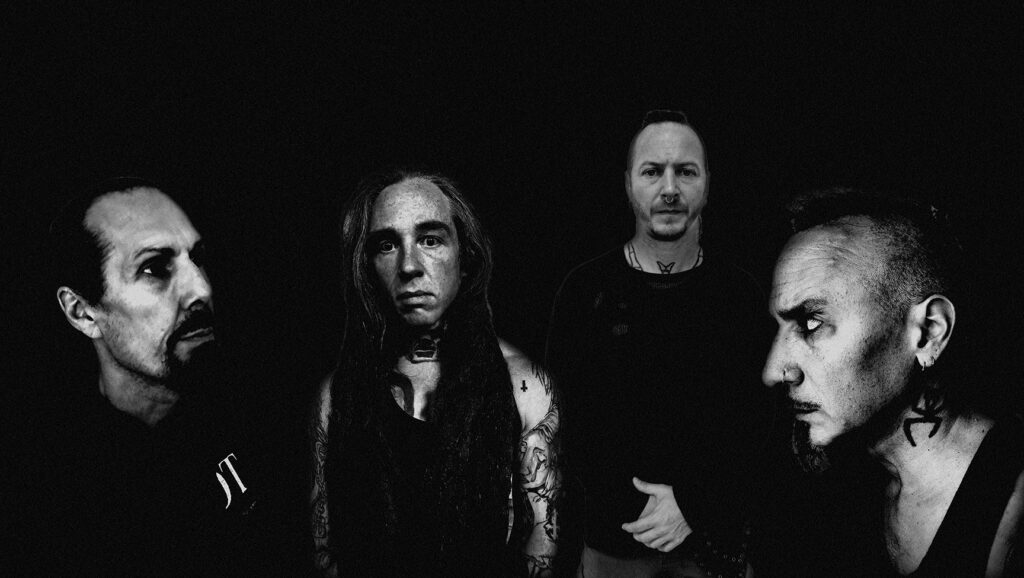 BrooklynVegan is hosting the exclusive premiere for "The Tyrant Dies," the new video/single from FALSE FED, the dark/post-punk act formed by members of Discharge, Ministry, Soulfly, Nausea, Amebix, and more. The song is found on the band's impending debut LP, Let Them Eat Fake, nearing October release on Neurot Recordings.
FALSE FED unites vocalist Jeff Janiak (Discharge, Broken Bones), guitarist Stig C. Miller (Amebix, Zygote), bassist JP Parsons, and drummer Roy Mayorga (Nausea, Ministry, Soulfly, Amebix), who collectively all step outside of their musical comfort zones to present an album of discomfort and rage in the face of reality. In these unprecedented times of global restriction, fear, and the everlasting lack of faith in the hierarchy, FALSE FED has cultivated a heavy sound that is drenched in melody, aggression, and shrouded in darkness; an ominous and dystopian entity that is not bound by genre, yet still offers subtle hints to the creators' lineage.
With tracks like the new-wave-inspired "Echoes Of Compromise," FALSE FED is certainly heading towards new pastures. It's an atmospheric kind of sound which Janiak's brutal vocals sit atop, a perfect blending of past genres to create something new for the members of this band. Let Them Eat Fake is an album which presents a remarkable balancing act between the past projects of all its creators and new musical horizons, between darkness and melody, the grimness of the present day and a hope for a better future. The album was recorded by the band, mixed by Roy Mayorga, and mastered by Jack Control at Enormous Door (Darkthrone, Fear, Discharge, Aura Noir).
As with the first single, "Echoes Of Compromise," the new video for "The Tyrant Dies" was directed and edited by Darren Green/PunkRockGreeny.
Janiak reveals, "When I started writing the lyrics to this song it was originally about individual narcissistic/psychopathic human beings, then somewhere along the line I realized that it represented most of our world 'leaders,' so now it's a song about protest, rebellion and feeling hope in a world that can sometimes feel hopeless."
Parsons writes, "'The Tyrant Dies' is very aggressive in comparison to our first single release, 'Echoes Of Compromise.' It's got this riff that we all just instantly locked into from the get-go. The song pretty much just wrote itself."
Miller adds, "This is the second song we wrote together and probably my personal favorite. The syncopated beat was fun to work with; it's simple but powerful."
BrooklynVegan writes, "Lead single 'Echoes of Compromise' found the band exploring gothy post-punk territory, while 'The Tyrant Dies' leans into a heavier punk side."
Watch FALSE FED's "The Tyrant Dies" video first through BrooklynVegan at THIS LOCATION.
Neurot Recordings will release Let Them Eat Fake on LP, CD, and digitally on October 13th. The vinyl will be pressed on Cloudy Clear w/ Grey Splatter in the US and Grey w/ Black Splatter in EU; both are available at Neurot's US store. Find preorder options and more at THIS LOCATION and watch the "Echoes Of Compromise" video HERE.
Watch for additional audio and video previews from the album and more to be issued over the weeks ahead.
https://www.facebook.com/FalseFedOfficial
https://www.instagram.com/false_fed_official
https://www.neurotrecordings.com
https://www.facebook.com/neurotrecordings
https://twitter.com/OfficialNeurot
https://neurotrecordings.bandcamp.com
https://www.instagram.com/neurotrecordings