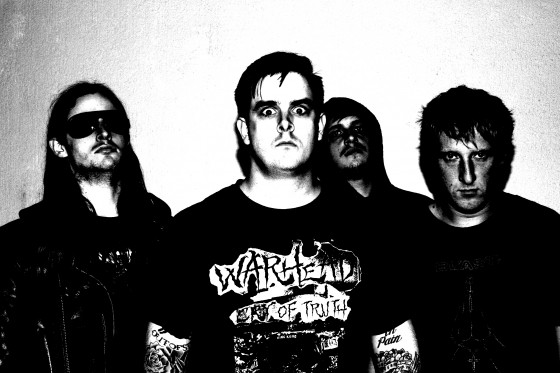 NAILS, tyrants of the American underground, have triumphantly completed their second full-length Abandon All Life, due out Spring 2013 on Southern Lord.
Recorded at Godcity with Kurt Ballou (Converge) and mastered by Brad Boatright (From Ashes Rise), these ten tracks of barbaric rage have no resemblance to the laughable, retro party metal that passes as extreme music in today's world. Instead, NAILS carpet bombs the listener with their horrifying brand of death/grind/hardcore chaos; flawlessly blending shades of Suffocation, early Nasum, and Celtic Frost with their own sadistic aggression. With profound hatred, the howling war cry of Abandon All Life shows NAILS as a band without equal in their class. Abandon All Life will drop in North America via Southern Lord on March 19th. Today the cover art, crafted by Farron Kerzner (Lightning Swords of Death) has been posted.
The crew at Pitchfork has unleashed the fourth track from NAILS' new beast; blast the thunderous "God's Cold Hands" and kick off your week with a demoralizing beginning RIGHT HERE.
Abandon All Life Track Listing:
1. In Exodus
2. Tyrant
3. Absolute Control
4. God's Cold Hands
5. Wide Open Wound
6. Abandon All Life
7. No Surrender
8. Pariah
9. Cry Wolf
10. Suum Cuique
With tour plans already coming together to support Abandon All Life, NAILS has locked down a brutal run through the upper Midwest into Canada and down the East Coast at the end of April and beginning of May. The slaughter will kick off at the Chicago-based hardcore fest The Rumble, with two days of bands including The Killer, Xibalba, Early Graves, Twitching Tongues, Crown of Thornz, Hoods, Wisdom In Chains, Weekend Nachos, Expire, Power Trip, Alpha and Omega and tons more. From there, NAILS join vicious labelmates Xibalba on a co-headlining tour with support from Early Graves, sponsored By Invisible Oranges, the trek set to trample through Cleveland, Buffalo, Toronto, Montreal, Albany, Boston, Brooklyn and Philadelphia.
NAILS Spring Tour w/ Xibalba, Early Graves:
4/26/2013 The Cobra Lounge (The Rumble) – Chicago, IL
4/27/2013 Now That's Class – Cleveland, OH
4/28/2013 The Funeral Home – Buffalo, NY
4/29/2013 Sneaky Dea's – Toronto, ON
4/30/2013 Il Motore – Montreal, QC
5/01/2013 Bogies – Albany, NY
5/02/2013 Great Scott – Boston, MA
5/03/2013 St Vitus – Brooklyn, NY
5/04/2013 O'Reillys – Philadelphia, PA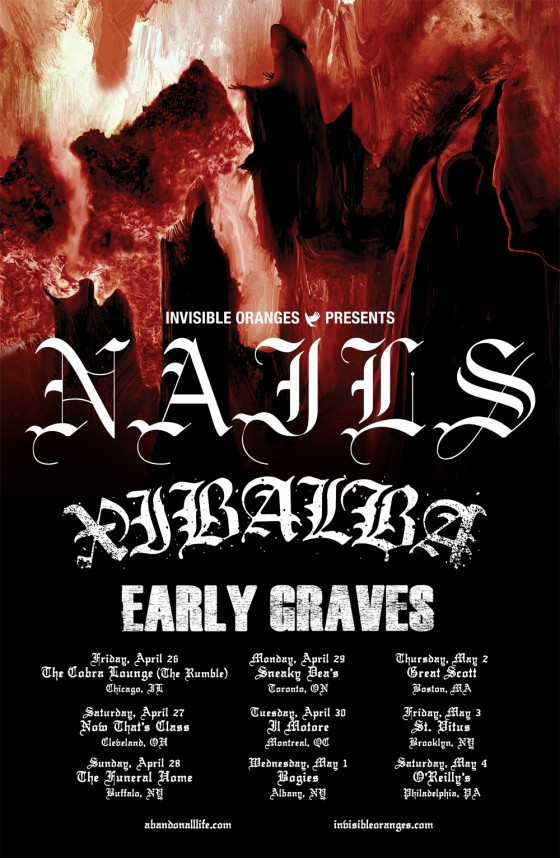 http://www.unsilentdeath.com
http://www.nailsmerch.com
http://www.southernlord.com
https://www.facebook.com/SLadmin
http://twitter.com/twatterlord