Avant-garde death metal unit AZURE EMOTE — envisioned and created by Mike Hrubovcak (Monstrosity, Vile, Divine Rapture, Abraxas) and executed utilizing musicians from Death, Fear Factory, Monstrosity, Tristania, Rumpelstiltskin Grinder and more — today announces the completion of their second studio album The Gravity Of Impermanence.
Confirmed for worldwide release through Selfmadegod Records on April 3rd, The Gravity Of Impermanence is fueled by pummeling blast beats, haunting female vocals, violins, saxophone, harmonica and a barrage of other eclectic surprises brought together into one melting pot of misanthropic darkness that defines the AZURE EMOTE ethos. Possessing fourteen songs encompassing over an hour of devastatingly original extreme metal the album was recorded, mixed and mastered by Ron Vento of Aurora Borealis at Nightsky Studios. The cover art was once again done by AZURE EMOTE's creator and frontman Mike Hrubovcak, his Visual Darkness works well-known in the death/grind communities for illustrating covers for Sinister, Grave, Cattle Decapitation, Hate Eternal, Decrepit Birth, Mortician, and many others.
View the cover art, video studio reports and more, as well as stream the epic closing track to the album "Puppet Deities" directly below.
The Gravity Of Impermanence lineup:
• Mike Hrubovcak – vocals, lyrics, keyboards, electronic programming, samples, harmonica
• Ryan Moll – lead/rhythm guitars
• Mike Heller – drums/percussion
• Kelly Conlon – bass
• Pete Johansen – violin/electric violin
• Sandra Laureano – vocals
• Melissa Ferlaak Koch – vocals
• Bruce Lamont – saxophone
• Jonah Weingarten – keytar solos
• J.J. Hrubovcak – guest guitar solo
• Jason Ian-Vaughn Eckert – guest electronic programming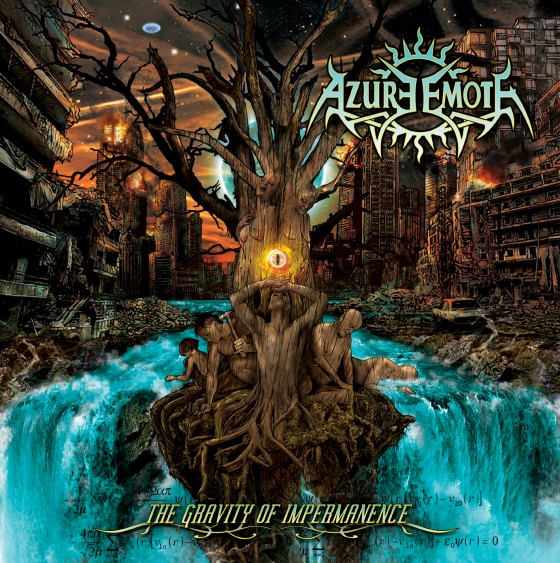 The Gravity Of Impermanence Track Listing:
1. Epoch of De-Evolution
2. Carpe Diem
3. Marching Forth
4. Sunrise Slaughter
5. Conduit of Atrophy
6. Veils of Looming Despair
7. Dissent
8. The Living Spiral
9. Obsessive Time Directive
10. Patholysis
11. Destroyer of Suffering
12. Annunaki Illuminati
13. The Color of Blood
14. Puppet Deities
http://www.azureemote.com
http://www.facebook.com/azureemote
http://www.azureemote.bandcamp.com
http://www.selfmadegod.com
http://www.selfmadegod.bandcamp.com
http://www.facebook.com/selfmadegod
http://www.twitter.com/selfmadegodrec