Five-piece aggressive metalcore outfit MOUTH FOR WAR are pleased to announce their union with MNRK Heavy for the release of their second full-length studio album, set for release late this Fall!
Hailing from Colorado Springs, Colorado, MOUTH FOR WAR focuses on manifesting crushing breakdowns laced with visceral grooves that echo somber melodies. Of the band's critically lauded, debut LP, Life Cast In Glass, Blabbermouth championed the band's knack for creating riffs, "that will make you want to run through a brick wall," while Dead Rhetoric praised a, "visceral and intense attack that will make you catch your breath," adding, "MOUTH FOR WAR snuggly nestles into that blurry metal and hardcore line that manages to take the best of both worlds and craft an experience that is both memorable and completely destructive."
Comments MNRK Heavy's SVP of Rock & Metal, Scott Givens, of the band's signing, "MOUTH FOR WAR is a great addition to the label and they have delivered an amazing record for us. They create a lethal combination of metal/hardcore that we can't wait to unleash."
In celebration of their singing, today MOUTH FOR WAR drops their latest single, "Under The Gun," and its companion video. Comments the band on the punishing new track, "MOUTH FOR WAR is ecstatic to give you our new track 'Under The Gun' after such a long wait. We are undergoing a new era of sonic aggression and we chose our heaviest song yet to bring to you first. We hope you enjoy it as much as we do."
Watch MOUTH FOR WAR's "Under The Gun" video HERE. Stream/purchase the track HERE.
Later this week, MOUTH FOR WAR will hit the road for a three-week run supporting No Bragging Rights. The Born Dead Tour commences on August 25th in Chicago, Illinois, runs through September 17th in Nashville, Tennessee, and includes a stop at Born Dead Festival in Albany, New York. Additional support will be provided by Downswing, as well as Mugshot and Your Spirit Dies, on select dates. See all confirmed dates below.
MOUTH FOR WAR w/ No Bragging Rights, Mugshot (9/11 – 9/17), Downswing, Your Spirit Dies (8/27 – 9/10):
8/25/2023 The WC Social Club – Chicago, IL
8/26/2023 The Sanctuary – Detroit, MI
8/27/2023 Legends Bar & Venue – Cincinnati, OH
8/29/2023 Ace Of Cups – Columbus, OH
8/30/2023 Preserving Underground – Pittsburgh, PA
8/31/2023 Basement Transmissions – Erie, PA
9/01/2023 Montage Music Hall – Rochester, NY
9/02/2023 Born Dead Fest – Albany, NY
9/03/2023 Jewel Music Venue – Manchester, NH
9/05/2023 The Kingsland – Brooklyn, NY
9/06/2023 House Of Independents – Asbury Park, NJ
9/07/2023 Lovedraft's – Mechanicsburg, PA
9/08/2023 Kung Fu Necktie – Philadelphia, PA
9/09/2023 Norfolk Taphouse – Norfolk, VA
9/10/2023 Local 506 – Chapel Hill, NC
9/11/2023 Radio Room – Greenville, SC
9/12/2023 Conduit – Orlando, FL
9/13/2023 Propaganda – Lake Worth, FL
9/14/2023 Crowbar – Tampa, FL
9/15/2023 The Earl – Atlanta, GA
9/17/2023 The End – Nashville, TN
Forged in 2019, MOUTH FOR WAR put out their debut EP An Ear Kept To The Ground and immediately sunk their teeth into the world of touring that was unfortunately cut short by COVID-19. Where the pandemic dragged other bands under, MOUTH FOR WAR used their downtime to formulate their debut LP, Life Cast In Glass, a collection of grieving songs. Released on 1126 Records, Life Cast In Glass helped propel the band's notoriety and curated their next steps into becoming a national act. The band has since taken on the entire US with bands such as Bodysnatcher, Boundaries, and ZAO, as has shared stages Knocked Loose, Malevolence, and others, playing numerous sold out shows and taking crowds by proverbial storm.
Further info on MOUTH FOR WAR's upcoming new full-length will be unleashed in the coming weeks. Fans of Hatebreed, Terror, and Madball, pay heed.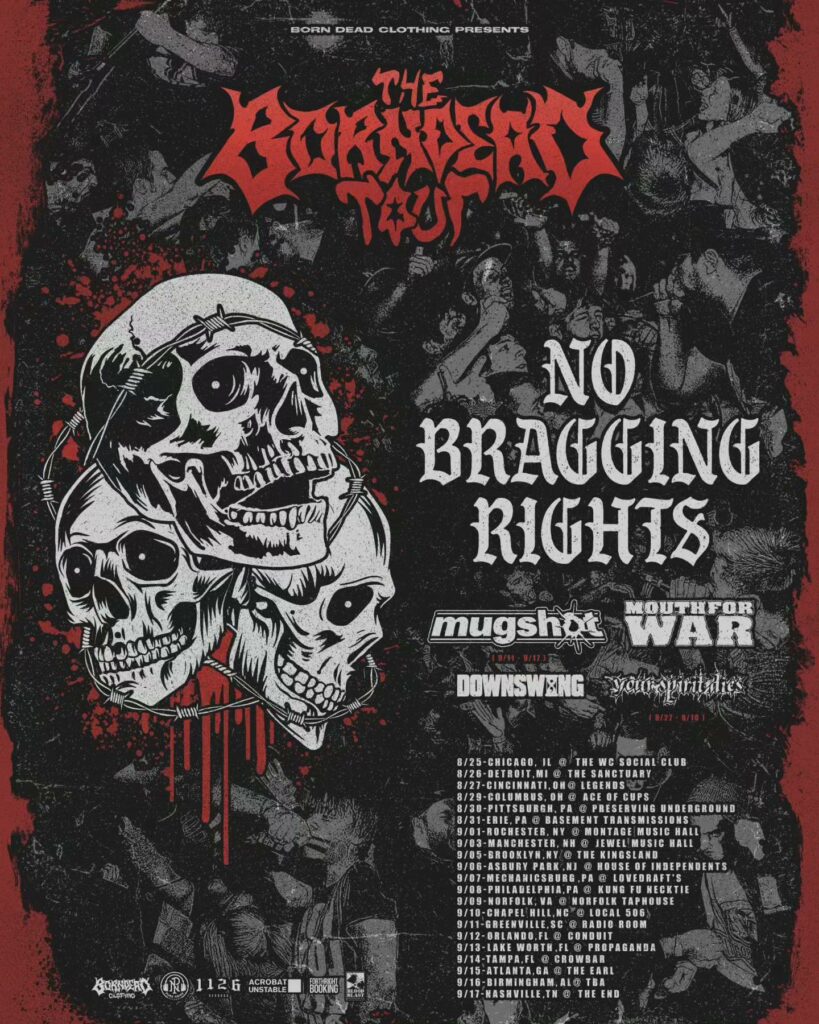 https://www.facebook.com/mouthforwarco
https://www.instagram.com/mouthforwarco
https://twitter.com/mouthforwarco
https://www.mnrkheavy.com
https://www.facebook.com/MNRKHeavy
https://www.instagram.com/MNRK_heavy
https://www.twitter.com/MNRKHeavy