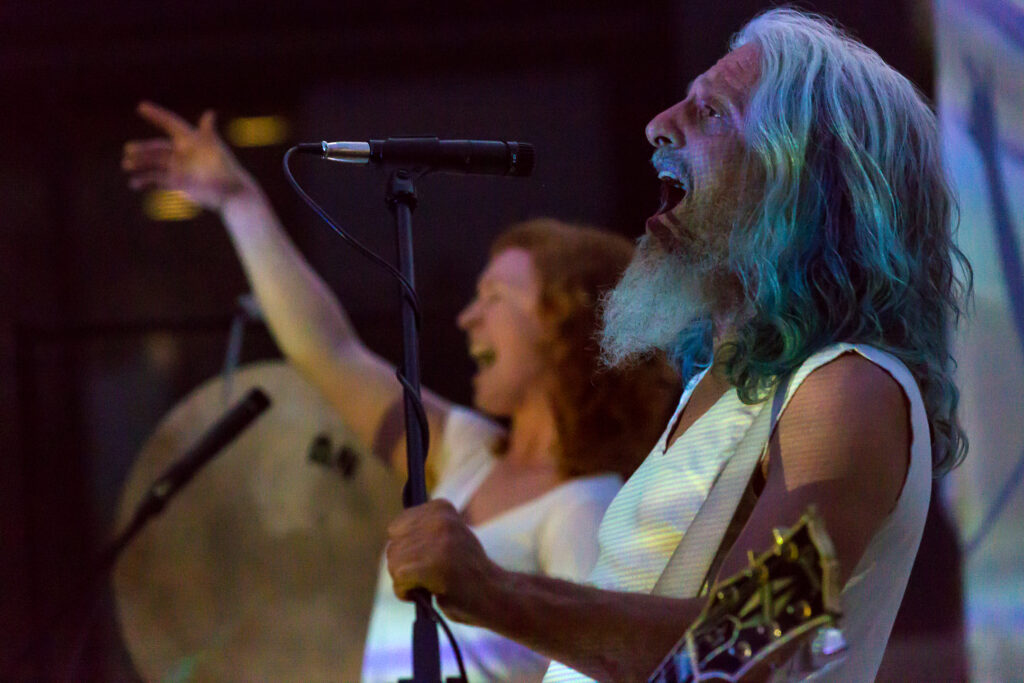 photos by Chris Bubinas
"…Dumesday Book is a kaleidoscopic reflection on the weirdness of the pandemic." – The Wire
Revered independent/experimental music magazine The Wire is hosting an exclusive stream of Dumesday Book, the new album from Baltimore, Maryland-based psychedelic post-rock duo DARSOMBRA, alongside an interview with the band. The album sees release this Friday as the band launches their latest North American tour.
Dumesday Book delivers seventy-five minutes of sonic revelry, recorded and mixed by DARSOMBRA's Brian Daniloski at the band's home studio, Whale Manor, and mastered by Jon Smulyan. DARSOMBRA's Ann Everton handled the cover art, photography, and videography.
Within their featured review of Dumesday Book in their new print issue, The Wire writes, "Whereas a lot of music directly inspired by the lockdown (lack of) boogie has tended towards extreme introspection and fixated on the material circumstances of confinement, DARSOMBRA embrace a broad spectrum of emotions. Dumesday Book swings from dependency to exhilaration, exhaustion to hope, surveying landscapes as internal, external, and cosmic. Theirs has always been an expansive music; here it covers more ground than ever and with considerable confidence." The write-up accompanying their intimate interview and advance album stream reads in part, "…Dumesday Book is a kaleidoscopic reflection on the weirdness of the pandemic."
Visit The Wire to explore DARSOMBRA's epic Dumesday Book now at THIS LOCATION.
DARSOMBRA will release Dumesday Book on CD, 2xLP, and digitally on their own Pnictogen Records this Friday, August 25th. Physical formats include a twelve-page booklet, a sticker, and a Bandcamp download code with access to bonus material. Find preorders/bundles HERE and Bandcamp HERE, and watch the "Gibbet Lore" video HERE.
Following several weeks of touring around the Great Lakes, and a performance at the Voice Of The Valley Festival in West Virginia, DARSOMBRA will embark on the Dumesday Book Tour across North America this Friday when Dumesday Book sees release. Beginning with a hometown record release show, the band will play nearly three-dozen shows, the tour coming to a finale at the Shadow Woods Reunion in Mechanicsburg, Pennsylvania with Panopticon and more on October 21st. See the itinerary below and stand by as the band continues to book new excursions into the Fall and Winter months.
DARSOMBRA Dumesday Book Tour:
8/25/2023 Current Space – Baltimore, MD *Release Show w/ Moth Broth, Quattracenta
8/31/2023 Melody Inn – Indianapolis, IN w/ Stuporwaffles, Mycota
9/01/2023 Village Theatre – Davenport, IA w/ The House Flies
9/02/2023 Gabe's – Iowa City, IA w/ Aseethe, Louisiana Drifter, OSO
9/03/2023 White Squirrel – St. Paul, MN w/ Beach Mountain, Loser Magnet
9/04/2023 The Aquarium – Fargo, ND The Aquarium w/ Scum Rag, Yam Lynn, DEATHKREW, Dakota Magick, H.E.R.
9/06/2023 Handsome Daughter – Winnipeg, MB w/ Mahogany Frog, Cantor Dust
9/07/2023 The Exchange – Regina, SK w/ Psst Shh, Dig.it.all
9/08/2023 Amigo's – Saskatoon, SK
9/09/2023 Palomino – Calgary, AB w/ Hair Control, Harem Sol
9/10/2023 Kaffa – Edmonton, AB w/ Juice, Electric Bench Hoop
9/14/2023 Red Gate – Vancouver, BC w/ Organoizes, New Age Doom
9/15/2023 Crace Mountain – Nanaimo, BC w/ Eye of Gorgon
9/16/2023 Beacon House – Protection Island, BC w/ The Roses
9/19/2023 Cryptatropa – Olympia, WA w/ Humming Amps, Hearse Mechanic, Avola
9/21/2023 Clock–Out – Seattle, WA w/ Fungal Abyss, Authentic Luxury
9/22/2023 High Water Mark – Portland, OR w/ Thrones, Mnemonic Pulse, Breath
9/23/2023 BAD Space – Salem, OR w/ Andromeda, Chimes
9/26/2023 The Shredder – Boise, ID w/ Rodeo Screams, Shadow and Claw, Scram Signal
9/28/2023 ZACC – Missoula, MT w/ Swamp Ritual, Nightwitch
9/29/2023 Filling Station – Bozeman, MT w/ The Dean Wakerlin Sonic Bliss Bath
9/30/2023 Black Hills Psych Fest @ Aby's – Rapid City, SD w/ The Savage Blush, Diaphane, Thought Patrol, more
10/02/2023 Vinyl–ly Alive – Soldier Creek, SD
10/03/2023 2SMOO – Lincoln, NE w/ Our Last Atlas
10/04/2023 TBA – Peoria, IL w/ Sanddance
10/05/2023 Blind Bob's – Dayton, OH w/ Into Pandemonium
10/06/2023 Art Party – Morgantown, WV w/ Grey Harbinger, The Long Hunt
10/07/2023 Mushroom City Art Fest – Baltimore, MD w/ Miles Gannett, Dave Heumann, Marian McLaughlin, more
10/11/2023 Mama Tried – Brooklyn, NY w/ Sally Gates/Zoh Amba/Brian Chase Trio, Ala Muerte
10/12/2023 Cold Spring Hollow – Belchertown, MA w/ Junk Orbit, Knobclaw
10/13/2023 Geno's – Portland, ME w/ MoMe, This World Has Bees
10/14/2023 Loading Dock – Littleton, NH w/ Ari Bopp
10/19/2023 O'Brien's – Boston, MA w/ Dyr Faser, The O–Zones, FEEP
10/20/2023 The Century – Philadelphia, PA w/ Stinking Lizaveta, Rope Trick
10/21/2023 Shadow Woods Reunion @ Lovedraft's Brewing – Mechanicsburg, PA w/ Panopticon, A Sound Of Thunder, IATT, more
Originally conceived as a surreal take on a pop album to contrast with their ominously prescient monolithic 2019 release, Transmission, Dumesday Book is a ten-song survey of sentiment and human experience in the pandemic, from initial lockdown to vaccinated re-emergence and beyond – which, in the DARSOMBRA microcosm, means from cancelled tours to returning to the road.
Fittingly, DARSOMBRA's Brian Daniloski and Ann Everton wrote the framework for the album during the quarantine of Spring 2020, and then tirelessly refined it over the next three years. At times bizarre, intense, mollifying, sardonic, irreverent, overwhelming, and hopeful, Dumesday Book takes its name from the 11th century census book which served as the oldest public record in the English language, Domesday Book – so named because its decisions were unalterable, its sentence was law, and its survey of human activity so complete. The album's sound follows the theme of survey as well, with glam-prog frivolity giving way to heavy psych doomscapes laden with music concrète field recordings. A bong rip takes you from a disconcerting chord progression to a goblin doggerel dirge, all to resolve into a space-shimmery synthcapade laced with heart-fueled guitar riffs worthy of any Krautrockian nod for a non-Teutonic band. Of course, there are serious moments of rock woven throughout this hour-plus-long musical journey, but to typify Dumesday Book as simply drone, or metal, or psych – or even prog – is missing the point.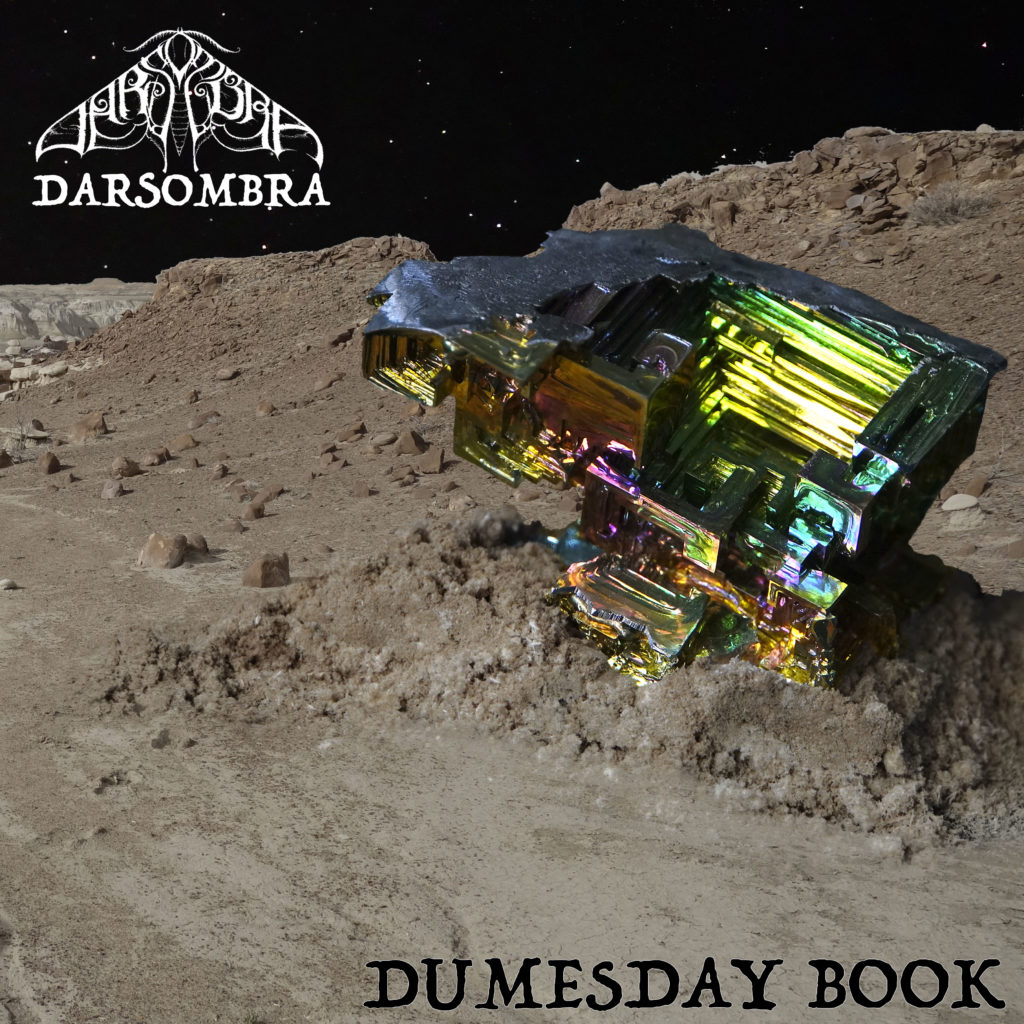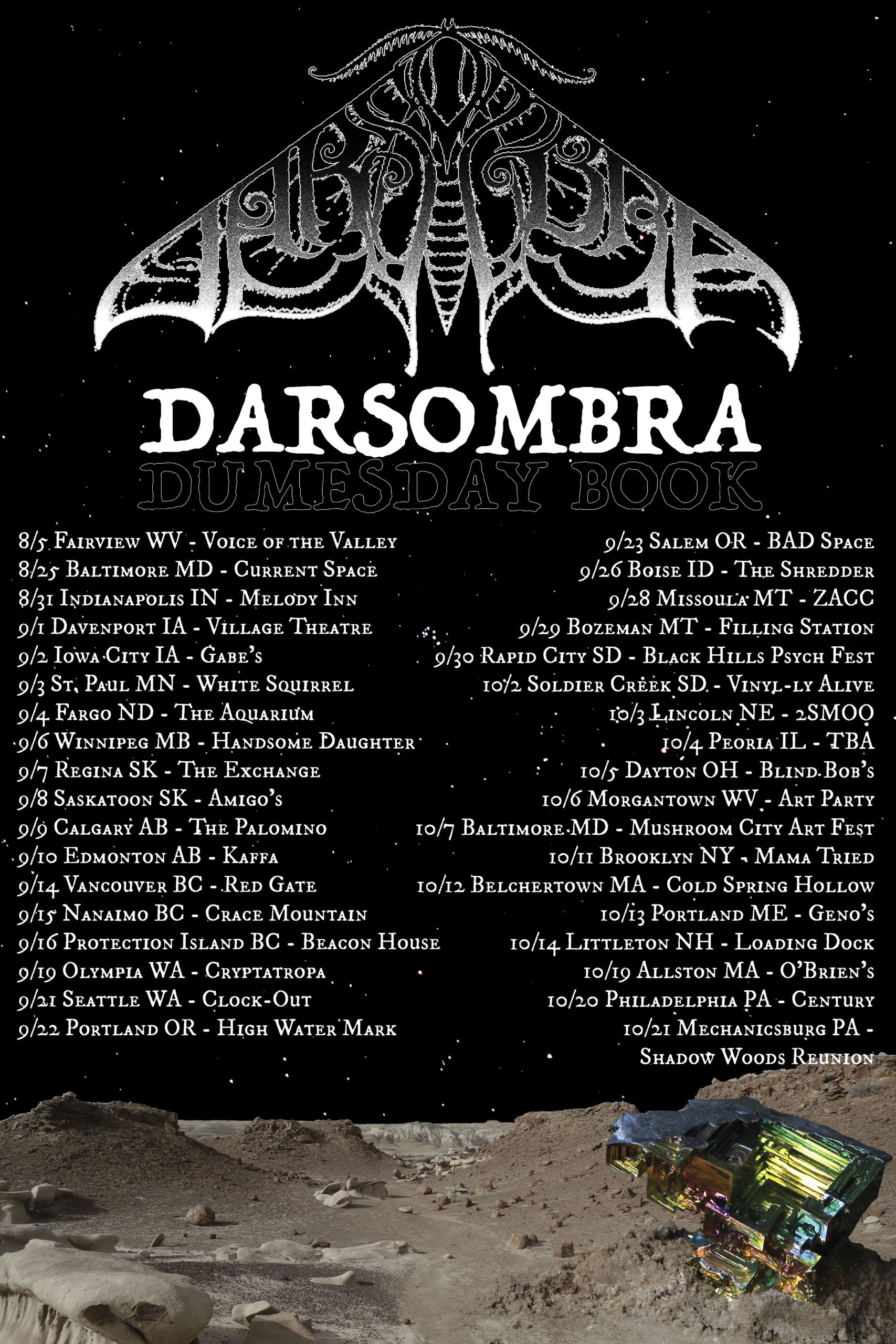 https://www.darsombra.com
https://darsombra.bandcamp.com
https://www.facebook.com/darsombra
https://www.youtube.com/darsombra
https://www.instagram.com/darsombra
https://www.instagram.com/pnictogenrecords