"…this ten-track compilation represents not only two incredible slabs of heavy death metal, but a mandatory piece of recent underground US death metal history." — Decibel Magazine
Decibel Magazine is currently streaming the Among The Lost and Mors Immortalis demos from San Jose death metal practitioners MORTUOUS in full. The two long out-of-print recordings will be released on one CD this Friday via a joint partnership between Carbonized Records in the United States and Triumvirate Of Evil in Colombia.
Tracks one through six contain MORTUOUS' 2012 demo – initially released via Transylvanian Tapes then reissued in 2015 as a limited 12″ MLP entitled Among The Lost through Netherlands-based Dawnbreed Records – while tracks seven through ten contain their 2009 demo, Mors Immortalis, originally released through Skeleton Plague Records in 2010. Among The Lost was recorded at Earhammer Studios between February through April 2012 and engineered and mixed by Greg Wilkinson. Mors Immortalis was recorded, engineered, and mixed by founder Colin Tarvin in December 2009.
Stream both demos alongside an interview with founder Colin Tarvin, at Decibel Magazine HERE.
Among The Lost / Mors Immortalis will be released in a limited run of 500 copies (jewel case with eight-page booklet included) with artwork by Joe "Ravager" Romero on March 6th. For preorders, visit the Carbonized Bandcamp page HERE or website HERE. Visit the Triumvirate Of Evil website HERE.
MORTUOUS will bring their sonic brutality to Mexico for the first time later this month to play Total Death Over Mexico III before kicking off a two-plus week European takeover with Copenhagen death metallers, Hyperdontia. The Eternal Evisceration Over Europe 2020 trek commences April 24th in Denmark and comes to a close May 9th at Graveland Fest in the Netherlands. See all confirmed dates below.
MORTUOUS:
3/13/2020 Total Death Over Mexico III – Mexico City, MX
Eternal Evisceration Over Europe 2020 w/ Hyperdontia:
4/24/2020 Loppen – Copenhagen, DK
4/25/2020 Favela Cafe – Helsingborg, SE
4/26/2020 Jampbar – Szczecin, PL
4/27/2020 Drizzly Grizzly – Gdansk, PL
4/28/2020 Chmury – Warsaw, PL
4/29/2020 D.K. Luksus – Wroclaw, PL
4/30/2020 Chemiefabrik – Dresden, DE
5/01/2020 07 Strahov – Prague, CZ
5/02/2020 Kafe Piksla – Breclav, CZ
5/03/2020 Kulturak Klub – Bratislava, SK
5/04/2020 Durer Kert – Budapest, HU
5/05/2020 MPC – Postojna, SL
5/06/2020 Circolo Svolta – Milano, IT
5/07/2020 Les Caves du Manoir – Martigny, CH
5/08/2020 Goldgrube – Kassel, DE
5/09/2020 Graveland Fest – Hollandscheveld, NL
MORTUOUS was forged in San Jose, California in 2009 from the ashes of guitarist Colin Tarvin's previous project Funerealm. Tarvin began writing music in the vein of Incantation, Autopsy, and Viogression with lyrics centered heavily on philosophical views on death and anti-technological themes. Later that year he released the Mors Immortalis demo on Skeleton Plague Records which received praise and recognition throughout the underground death metal community. By 2010, MORTUOUS had a full lineup which included former Exhumed members drummer Col Jones and guitarist/vocalist Mike Beams as well as vocalist Al Tarvin-Kibler, and bassist Nick Scarboro. In 2013, the band parted ways with Tarvin-Kibler and Scarboro and recruited bassist Clint Roach. Drummer Chad Gailey of Necrot joined the fold that following year completing the band's current incarnation.
In November of 2016, MORTUOUS entered Earhammer Studios with Greg Wilkinson to record their debur full-length, Through Wilderness, which features eight new tracks of total doom and death metal with nods to such bands as My Dying Bride, Paradise Lost, Rottrevore, and Disembowelment. Through Wilderness was released in June 2018 through Carbonized and Tankcrimes Records in the United States. Dawnbreed and Extremely Rotten Productions handled the European edition. In September of 2018, MORTUOUS released a split 7″ with Scolex which made its debut at Kill-Town Death Fest VI: The Resurrection. In 2019, the band unleashed another split 7″ with Deform and made a few appearances at festivals such as Eternal Warfare, California Deathfest, Kill-Town Death Fest VII, and Decibel Metal And Beer Fest: Los Angeles.
"…filthy death metal of the highest order…"– Decibel
"…pure pulverizing death…" – Revolver
"…a fantastic dose of muddy and ugly death metal." – New Noise
"…rotting death metal done by rotters who understand how important it is to have rotten things in your life." – Last Rites
MORTUOUS Lineup On Mors Immortalis:
Colin Tarvin – all instruments, vocals
Attacker – guest lead on "The Eternal Return"
MORTUOUS Lineup On Among The Lost:
Al Tarvin-Kibler – vocals
Colin Tarvin – guitars
Mike Beams – guitars
Col Jones – drums
Nick Scarboro – bass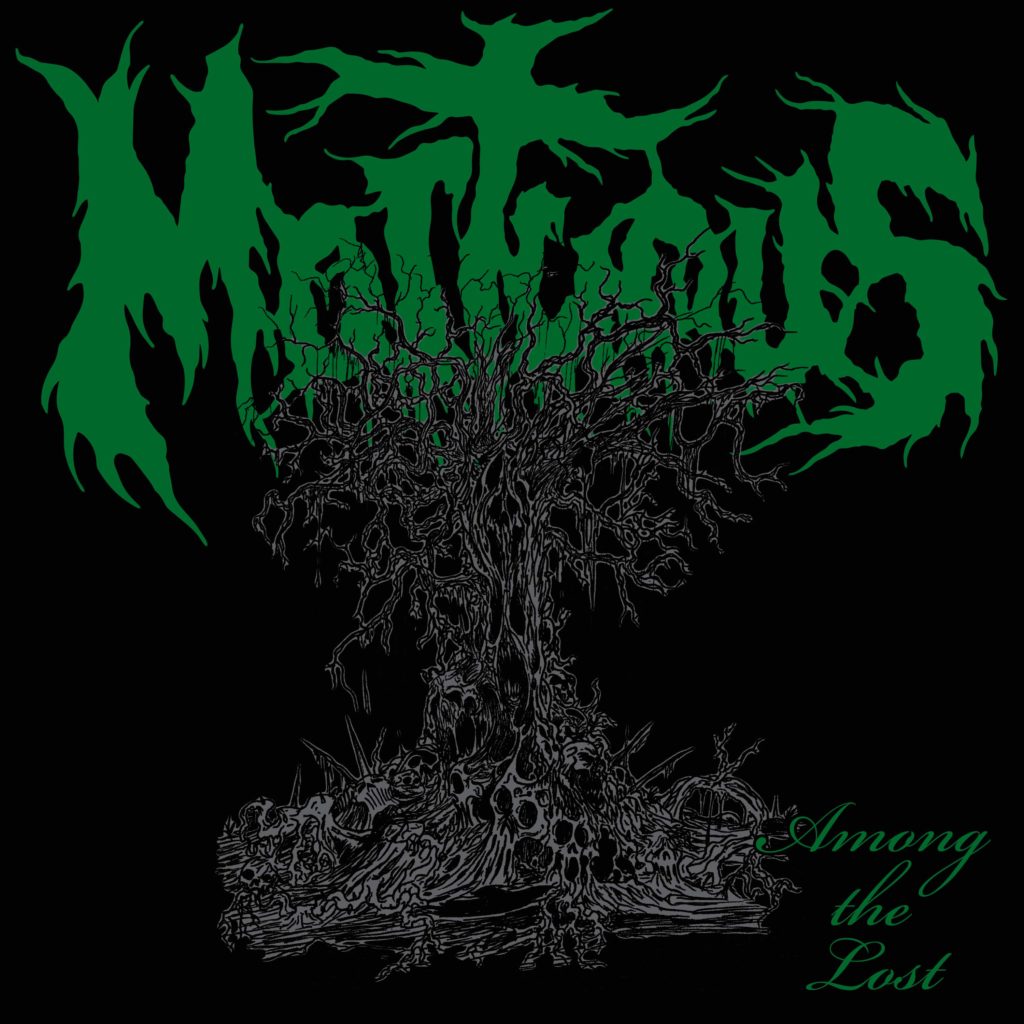 http://www.facebook.com/Mortuous
http://www.instagram.com/mortuous
http://www.facebook.com/Carbonized-Records
http://twitter.com/Carbon_Forms
http://www.carbonizedrecords.bandcamp.com
http://www.carbonizedrecords.storenvy.com