Extreme power metal unit DRAGONFORCE will kick off their anticipated US headlining tour this week! Slated to commence on March 5th in Mesa, Arizona, the journey winds its way through over two dozen cities upon its conclusion March 21st in Brooklyn, New York. Support will be provided by Unleash The Archers and Visions Of Atlantis.
The journey will see Alicia Vigil (Vigil Of War) handling bass and backing vocals for the band while Aquiles Priester (Angra, Tony MacAlpine) will temporarily take over drum duties for Gee Anzalone, who was recently hospitalized for Myocarditis, an inflammation of the heart muscle. Comments guitarist Herman, "We will miss our brother Gee on the upcoming US tour, but health is most important. We wish Gee a speedy recovery and we know he will be back on tour with us soon. We want to thank our friend Aquiles for stepping up and helping us out on short notice."
DRAGONFORCE will be streaming their tour live on twitch.tv/hermanli. Livestreams will include performances, backstage footage, and special guest appearances. See all confirmed dates below.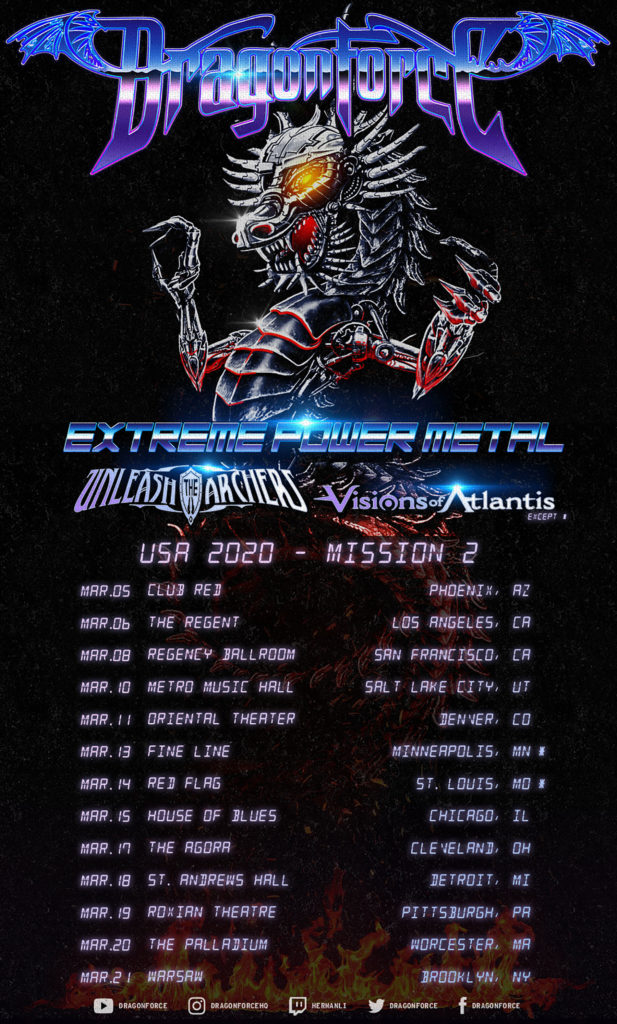 DRAGONFORCE w/ Unleash The Archers, Visions Of Atlantis:
3/05/2020 Club Red – Mesa, AZ
3/06/2020 The Regent – Los Angeles, CA
3/08/2020 The Regency Theater – San Francisco, CA
3/10/2020 Metro Music Hall – Salt Lake City, UT
3/11/2020 Oriental Theater – Denver, CO
3/13/2020 Fine Line – Minneapolis, MN **
3/14/2020 Red Flag – St. Louis, MO **
3/15/2020 House Of Blues – Chicago, IL
3/17/2020 The Agora – Cleveland, OH
3/18/2020 St. Andrews Hall – Detroit, MI
3/19/2020 Roxian Theatre – Pittsburgh, PA
3/20/2020 The Palladium – Worcester, MA
3/21/2020 Warsaw – Brooklyn, NY
** No Visions Of Atlantis
DRAGONFORCE continues to tour in support of their eighth full-length, Extreme Power Metal, released last Fall via Metal Blade Records. Produced in Los Angeles, California by Damien Rainaud at Mix Unlimited, Extreme Power Metal was also recorded, in part, on guitarist Herman Li's livestream channel on Twitch (twitch.tv/hermanli) with participation from the fans.
Known as the fastest band in the world, the Grammy-nominated collective is based in London, England. Their platinum-selling record, Through The Fire And Flames, brought them international acclaim and was featured as the most-challenging song on Guitar Hero III. Their energetic and humorous live performances have won them fans on every continent.
The group is known for their long, complex, and fast guitar solos performed by Herman Li and Sam Totman, who founded the band after meeting through a classified ad in 1999. Since then, the band has released seven studio albums, including Valley Of The Damned (2003), Sonic Firestorm (2004), Inhuman Rampage (2006), Ultra Beatdown (2008), The Power Within (2012), Maximum Overload (2014), and Reaching Into Infinity (2017). 2019 ushered in the next chapter in DRAGONFORCE history with Extreme Power Metal.
Regarding Extreme Power Metal, Li says, "This album again combines the best of DRAGONFORCE in an even bigger, more epic way than we have ever done before." The keyboards of the album were performed by Coen Janssen of symphonic metal titan Epica, adding a new dimension to the album. Notes Totman, "We worked really closely with Coen on this new album. We are so happy with what he has brought into this album."
Drawing from a wide range of influences, the band's sound combines the sing-a-long choruses of classic '80s rock with triumphant, uplifting melodies and fantasy-themed power-metal-inspired lyrics. As a nod to their passion for all things video-game related, the band frequently incorporates retro game sounds and melodies into their recordings and live shows.
To preview and purchase Extreme Power Metal visit metalblade.com/dragonforce.
http://dragonforce.com
http://facebook.com/dragonforce
http://twitter.com/dragonforce
http://instagram.com/dragonforcehq
http://youtube.com/dragonforce
http://twitch.tv/hermanli
http://www.metalblade.com
http://www.facebook.com/metalbladerecords
http://twitter.com/MetalBlade
http://www.instagram.com/metalbladerecords