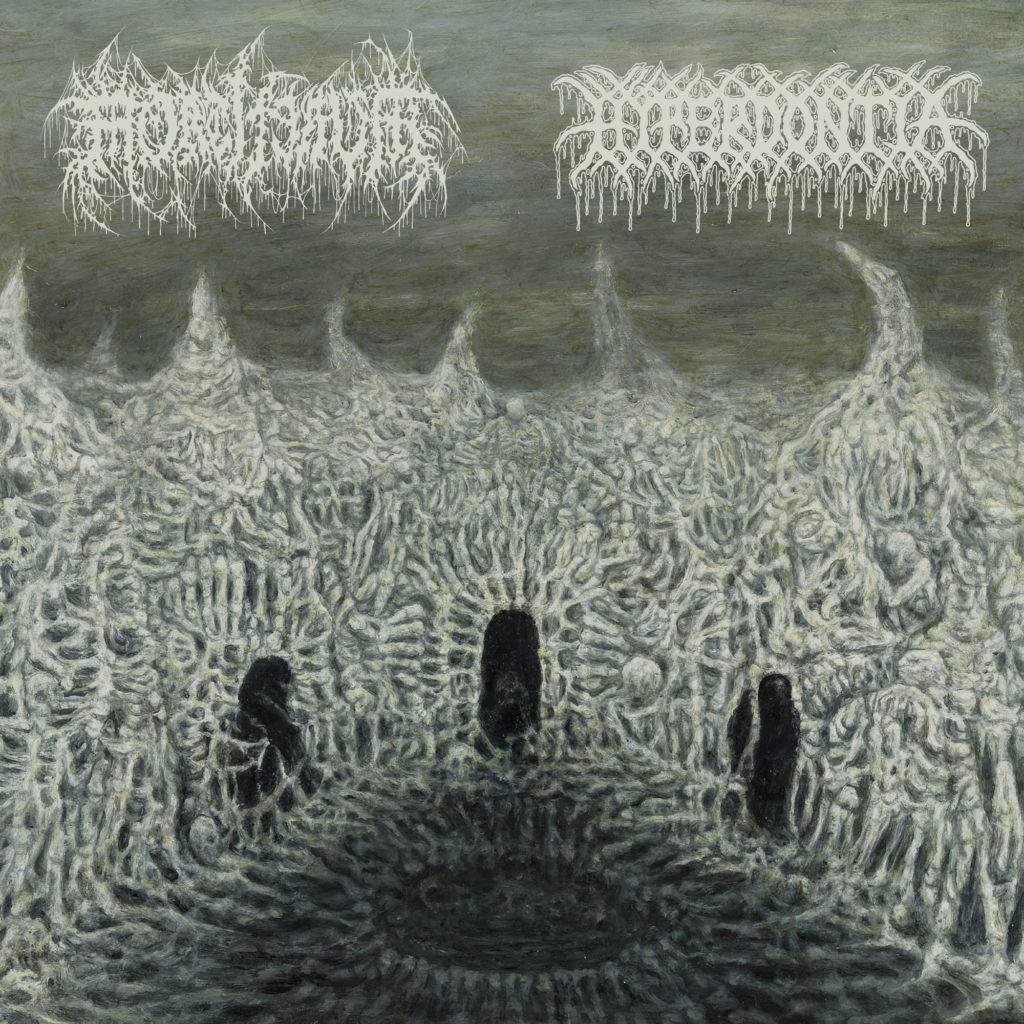 The death bringers in MORTIFERUM and HYPERDONTIA have joined forces to release a monstrous split seven-inch. Set for release on December 7th via Carbonized Records in the US and Me Saco Un Ojo Records in Europe, the split — which boasts one track each of unrepentantly doom-ridden death metal — was initially planned for release specifically during a European tour the two bands had booked together following their respective appearances at Kill-Town Death Fest this year. Plans were however halted due to the ongoing global pandemic. With the future uncertain, it only seems fitting to unleash these two smoldering tracks to close out a tumultuous year.
The MORTIFERUM / HYPERDONTIA split will be limited to 1000 copies available in two vinyl variants: classic black or gray with black and white splatter, and comes in a fold-over jacket housed inside a poly-bag sleeve with cover art by Chase Slaker. Stickers and a download card will also be included in all orders through Carbonized Records.
Find preorders at Carbonized HERE and Me Saco Un Ojo HERE.
Track Listing:
Side A: MORTIFERUM – "Abhorrent Genesis"
Side B: HYPERDONTIA – "Punctured Soul"
Influenced by the likes of Autopsy, Ceremonium, and Rippikoulu, MORTIFERUM released their critically lauded Disgorged From Psychotic Depths debut via Profound Lore in 2019. With the recognition the band received from within the death metal underground through their 2017 Altar Of Decay demo alongside consistent touring and nonstop live activity, MORTIFERUM had already brought awareness upon themselves as one of the more notable and promising new US death metal bands today. Disgorged From Psychotic Depths is an anguished slab of death doom filth of the most wretched order. Dark and foreboding through monolithic brutal crestfallen riffs and malformed dissonant rhythmic rumblings, the record is a towering and dreadful benefaction of atmospheric imposing death metal ruin and depravity reeking of the stench of the early '90s American and Finnish death metal scenes.
MORTIFERUM:
Max Bowman – guitar, vocals
Chase Slaker – guitar
Tony Wolfe – bass
Alex Mody – drums
Ethan Camp – synth
An international band based in Copenhagen, Denmark and Istanbul, Turkey named after a condition of having supernumerary teeth, or teeth that appear in addition to the regular number of teeth, HYPERDONTIA was forged in 2015 by bassist Malik Çamlıca and guitarist Mustafa GürcalioÄŸlu. They later recruited vocalist David Mikkelsen (who came up with the band name) and drummer Tuna. Influenced by the likes of American death metal trailblazers Morbid Angel, Cannibal Corpse, and Immolation, HYPERDONTIA was initially launched as an international home project but has since become much more following the release of their debut EP, Abhorrence Veil. Their debut full-length, Nexus Of Teeth, was released in 2018 around the same time that Kill-Town Death Fest was happening. Mathias Friborg joined the band as a live guitarist, and it was at the fest where they made their live debut. Additional live performances as well as a US tour would follow. Mikkelsen eventually fled the band due to time constraints. Friborg stepped in as the band's permanent vocalist and guitarist.
HYPERDONTIA:
Mathias Friborg – guitar, vocals
Mustafa GürcalioÄŸlu – guitar
Malik Çamlıca – bass
Tuna – drums
http://mortiferum.bandcamp.com
http://www.facebook.com/hyperdontia/
http://www.instagram.com/hyperdontiaofficial
http://hyperdontia.storenvy.com
http://hyperdontiaofficial.bandcamp.com
http://www.facebook.com/Carbonized-Records
http://www.twitter.com/Carbon_Forms
http://www.carbonizedrecords.bandcamp.com
http://www.carbonizedrecords.storenvy.com
http://www.mesacounojo.com
http://www.facebook.com/mesacounojo
http://twitter.com/mesacounojo
http://www.instagram.com/mesacounojo
http://www.mesacounojo.bandcamp.com