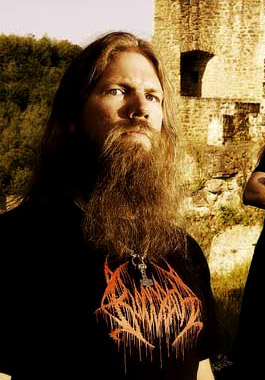 In conjunction with the release of AMON AMARTH's Surtur Rising full-length, slated for release this March via Metal Blade Records, MetalSucks has launched the official Viking beard contest! Inspired by the magnificent mane of vocalist Johan Hegg, the contest will run from now until the record's release date and be judged by the folks at MetalSucks and the band.
THE RULES:
For the boys:
Step 1) Send MetalSucks a completely clean-shaven picture of yourself NOW – before Tuesday, January 11th at 11:59pm EST – holding up a sign that says "MetalSucks" and the date. Send all entries to news [at] metalsucks [dot] net with the subject AMON AMARTH Viking Beard Contest.
Step 2) Grow a beard.
Step 3) On March 29th, the day Surtur Rising is released, send team MetalSucks a new picture of yourself… same deal: Hold up a sign with "MetalSucks" and the date, only this time you'll also need to write a secret passcode on your sign that will be revealed on MetalSucks on March 29th.
For the ladies:
The same as above, but for your armpits or leg hair! MetalSucks will be choosing one male winner and one female winner, both with an identical prize pack, so the playing field is equal for everyone.
Prize packs include: A lock from Johan Hegg's beard, the "super duper fan edition" of Surtur Rising (of which only a limited number will be made), a drumhead signed by the whole band and more….
For additional info, visit the official contest page HERE.
More on Surtur Rising:
Surtur Rising marks AMON AMARTH's eighth studio release and undoubtedly one of 2011's most anticipated albums by fans and critics alike. Surtur Rising is the follow-up to the highly acclaimed 2008 release, Twilight Of The Thunder God, which landed the #7 spot in Revolver Magazine's Top 20 Albums of 2008 and what MetalSucks called a "bottomless gauntlet of riffs that the band endlessly takes gargantuan swigs from, sounding both lush and emotive as well as skull crushingly heavy… every goddamn one is a chest-beating anthem." Outburn declared how Twilight Of The Thunder God "will render you nothing short of ecstatic" and Time Out New York noted that "AMON AMARTH plays some of the most unabashedly epic metal you're likely to find these days.
Further details on Surtur Rising to come. Stay tuned.
http://www.myspace.com/amonamarth
http://www.amonamarth.com
http://www.facebook.com/AmonAmarthBand?v=app_19935916616
http://twitter.com/amonamarthband
http://www.metalblade.com