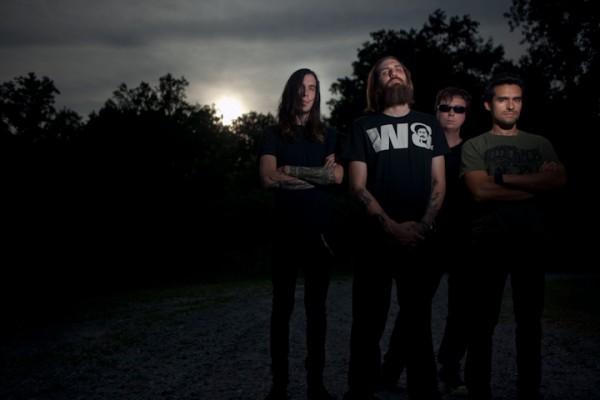 Atlanta sludge slingers, SONS OF TONATIUH, are set to kick off their fourth U.S. tour today in support of their self-titled debut full-length. The band will hit Stay True Tattoo in St. Augustine, Florida tonight with Hollow Leg and pillage its way through more than a week's worth of dates before winding down in Jackson, Tennessee at Fishguts Farm. SONS OF TONATIUH will be joined by several bands throughout the trek including Hot Graves, Death Before Dying, Car On Fire, Cognitive Dissonance, Currents and Black Pussy.
Said the band in a collective statement: "The life expectancy of this planet in terms of the human mind is infinite. We are small minded parasites devouring a dirtball of filth. Traveling through time it is our ancestors that knew the true meaning of life and the consequences of our actions. The final plague will soon wash over us all. SONS OF TONATIUH is part of that plague. We tour to incite riots. Let the riots begin…."
The band — drummer Tim Genius, guitarist/vocalist Dan Caycedo, bassist Mike Tunno and guitarist/vocalist Darby Wilson — unleashed their debut via Michigan's Hyodro-Phonic Records earlier this year. Engineered by Jay Matheson (Kylesa, Black Tusk, Dark Castle) at the legendary Jam Room Studios in Columbia, South Carolina, the devouring eight-track long player features the artwork of Rodney Githens and is available on CD as well as blue and gold-colored wax.
SONS OF TONATIUH January 2011 Tour:
1/06/2011 Stay True Tattoo – St. Augustine, FL w/ Hollow Leg
1/07/2011 Beelzebub's Cave – Miami, FL w/ Shroud Eater, Hollow Leg
1/08/2011 Will's Pub – Orlando, FL w/ Hollow Leg
1/09/2011 Common Grounds – Gainesville, FL w/ Hot Graves
1/10/2011 C-Level presented by Kuhlcher Korner – Panama City Beach, FL w/ Death Before Dying, Car On Fire
1/11/2011 Siberia – New Orleans, LA w/ Cognitive Dissonance, Mojo Spleens
1/12/2011 Headhunters – Austin, TX w/ Rusty Vein
1/13/2011 Dalzell House – Shreveport, LA w/ Currents
1/14/2011 The Doom Room – Vicksburg, MS w/ Black Pussy, Currents
1/15/2011 Fishguts Farm – Jackson, TN
"Take the buzzsaw riffage of more recent Darkthrone and the piss 'n malt liquor of Eyehategod, with some decidedly pissed off black metal vocals, and change tempos frequently. You've got yourself a solid eight-song, 35 minute debut." — Hellbound
"…a merciless onslaught of down-tuned misanthropic riffs…" — BrooklynVegan
"A killer album of sludgy goodness, this comes recommended for those who dig Eyehategod, Iron Monkey, Sourvein, and their ilk, but are burnt out on copy cat bands. These guys bring something different to the table with each song, and for that, I commend them." — Fuzzrock