The latest dose of enforced persuasion in the propaganda campaign surrounding MARUTA's incoming Remain Dystopian LP has been put on display in the form of a brutally brainwashing visual accompaniment to the band's "Hope Smasher" track, delivered by the puppet masters at Noisey. While the auditory delivery of the Miami grind mercenaries is already over-the-top with blistering speed and seething dissonant aggression, see what happens when these measures are deployed in the visual form with seizure-inducing effects set to the track's rabid pace. Offers the write-up accompanying the video, "…'Hope Smasher' is a full on cavalcade of grind blasts, groove-metal breaks, and all out pandemonium. MARUTA's video for the song is similarly venomous, combining footage of the band performing with video freakouts, riot footage, dumpster diving, landfills, and Chernobyl. Get ready to do your windmill headbangs, this fucker rips."
Noisey is now broadcasting MARUTA's maniacal "Hope Smasher" video; get dosed at THIS LOCATION.
Named after a special project during World War II in which the Imperial Japanese Army used human beings for torturous scientific experiments, the newest phase in MARUTA's modus operandi comes in the form of their fourth LP, and first for Relapse, with Remain Dystopian. Delivering seventeen demanding and damaging tracks in under twenty-eight minutes, the album is made all the more dangerous with the assistance of contracted outside henchmen for the multiple-studio recording of the album — including drums with Pig Destroyer's Scott Hull and vocals with Torche's Jonathan Nuñez — with additional torment tactics provided by Pig Destroyer's J.R. Hayes, Agoraphobic Nosebleed's Jay Randall, and Tomas Lindberg of At The Gates.
MARUTA has already put the public through several other pre-release experiments with the disclosure of the tracks "Stride Endlessly Through Scorched Earth" featuring Tomas Lindberg via Revolver Magazine RIGHT HERE, the audio for "Hope Smasher" at Lambgoat HERE, "Stand In Defeat" HERE, and a video from the recording sessions HERE.
Remain Dystopian campaign will see release on CD, LP and digital formats June 2nd in North America, May 29th in Germany, Benelux and Finland, and June 1st in the UK and elsewhere. Preorders for the physical versions are available HERE and digital preorders HERE.
This is the first of many live incursions from the outfit to be announced in their terror campaign for Remain Dystopian has been declared in the form of a record release show in Miami as MARUTA sets their hometown ablaze on June 6th with support from Orbweaver and Sacridose.
MARUTA Live:
6/06/2015 Churchill's Pub – Miami, FL — Record Release Show w/ Orbweaver, Sacridose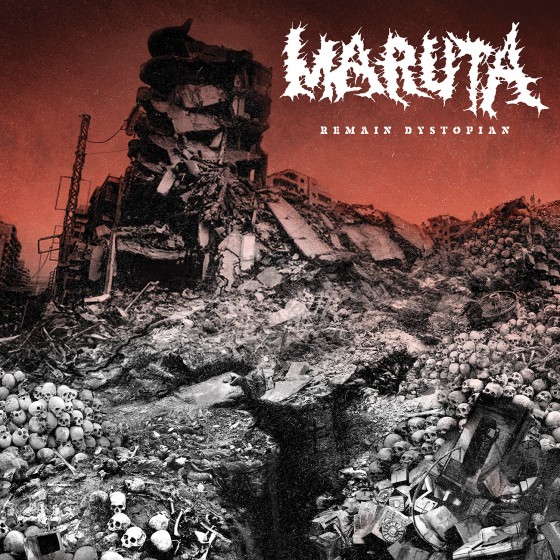 http://www.facebook.com/Marutagrindcore
http://twitter.com/marutagrindcore
http://maruta.bandcamp.com
http://www.relapse.com
http://relapserecords.bandcamp.com
http://www.facebook.com/RelapseRecords