[photo by Aaron Rogosin]
In support of their Relapse Records debut LP, Random Cosmic Violence, Portland, Oregon's decimating cosmic doom/sludge act, USNEA, has just embarked on the band's most extensive tour ever. Kicking off in their hometown tonight, the quartet will take their dredging hymns across North America with nearly three dozen shows through mid-June. Leading off with several solo gigs, USNEA will rendezvous with Italian psychedelic doom trio, Ufomammut, mid-next week, and will directly support them for the entirety of their first North American tour, with several one-off shows confirmed along the way, in addition to a performance at this year's Maryland Deathfest with Ufomammut as well as Primitive Man, Mantar, Conan, Yob and more.
USNEA's inconceivably devastating sophomore album Random Cosmic Violence saw release through Relapse in November amidst international critical acclaim, with reactions from journalists as positive as they were blown-away by the LP's tumultuous output. Recorded and mixed by Jared "Fester" See at Haywire Studios (Nux Vomica, Stoneburner, Rabbits) who supplies additional guitars to the title track, and mastered by Brad Boatright at Audiosiege (Yob, High On Fire, Integrity), through their overwhelming black/occult metal-influenced funeral doom, USNEA has created a classic of the new millennium with Random Cosmic Violence.
In addition, USNEA has given their self-titled debut album a proper vinyl treatment, having remastered and pressed it onto wax for the first time, and releasing it on their own Orca Wolf Records stateside, with Vendetta Records handling the reissue for Europe.
Stream all of USNEA's Random Cosmic Violence at THIS LOCATION.
Random Cosmic Violence is available on CD and both colored/limited and standard black 2xLP HERE and digitally HERE. The self-titled album in a t-shirt bundle can be ordered HERE.
USNEA Tour Dates:
5/08/2015 High Water Mark – Portland, OR * tour kick-off w/ Eye of Nix, Hiding, Shine of the Serpent
5/09/2015 Neurolux – Boise, ID – w/ Inter Arma, Uzala, Yautja
5/10/2015 Metro Bar – Salt Lake City, UT w/ Odium Totus
5/11/2015 Lost Lake Lounge – Denver, CO w/ Inter Arma, Yautja, Prison Death
5/12/2015 Frank's North Star Tavern – Lawrence, KS
USNEA North America Spring 2015 w/ Ufomammut:
5/13/2015 Reggies – Chicago, IL w/ Bloodiest, Cokegoat
5/14/2015 Now That's Class – Cleveland, OH w/ Contra
5/15/2015 Bug Jar – Rochester, NY w/ Blizaro, The Highest Leviathan
5/16/2015 Mod Club – Toronto, ON w/ Olde, Sons of Otis
5/17/2015 Le Ritz – Montreal, QC w/ Tunguska Mammoth, Show Of Bedlam
5/18/2015 Middle East Upstairs – Boston, MA w/ Stomach Earth, Wormwood, Slow Mover [no Ufomammut]
5/19/2015 Saint Vitus Bar – Brooklyn, NY
5/20/2015 Johnny Brenda's – Philadelphia, PA w/ Ominous Black
5/21/2015 Ram's Head Live – Baltimore, MD @ Maryland Deathfest
5/22/2015 King's – Raleigh, NC w/ Make
5/23/2015 Drunken Unicorn – Atlanta, GA w/ Order Of The Owl
5/24/2015 HiTone Café – Memphis, TN [no Ufomammut]
5/25/2015 Siberia – New Orleans, LA w/ Space Cadaver
5/26/2015 Walter's – Houston, TX w/ Holy Money, Defending The Kingdom
5/27/2015 Red 7 – Austin, TX w/ Unmothered
5/29/2015 Sister – Albuquerque, NM w/ Black Maria
5/30/2015 Flycatcher – Tucson, AZ w/ Sorxe, Inoculara
5/31/2015 Complex – Los Angeles, CA w/ Kata
6/01/2015 Sweet Spring Saloon – Los Osos, CA [no Ufomammut]
6/02/2015 Catalyst – Santa Cruz, CA w/ The Bad Light
6/03/2015 Elbo Room – San Francisco, CA w/ Badr Vogu, Hornss
6/04/2015 Press Club – Sacramento, CA w/ Lycus, Church
6/06/2015 Rotture – Portland, OR w/ Survival Knife, Church
6/07/2015 Chop Suey – Seattle, WA w/ Survival Knife
6/08/2015 Neurolux – Boise, ID w/ Brett Nelson & Snakes
6/09/2015 Bar Deluxe – Salt Lake City, UT w/ Subrosa
6/10/2015 Hi-Dive – Denver, CO w/ In the Company of Serpents
6/12/2015 Turf Club – St Paul, MN w/ Vulgaari
6/13/2015 Metal Grill – Milwaukee, WI w/ Asatta
Stereogum issued of USNEA's Random Cosmic Violence, "In a year that has already delivered amazing new records from Yob, Pallbearer, Triptykon, Thou, Eyehategod, and Indian (among others), it's pretty close to impossible to show up in mid-November with an album of sludge/funeral doom and make any sort of impact. But Random Cosmic Violence… arrives with the force of an asteroid, and leaves behind a fucking crater… Like the night sky itself, Random Cosmic Violence is full of terror and awe and ice and fire. It is a massive, monumental thing." Metal Insider stated, "USNEA push doom metal boundaries while never loosing the essence of brutality upon which their sound hinges. Make no mistake that it will be fans of outfits past and present like Pallbearer, Lycus, Morgion, and Mindrot that will find the most to fall in love with on this album. But the unique way in which USNEA package their brand of deathly doom metal on Random Cosmic Violence may very well separate them from the pack moving forward." No Clean Singing offered, "perhaps what really vaults the album high above the average, apart from USNEA's knack for generating titanic power and morbid, minor-key melodies, is the band's skill in creating dynamic changes and salting this heartless sonic landscape with ingenious touches, which come like breaths of air in an atmosphere that's being rapidly sucked into space, or poisoned with the smoke of burning tires in an urban dead zone."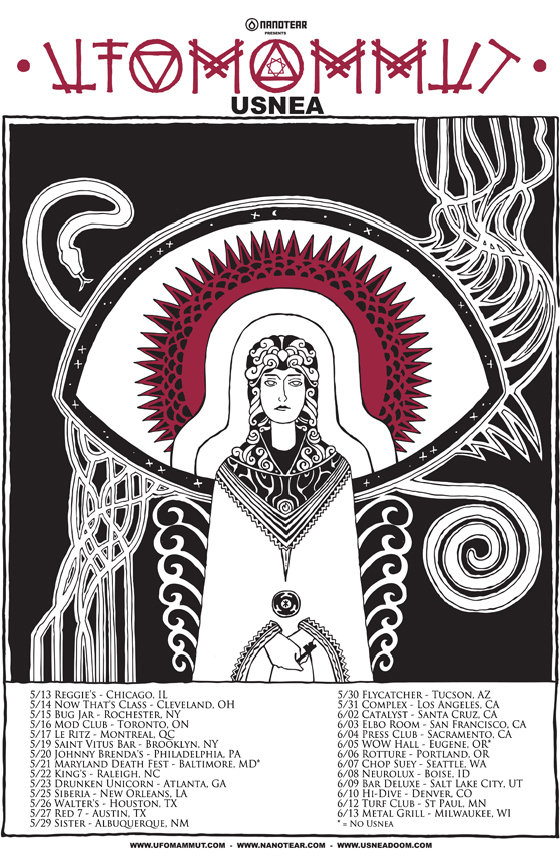 http://www.usneadoom.com
http://www.facebook.com/usneadoom
http://usneadoom.bandcamp.com
http://www.relapse.com
http://relapserecords.bandcamp.com
http://www.facebook.com/RelapseRecords