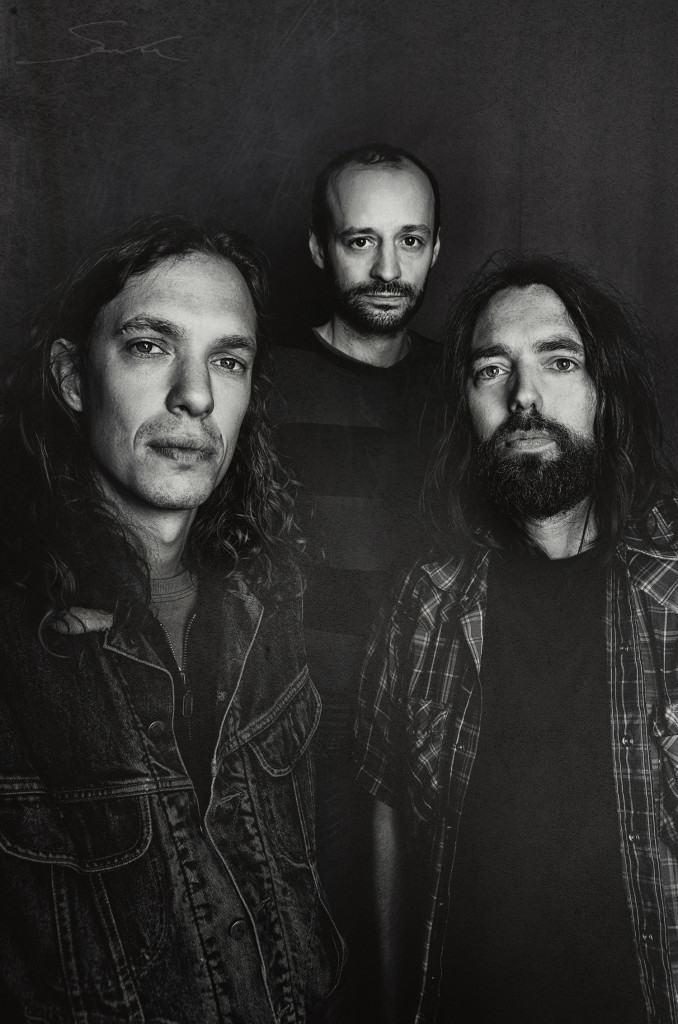 French psychedelic stoner doom sorcerers MARS RED SKY is pleased to unveil their near-thirteen-minute short film Alien Grounds. Boasting a rad vintage car, handsome actors, a crazy spaceship, a dangerous alien, and an odd dive bar, Alien Grounds takes "Apex III" and "Sapphire Vessel," the first two tracks from the Bordeaux trio's third and latest album, Apex III (Praise for the Burning Soul) and puts them to a science fiction narrative.
Directed by Sébastien Antoine and starring Yan Tual, Dan Bronchinson, Victoria Cyr, Grégory Dreyfus, and Jean-Claude Tisserand, the clip is currently playing at The Obelisk who lauds, "visuals as lush as the band's melodies and a professional production of a level yet unseen from them," further observing of the elaborate creation, "There's an astronaut, an apparent kidnapping, a bit of rocking out, a bit of horror, and an apparent space-cult who use the same hand-sign as the hippies from my (second) favorite episode of Star Trek – think 'we reach' – and teleport the hero of our narrative to a distant planet he heretofore thought was of his own creation. Very cool stuff all around, and easy to get lost in the story as well as in the music, so mark it a double-win for the band."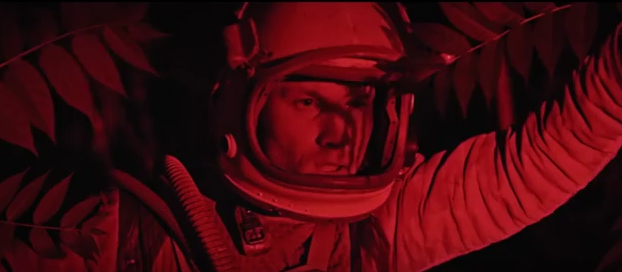 Take a breather and space out with Alien Grounds, now playing at THIS LOCATION.
MARS RED SKY's Alien Grounds comes in advance of the band's forthcoming European live dates scattered throughout the remainder the of year and follows their recent Summer stateside excursion.
MARS RED SKY:
10/27/2016 Alte Hackerei – Karlsruhe, DE
10/28/2016 Klubovna – Prague, CZ
10/29/2016 festival Soulstone Gathering – Cracow, PL
10/30/2016 Klub Firlej – Wroclaw, PL
10/31/2016 Ostpol – Dresden, DE
11/02/2016 La Sirène – La Rochelle, FR
11/10/2016 6 PAR 4 – Laval, FR
11/11/2016 La Nouvelle Vague – Saint Malo, FR
11/12/2016 Monteray Live – Stage Kyiv, UA
11/18/2016 Cave A Musique – Macon, FR
11/19/2016 File 7 – Magny Le Hongre, FR
12/10/2016 Paul B. – Massy, FR
12/16/2016 Le Poche – Bethune, FR
12/17/2016 La Fourmi – Limoges, FR
MARS RED SKY released their Apex III (Praise For The Burning Soul) full-length via Listenable Records earlier this year. Captured by Gabriel Zander – who also engineered the band's lauded Stranded In Arcadia offering – and Jacob Dennis in Studio Cryogene in Bègles, France, with Apex III (Praise For The Burning Soul), MARS RED SKY delivers grandiose and hypnotizing hymns rooted in a far wider range of musical influences stretching from Robert Wyatt, The Beatles, Nick Drake, and Neil Young, to Electric Wizard, Acid King and, naturally, Black Sabbath. To purchase your copy, visit THIS LOCATION.
"France's doom vagabonds, MARS RED SKY, deliver that peculiar but exhilarating tonic of innovation and anachronism on their new album Apex lll (Praise For The Burning Soul). One sip of their Om/classic Melvins punch laced with Syd Barrett and The Electric Prunes will rock your head back." – Decibel
"The deeper you dig into Apex III…, the more you'll understand the band is less of a down-tuned jam fest, but rather an exploration of classic rock moods and atmospheres. A constant battle between the thunderous riffs and the whimsical nature creates an enjoyable duality." – Metal Injection
"This expansive trio has a unique way of keeping the organic sound simultaneously grounded and spontaneous, all the way out of our solar system." – MetalSucks
"MARS RED SKY already accomplished a lot and went places based on the strength of their first two albums, but Apex III… is all set to become their passageway into broader pastures, as it has what it takes to form a longlasting vice-like grip on fans of the genre." – Metal Assault
http://www.marsredsky.net
http://www.facebook.com/marsredskyband/?fref=nf
http://www.marsredsky.net
http://www.twitter.com/MarsRedSky1
http://www.listenable.net
http://www.facebook.com/listenablerecs