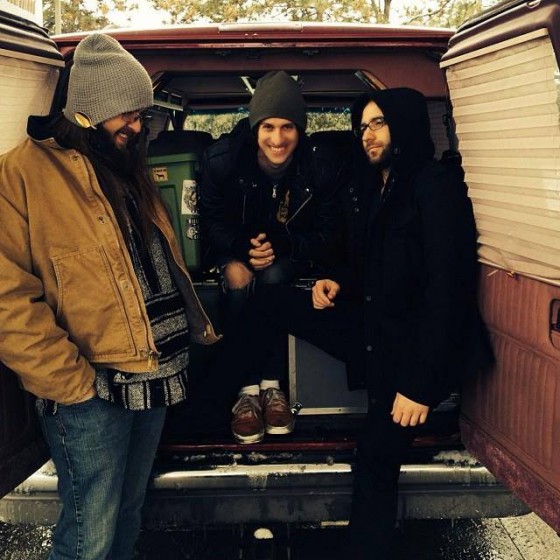 Akron, Ohio's MAID MYRIAD will take their wildly infectious progressive/melodic post-hardcore tunes to American audiences everywhere on an extensive US tour this Thursday, April 9th, with a kickoff solo show in Cleveland. Directly following the solo one-off, the trio will sync up with progressive/instrumental metal trio, The Fine Constant, in Erie, Pennsylvania, beginning The Woven In Haste Tour 2015. The massive forty-one city, co-headlining run will encircle the entire country in a clockwise course for six weeks, with the final show taking place May 23rd, in MAID MYRIAD's hometown.
The Woven In Haste Tour 2015 is presented by Heavy Blog Is Heavy, who issues of the trek, "We're particularly proud to be sponsoring this tour, as it showcases two young, original and excellent bands. The Fine Constant are at the cutting edge of instrumental adventure prog, featuring wild runs into dreamy territories where guitar leads mesh with thoughts in crazy-sweet landscape. MAID MYRIAD convey a different vision of progressive music, tempering it with amazing alternative vocals and an overall darker sensibility. Both recent albums by the bands, Woven In Light and With Haste On Its Breath respectively are a tour de force of what aspiring musicians can accomplish."
In an attempt to interact with as many fans as possible, MAID MYRIAD is available for interviews, live coverage, one-off and/or acoustic shows, in-store sessions and other chance performances and escapades as time allows throughout the entire tour.
MAID MYRIAD continues to support their dynamic With Haste On Its Breath debut album, released through the partially band-owned Nefarious Industries, which was released in October 2014. The album is available in a six-panel digipak CD and via a name-your-price download RIGHT HERE.
MAID MYRIAD Woven In Haste Tour w/ The Fine Constant:
4/09/2015 The Grog Shop – Cleveland, OH *
4/09/2015 High Noon Saloon – Madison, WI #
4/10/2015 Basement Transmissions – Erie, PA
4/11/2015 Gorham Brothers – Syracuse, NY
4/12/2015 Bogie's – Albany, NY
4/13/2015 Monkey House – Winooski, VT
4/14/2015 Village Billiards – Warwick, NY
4/15/2015 Kung Fu Necktie – Philadelphia, PA
4/16/2015 Lucky 13 Saloon – Brooklyn, NY
4/17/2015 Strange Matter – Richmond, VA
4/18/2015 New York Pizza – Greensboro, NC
4/19/2015 Deep South The Bar – Raleigh, NC
4/21/2015 Maggie Meyers – Huntsville, AL
4/23/2015 Egan's – Tuscaloosa, AL
4/24/2015 Open Chord – Knoxville, TN
4/25/2015 Ziggy's Underground – Chattanooga, TN
4/26/2015 Syndicate Lounge – Birmingham, AL
4/27/2015 The Tavern – Hattiesburg, MS
4/28/2015 The Wild Salmon – Lafayette, LA
4/29/2015 Lucky Lounge – Austin, TX
4/30/2015 Theo's Billiards – Corpus Christi, TX
5/01/2015 The Office – Houston, TX
5/02/2015 Kamiposi – Midland, TX
5/03/2015 Sky Bar – Tucson, AZ
5/05/2015 Yucca Tap Room – Tempe, AZ
5/06/2015 The Complex – Los Angeles, CA
5/07/2015 TBA – San Francisco, CA
5/08/2015 The Waffle House – Chico, CA
5/09/2015 Black Forest – Eugene, OR
5/10/2015 Tonic Lounge – Portland, OR
5/11/2015 El Corazon – Seattle, WA
5/12/2015 The PIN – Spokane, WA
5/14/2015 Railyard – Billings, MT
5/15/2015 Sanford's Grub and Pub – Casper, WY
5/16/2015 Seventh Circle Music Collective – Denver, CO
5/17/2015 The Hideout – Omaha, NE
5/18/2015 The Underground Rock Shop – Des Moines, IA
5/19/2015 TBA – St Louis, MO
5/20/2015 LiveWire Lounge – Chicago, IL
5/21/2015 The 5th Quarter – Indianapolis, IN
5/22/2015 Backstage Bar – Lexington, KY
5/23/2015 Musica – Akron, OH
* Maid Myriad only.
# The Fine Constant only.
One of the most vibrant progressive rock/post-hardcore albums of last year, the hour-long With Haste On Its Breath was recorded in Akron, Ohio and Keyport, New Jersey, produced and engineered by guitarist Jeff Klemm at Free Truman Productions, and mixed and mastered by Kevin Antreassian at Backroom Studios in Rockaway, New Jersey (The Dillinger Escape Plan, Adrenaline Mob, Foxy Shazam, etc.). As the record infected the masses, Ohio.com added MAID MYRIAD to their best of 2014 lists, and MetalSucks issued of With Haste On Its Breath, "its massive, melodic, introspective, and tortured, like a wonderful dream that quickly metamorphasizes into the kind of nightmare that continues to rattle and haunt you even after you awaken, stuck to your psyche like gum to the bottom of a shoe…" The Akron Beacon Journal hailed, "MAID MYRIAD, which calls its music 'kaleidoscope rock' thankfully digs deeper and further back into the '90s recalling the intricate, herky-jerky dynamics and start-stop riffs of bands such as Sunny Day Real Estate and At the Drive-In and heavier contemporary proggy bands such as Tool and The Mars Volta, minus the 10-minute songs." American Aftermath boasts, "The band combines an array of influences, including progressive rock and 90's post-hardcore/emo, into a dynamic and emotional display of alternative rock mastery… Jeff Klemm's near angelic vocals are sure to be stuck in your head all day. In fact, we guarantee that." The Cleveland Scene made MAID MYRIAD their Band Of The Week, stating, "…the songs stay true to 'kaleidoscope rock,' the term the band has used to describe its neo-progressive rock. Heavily textured songs such as 'Camera Eye' and 'Dance by the Moonlight' have elements of Mars Volta. But the group slows things down for the simmering 'Be Careful What You Wish For' and 'Waiting for December,' showing it can capably change gears."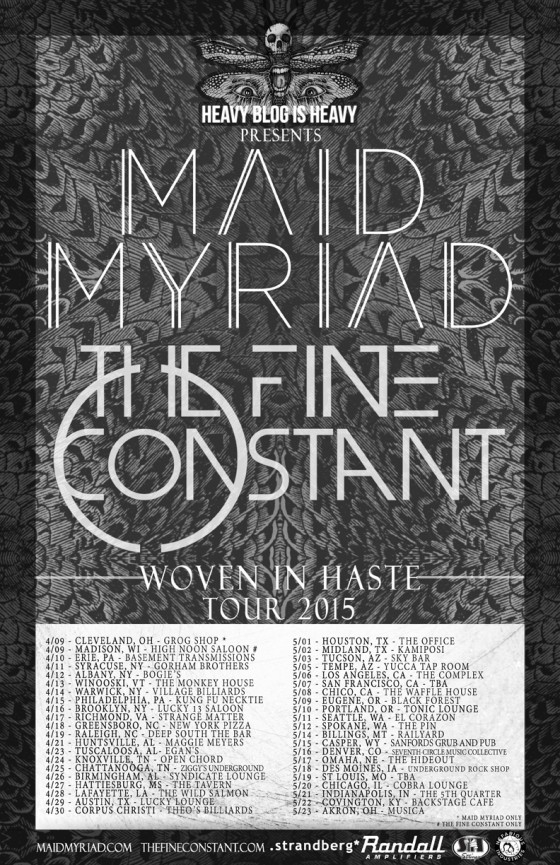 http://www.facebook.com/maidmyriad
http://www.maidmyriad.bandcamp.com
http://twitter.com/MaidMyriad
http://www.facebook.com/NefariousIndustries
http://www.nefariousindustries.com
http://twitter.com/NefariousInd