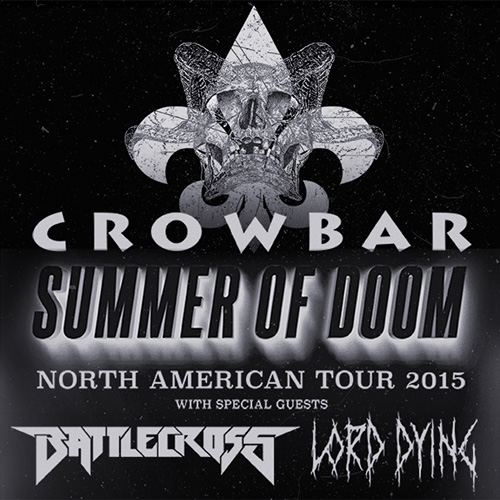 Motor City thrashers, BATTLECROSS, will join Crowbar and Lord Dying on The Summer Of Doom North American Tour. The trek will commence on May 28th in Shreveport, Louisiana and run through nearly three-dozen cities before winding down on July 3rd in Baton Rouge, Louisiana. The band will also appear on the 2015 edition of Heavy MTL in Montreal on August 8th. Summer Of Doom tickets go on sale tomorrow, April 3rd, 2015!
"I am beyond excited to tour with one of my favorite bands, Crowbar," says BATTLECROSS guitarist, Hiran Deraniyagala. "Ever since I heard Odd Fellows Rest, I've been a fan. Kirk Windstein is such a monster guitar player. His riffs are inspiring. It's an honor to be able to hit the road with these guys and I'm thankful and excited for the opportunity. We're excited to get back out there, especially Western Canada…it's been too long! See you all soon."
BATTLECROSS Summer Of Doom Tour w/ Crowbar, Lord Dying:
5/28/2015 Riverside Warehouse – Shreveport, LA
5/29/2015 Gas Monkey Bar & Grill – Dallas, TX
5/30/2015 Dirty Dog Bar – Austin, TX
5/31/2015 Scout Bar – Houston, TX
6/04/2015 Til-Two Club – San Diego, CA
6/05/2015 DiPiazza's – Long Beach, CA
6/06/2015 Whisky A Go Go – Hollywood, CA
6/07/2015 Oakland Metro Operahouse – Oakland, CA
6/08/2015 Hawthorne Theatre – Portland, OR
6/09/2015 El Corazon – Seattle, WA
6/10/2015 The Rickshaw Theater – Vancouver, BC
6/12/2015 Republik – Calgary, AB
6/13/2015 Pawn Shop Live – Edmonton, AB
6/14/2015 O'Brian's Event Centre – Saskatoon, SK
6/16/2015 The Zoo Cabaret – Winnipeg, MB
6/17/2015 Amsterdam Bar & Hall – St. Paul, MN
6/18/2015 The Metal Grill – Cudahy, WI
6/19/2015 Shelter – Detroit, MI
6/20/2015 Reggie's Rock Room – Chicago, IL
6/21/2015 Alrosa Villa – Columbus, OH
6/22/2015 Agora Ballroom – Cleveland, OH
6/23/2015 MOD Club – Toronto, ON
6/24/2015 Mavericks – Ottawa, ON
6/25/2015 La Sala Rossa – Montreal, QC
6/26/2015 The Palladium – Worcester, MA
6/27/2015 Trick Shot Billiards – Clifton Park, NY
6/28/2015 Voltage Lounge – Philadelphia, PA
6/29/2015 St. Vitus Bar – Brooklyn, NY
6/30/2015 Cafe 611 – Frederick, MD
7/01/2015 New Brookland Tavern – Columbia, SC
7/02/2015 The Masquerade – Atlanta, GA
7/03/2015 Varsity Theatre – Baton Rouge, LA
End Tour
8/08/2015 Heavy MTL – Montreal, QC
The Summer Of Doom trek is BATTLECROSS' first tour since completing the production of their third Metal Blade release, which was produced by Mark Lewis and engineered by Jason Suecof at Audiohammer Studios. Further details to be announced soon. BATTLECROSS' most recent album, War Of Will, debuted at #134 on the Billboard Top 200 Chart upon its release in July of 2013 marking the band's first ever Billboard chart debut. War Of Will also peaked at #3 on the US iTunes Metal Chart on the day of release. Watch the music video for "Never Coming Back" now at metalblade.com/battlecross.
http://www.battlecrossmetal.com
http://www.facebook.com/battlecrossmetal
http://www.twitter.com/battlecross
http://www.youtube.com/battlecrossmi