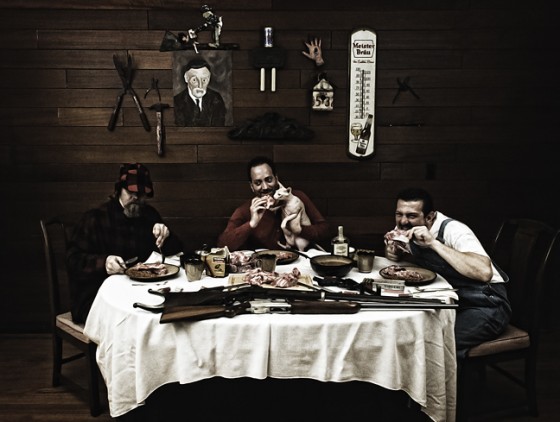 Murder metallers MACABRE have announced a string of North American tour dates for this Summer, the latest in their ongoing Grim Scary tour supporting their latest blistering full-length Grim Scary Tales. Set to kick off in late July, MACABRE will hit the road for two weeks as direct support from gore metal outfit Exhumed, and also joined by Cephalic Carnage and Withered.
MACABRE will first hit the road for the previously-announced European leg of the tour in mid-April, with special guests Birdflesh, Rompeprop, and with nine select dates of the tour also including support from fellow Chicagoan Bruce Lamont.
Confirmed MACABRE Grim Scary Tour Dates:
European Grim Scary Tour
with Birdflesh, Rompeprop, Bruce Lamont (on select dates):
4/16/2011 Salzman Factory – Kassel, Germany
4/18/2011 Feierwerk – Munchen, Germany
4/19/2011 Marx – Hamburg, Germany w/ Bruce Lamont
4/20/2011 Sticky fingers – Gotenborg, Sweden w/ Bruce Lamont
4/21/2011 Kafe Deluxe – Vaxjo, Sweden w/ Bruce Lamont
4/22/2011 Ungdomens Hus – Uppsala, Sweden w/ Bruce Lamont
4/23/2011 O'Leary's – Kristianstad, Sweden w/ Bruce Lamont
4/24/2011 Turock – Essen, Germany w/ Bruce Lamont
4/26/2011 Exit Chmelnice – Prague, Czech Republic w/ Bruce Lamont
4/27/2011 Nova Pekaren – Nitra, Slovakia w/ Bruce Lamont
4/28/2011 Prostor Tančírna – Ostrava, Czech Republic w/ Bruce Lamont
4/29/2011 Skullcrusher club – Dresden, Germany
4/30/2011 Neurotic Deathfest – Tilburg, Netherlands
5/01/2011 4Ecluses – Dunkerque, France
5/03/2011 Dynamo Werk 21 – Zurich, Switzerland
4/04/2011 Pieffe Factory – Nova Gorica, Italy
5/05/2011 Escape – Vienna, Austria
5/06/2011 Warpurgis Metal Days Fest – Hauzenberg, Germany
5/07/2011 Puntpop Festival – Wuustweezel Belgium
5/08/2011 Steinbruch Theater – Darmstad, Germany
North American grim Scary Tour
with Exhumed, Cephalic Carnage, Withered:
7/24/2011 Central Illinois Metalfest – Urbana, IL
7/25/2011 The Rave – Milwaukee, WI
7/26/2011 Station 4 – St. Paul, MN
7/27/2011 Royal Albert Arms – Winnipeg, MB
7/28/2011 The Exchange – Regina, SK
7/29/2011 The Pawn Shop – Edmonton, AB
7/30/2011 The Distillery – Calgary, AB
7/31/2011 Sapphire Nightclub – Kelowna, BC
8/01/2011 Rickshaw Theater – Vancouver, BC
8/02/2011 Studio Seven – Seattle, WA
8/03/2011 Branx – Portland, OR
8/04/2011 Slim's – San Francisco, CA
8/05/2011 The Alley – Sparks, NV
8/06/2011 Cheyanne Saloon – Las Vegas, NV
8/07/2011 The Key Club – Hollywood, CA
Additional North American MACABRE live slayings are in the planning stages to follow the Exhumed tour, and will be announced in the coming weeks.
The band's turbulent new full-length Grim Scary Tales presents the classic MACABRE style fans have come to expect, cleverly combining nursery rhyme sing-along quirkiness with ultra-tight, high-speed, gore/grind/death ingenuity. MACABRE have cleverly devised a "story book of murder" with this album, as Grim Scary Tales tracing back to the earliest recorded and most infamous mass killers.
"…this odd, transgressive, audacious record will be like manna from the drill-hole in the head of a Dahmer acid zombie for those who can abide a healthy dose of absurdity in their brutality. 8/10" – Decibel
"Every bit the raucous, gore-grind slab of still-quivering meat fans have come to expect from the band, Grim Scary Tales is another one in the win column for this now legendary trio. " – MetalSucks
"…a mixed bag, offering some straight up blasters, semi-technical death (these guys are underrated musicians, IMO), "true metal" ballads, chicken-pickin', poetry and those demented carnival sing-songs that the band likes to dabble in. 8.5/10″ – Hellbound
"Blending elements of death metal, thrash, nursery rhymes, country rock, circus music, chamber music, a weird old town crier and even some world music themes Macabre takes the listener on a twisted sonic journey on every track." – Metal Army America
"…their approach is utterly distinctive, with snappy, unfailingly energetic songs, based around either crisp machine gun death metal riffs or crunching, hooky mid-tempo grooves." – Metal Reviews
"…the technical synchronicity that the band is capable of is nothing less than awe inspiring, and new fans just discovering Macabre with this disc might not fully appreciate their capability. 4/5" – Metal Rules