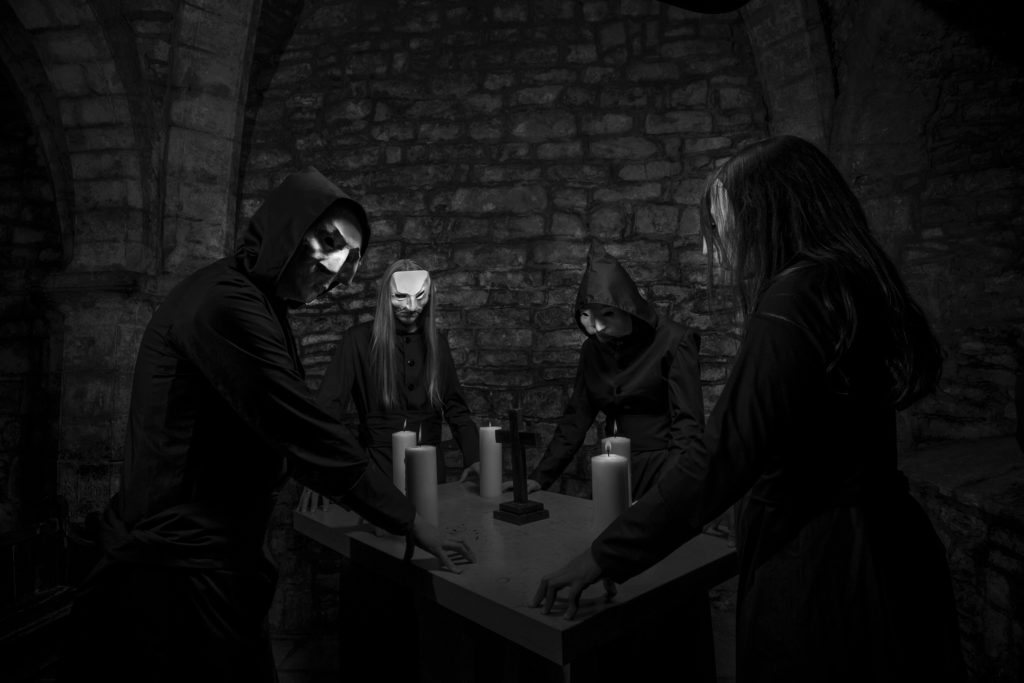 [photos by Shawn Haselgrove]
Debemur Morti Productions will release Also sprach Futura, the new record from UK-based black/doom metal outfit LYCHGATE, this Friday. Preceding its official unveiling, Invisible Oranges is hosting an advance stream of the record in its entirety.
Also sprach Futura is the latest work of dystopian singularity from a band engaged in an intense process of evolution and refinement since their eponymous 2013 debut. Melding the swarming, stained-glass complexity of 20th Century classical, the phantasmagoric, intertwining riffage of progressive death metal, the heft and texture of funeral doom and the conceptual density of forward-thinking black metal into four of the most addictive, propulsive, and potent compositions the band has created to date.
"Lychgate is one of the few bands that achieve true "connoisseur" status without the added pretense or bullshit," writes Invisible Oranges. "Their music is rich, evocative, and downright evil when it needs to be, but doesn't over-flower or over-sell itself in any regard. It just is, a monument to metal's vast and sometimes horrific depths."
Stream LYCHGATE's Also sprach Futura early at Invisible Oranges RIGHT HERE.
LYCHGATE's Also sprach Futura was recorded, mixed, and mastered by Greg Chandler of Esoteric at Priory Recording Studios (Esoteric, Fen), who also provides vocals to the album. The album's cover art painting, illustrations, design, and layout were handled by Khaos Diktator Design.
Also sprach Futura will see release on digipack MCD, 10″ vinyl, special edition 10″ vinyl, and all digital platforms via Debemur Morti Productions on March 13th.
Find preorders at the US label shop HERE, the Euro webshop HERE, and Bandcamp HERE.
"After nine years and three full-lengths, it's safe to conclude that the London-based avant-garde black metal/doom quartet Lychgate are a singular band, utterly peerless in their genre. While that's in part because LYCHGATE sound nothing like any other band, past or current, the group also continuously pushes themselves into more challenging territories, while we, their listeners, are always eager to follow." – Decibel Magazine
"If you're a fan of the carnivalesque, wandering around cities at 3am with a host of drugs in your system having a grand battle royale, and the kind of down-the-rabbit-hole, sense-warping realms where Chthulhu stirs… we might have something for you." – Metal Hammer
"…one of the most promising and aggressively odd bands in recent years… Their new EP, Also sprach Futura, is a focused burst of experimentation, and it slays." – Stereogum
"For all its jaw-dropping intricacy, Also sprach Futura seethes with a distinct physicality… This band is undeniably powerful and incredibly original, somehow memorable despite themselves, and one can barely imagine the heights they are yet to climb." – No Clean Singing
"LYCHGATE's ability to craft some of the most intricate and yet accessible chaotic songs we have heard in quite a while is unrivaled. The band's craft is highly refined and guaranteed to have a high replay value as every time we listen to this EP we discover new little elements that we didn't hear before. 92/100″ – Infernal Masquerade
"Many times used and therefore already becoming a cliché, the truth is that LYCHGATE presents more ideas and approaches in this four track EP than most bands in their whole discography." – Moshpit Nation
https://www.facebook.com/Lychgate
https://lychgate.bandcamp.com
http://www.debemur-morti.com
http://www.facebook.com/debemurmorti
http://www.instagram.com/debemurmorti
http://dmp666.bandcamp.com