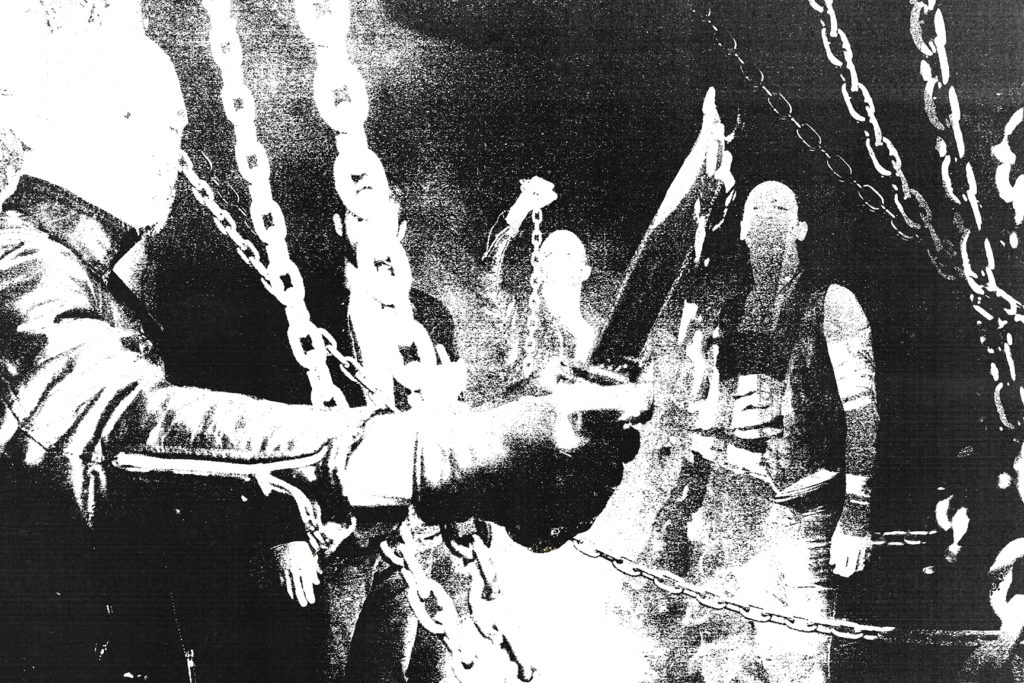 Tune in to Cvlt Nation to hear the relentless new Choir Of Babel LP by New York City-based harsh black/death outfit RUIN LUST. The album is hosted for exclusive streaming ahead of its official release this Friday, the band's first album for underworld juggernaut 20 Buck Spin.
Recorded and mixed by Travis Bacon, mastered by Dan Lowndes at Resonance Sound Studio, and completed with artwork by the band, Choir Of Babel promises to be one of the harshest titles ever to be issued under the 20 Buck Spin banner. Whether one classifies this under the banner of death metal, black metal, war metal, or any other extreme metal subgenre, the suffocating savagery of RUIN LUST has no remorse for destruction left in its wake, only more cruelty.
Writes Cvlt Nation, "This record will drill holes into your skull with its bestial riffs, lurking in the shadows and ready to attack all of your braincells. The production is spot on and only enhances the filth factor that they're spitting out!"
Stream RUIN LUST's Choir Of Babel LP at Cvlt Nation RIGHT HERE.
RUIN LUST's Choir Of Babel will be released this Friday the 13th of March on LP, CD, cassette, and digital via 20 Buck Spin. Find preorders at Bandcamp HERE and the label webshop HERE.
RUIN LUST will play the third Migration Fest in Pittsburgh this August, joining labelmates Vastum, Obsequiae, Tomb Mold, Ulthar, Immortal Bird, and others, as well as Falls Of Rauros, Kowloon Walled City, Mizmor, and more. Stand by for additional live announcements to take shape.
RUIN LUST Live:
6/13/2020 Atlas Brew Works – Washington, DC w/ Ascended Dead, Left Cross, Immiseration [info]
8/01-02/2020 Migration Fest @ Mr. Small's Theatre – Pittsburgh, PA [info]
RUIN LUST has spent the better part of the last decade spreading a drape of black violence across the dank basement corners of the deepest underground. Though temporarily dormant after their debut, the band returned with new music in 2019 with their Sacrifice album. And now, in 2020, the third RUIN LUST atrocity Choir Of Babel marks the band's 20 Buck Spin debut.
Thoroughly uncompromising and bestial, Choir Of Babel squanders no time on subtlety, laying waste with barbaric ferocity via a ruthless attack crafted not to disappear in a blur of forgettable noise but devastate with jagged menace and complexity. Visions of blood red bodies in mass graves, piles of broken skulls and decimated fields strewn with carrion pervades the war-like stench of death conducting this primal choir. Fans of Revenge, Archgoat, Mylingar, Of Feather And Bone, Embrace Of Thorns, and Bestial Warlust, take note
https://ruinlust.bandcamp.com
http://www.20buckspin.com
http://www.facebook.com/20buckspin
http://twitter.com/20buckspinlabel