Detroit punk/metal unit CHILD BITE kicks off their anticipated US trek supporting Today Is The Day tonight, March 9th. Currently underway, the band will join the No Good To Anyone tour in New Orleans, Louisiana and remain through its final date on April 5th in Manchester, New Hampshire. Additional support will be provided by The Obsessed and -16- on select shows. See all confirmed dates below.
CHILD BITE continues to tour in support of their Blow Off The Omens full-length, released late last fall via Housecore Records. Captured by legendary engineer Steve Albini (Nirvana, Neurosis, The Jesus Lizard) and mixed by Grammy award-winning engineer Collin Dupuis (Tomahawk, Dr. John, Lana Del Rey), the nine-track offering is a leaner, meaner follow-up to the band's critically lauded 2016 full-length, Negative Noise. From the head bob-inducing, noise rock groove of "Vexed Life" to the Jello-Biafra-with-NoMeansNo-esque freight train that is "They All Look Away," Blow Off The Omens covers a lot of ground within its half-hour running time. Riffs indebted to both Piggy and Pig Champion root their way throughout the album like alt-metal/hardcore hogs on the hunt.
CHILD BITE's Blow Off The Omens is out now on CD, digital, and limited-edition vinyl formats. For physical orders, visit the Housecore store at THIS LOCATION. For digital orders, go the CHILD BITE Bandcamp page at THIS LOCATION where the record can be streamed.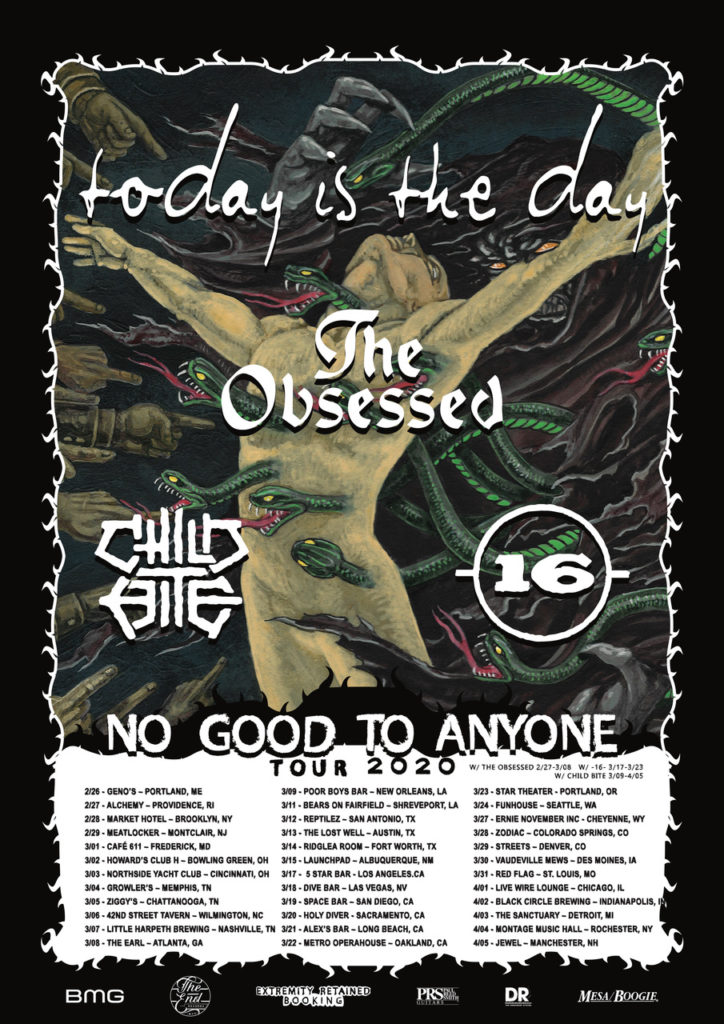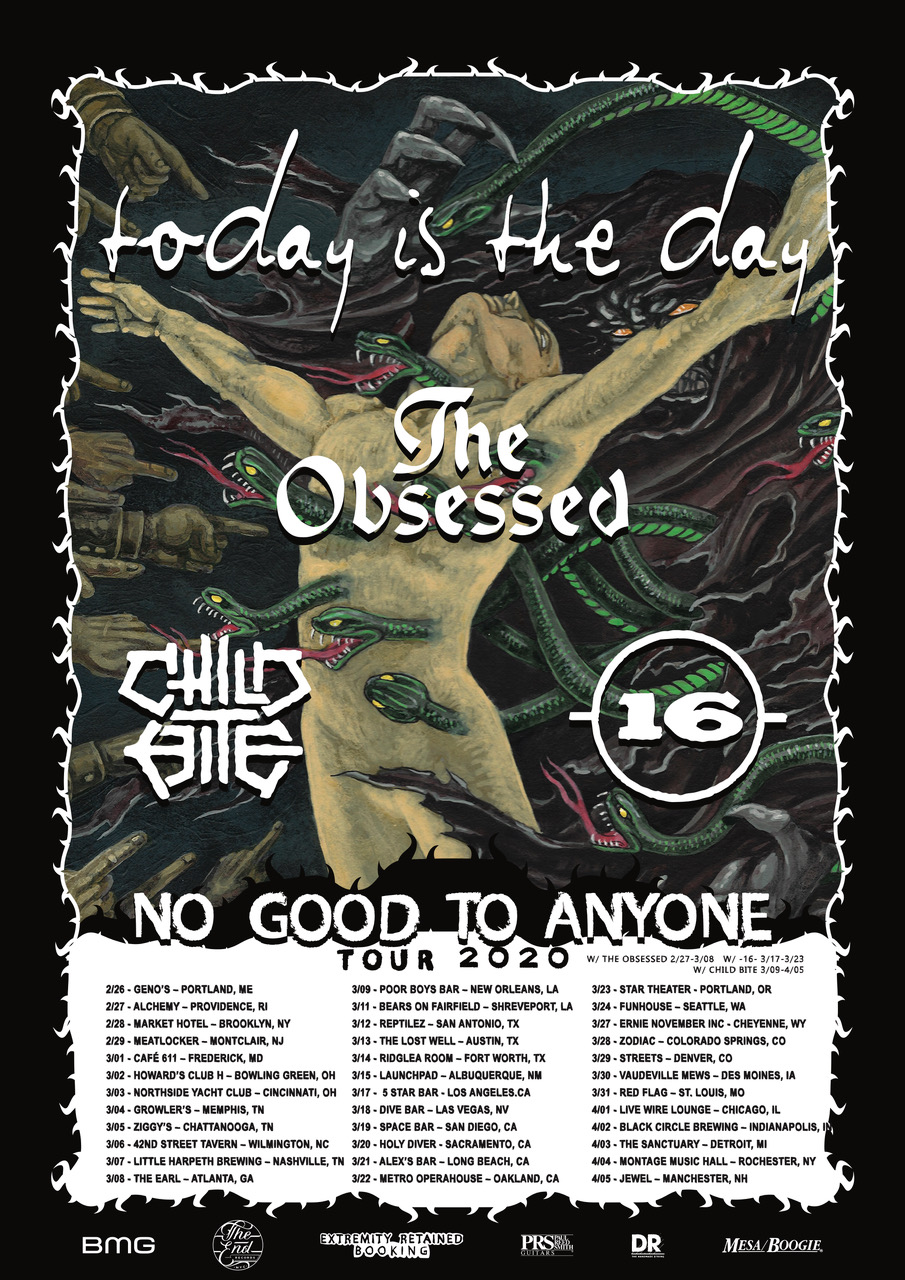 CHILD BITE w/ Today Is The Day:
3/09/2020 Poor Boys – New Orleans, LA
3/10/2020 Freetown – Lafayette, LA
3/11/2020 Bears – Shreveport, LA
3/12/2020 Reptilez – San Antonio, TX
3/13/2020 The Lost Well – Austin, TX
3/14/2020 Ridglea Room – Fort Worth, TX
3/15/2020 Launchpad – Albuquerque, NM
3/17/2020 5 Star Bar – Los Angeles, CA w/ -16-
3/18/2020 Dive Bar – Las Vegas, NV w/ -16-
3/19/2020 Brick By Brick – San Diego, CA w/ -16-
3/20/2020 Holy Diver – Sacramento, CA w/ -16-
3/21/2020 Alex's Bar – Long Beach, CA w/ -16-
3/22/2020 Oakland Metro Operahouse – Oakland, CA w/ -16-
3/23/2020 Star Theater – Portland, OR w/ -16-
3/24/2020 Funhouse – Seattle, WA
3/27/2020 Ernie November – Cheyenne, WY
3/28/2020 Zodiac – Colorado Springs, CO
3/29/2020 Streets – Denver, CO
3/30/2020 Vaudeville Mews – Des Moines, IA
3/31/2020 Red Flag – St. Louis, MO
4/01/2020 Live Wire – Chicago, IL
4/02/2020 Black Circle Brewing – Indianapolis, IN
4/03/2020 Sanctuary – Detroit, MI
4/04/2020 Montage Music Hall – Rochester, NY w/ The Obsessed
4/05/2020 Jewel – Manchester, NH w/ The Obsessed
"…if you wanna call CHILD BITE noise rock, you ain't wrong. But the most accurate term for this nine-song, thirty-minute installment of angular and skittish facebreaker is just fucking awesome." – Decibel
"…this new song, which closes the album and kinda sounds like Pere Ubu and The Jesus Lizard had a baby. It's as loud and noisy and weird as you'd hope for from CHILD BITE, and you can stream it in all its grimy glory…" – BrooklynVegan on Blow Off The Omens' title track
"…a punchy, pissed-off, and catchy collection of songs that were captured perfectly by esteemed engineer Steve Albini…" – New Noise Magazine
"Without a single weak track in the mix, Blow Off The Omens is CHILD BITE's most polished record to date, but not so polished that it doesn't retain their dirty, grimy sound." – Rock Shock Pop
"…the metamorphosis from simple noise anarchists to this bewildering behemoth of rawkin' riffs continues to arouse and astound." – Rock And Roll Fables
"…the band follows up 2016's Negative Noise with an album that retains the bands eccentric qualities, but packages it up in a sinewy, frenzied collection of songs that are among the most focused and deliberate of their career. …Blow Off The Omens is CHILD BITE at their finest." – The Void Report
"…it's grimy, it's manic and like a hallucinogenic siren, you'll have the constant nagging feeling that you should be diving for the nearest concrete bunker." – Blessed Altar
"If you're a weirdo who likes strange, heavy, fucked up music, you should check out CHILD BITE and Blow Off The Omens!" – Punk News
"The music is heavy, weird, bombastic and is indebted to Voivod just as much as it is to Cosmic Psychos, MC5 and Dead Kennedys. They have Bad Brain roots and filter them through proggy metal and noise rock. – Hanging Hex
"…a brilliant album that captures this band's unique creative energy. There is no filler on this album. Each song provides insight and emotion wrapped in the frenetic musical method that only CHILD BITE can provide." – Loud Hailer
"…a stunning creation and without question one of, if not the punk album of the year." – Astral Noize UK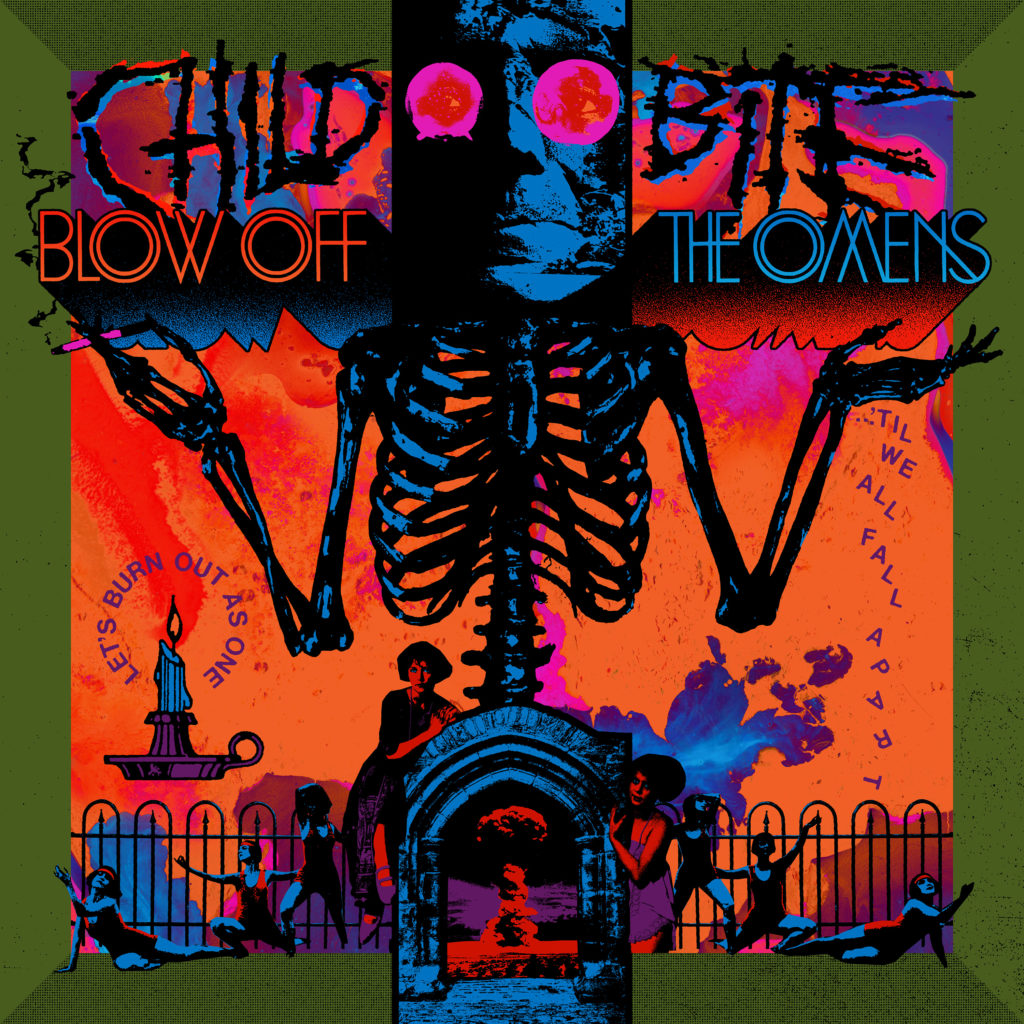 http://www.childbite.com
http://www.facebook.com/childbite
http://www.twitter.com/childbite
http://www.thehousecorerecords.com
http://www.facebook.com/housecorerecords
http://www.twitter.com/Housecore_Press
http://www.instagram.com/housecorerecords
http://thehousecorestore-com.3dcartstores.com