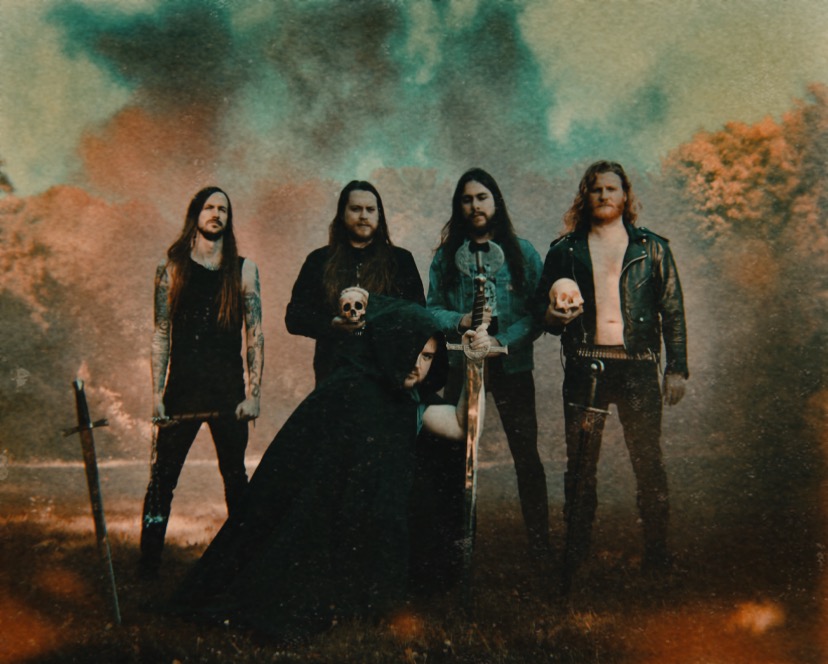 [photo by Courtney Brooke]
Massachusetts-based crossover outfit HIGH COMMAND has announced new tour dates for the spring months, confirming a short tour of Canada in April.
HIGH COMMAND continues to support their Southern Lord-released debut LP, Beyond The Wall Of Desolation. The album delivers an onslaught of searing thrash/hardcore aggression. The band's ravenous delivery is magnified by the powerful recording courtesy of Machines With Magnets (Daughters, The Body, Lingua Ignota), and mastering by Brad Boatright at Audiosiege (Obituary, Integrity, Black Breath).
HIGH COMMAND kicks off their 2020 tour schedule with a vengeance. First up, the band will headline a three-city run with support from Shadowland, playing Washington, Philadelphia, and Brooklyn March 20th through 22nd. From there, HIGH COMMAND will provide direct support for Ringworm, playing Baltimore, Richmond, Durham, Atlanta, Memphis, Dayton, Louisville, Indianapolis, and Cincinnati through April 1st, with a one-off headlining show in Pittsburgh ending the run on April 2nd. And just in, the band will then tour through Eastern Canada with Rhythm Of Fear, with shows in Quebec City, Montreal, Ottawa, and Toronto April 30th through May 3rd. See all confirmed dates below and watch for new updates to post.
Stream HIGH COMMAND's Beyond The Wall Of Desolation in its entirety RIGHT HERE.
Beyond The Wall Of Desolation is available on CD, LP, and digital via Bandcamp HERE and the Southern Lord webshop HERE, including a new pressing on white vinyl.
HIGH COMMAND Tour Dates:
3/20/2020 Atlas Brew Works – Washington, DC w/ Shadowland
3/21/2020 Vanishing Point – Philadelphia, PA w/ Shadowland
3/22/2020 Saint Vitus Bar – Brooklyn, NY w/ Shadowland
3/23/2020 Metro Cafe – Baltimore, MD w/ Ringworm
3/24/2020 Wonderland – Richmond, VA w/ Ringworm
3/25/2020 Local 506 – Durham, NC w/ Ringworm
3/26/2020 The Basement – Atlanta, GA w/ Ringworm
3/27/2020 HiTone – Memphis, TN w/ Ringworm
3/28/2020 TBA – Dayton, OH w/ Ringworm
3/29/2020 Rockerbuilt – Louisville, KY w/ Ringworm
3/31/2020 Black Circle – Indianapolis, IN w/ Ringworm
4/01/2020 Northside Yacht Club – Cincinnati, OH w/ Ringworm
4/02/2020 Rock Room – Pittsburgh, PA
4/30/2020 La Source de la Martinière – Quebec City, QC w/ Rhythm Of Fear
5/01/2020 Turbo Haus – Montreal, QC w/ Rhythm Of Fear
5/02/2020 Dominion Tavern – Ottawa, ON w/ Rhythm Of Fear
5/03/2020 Sneaky Dee's – Toronto, ON w/ Rhythm Of Fear
https://highcommand.bandcamp.com
https://www.facebook.com/HighCommand
http://www.southernlord.com
http://southernlord.bandcamp.com
http://twitter.com/twatterlord
https://www.facebook.com/SLadmin
https://www.instagram.com/southernlordrecords