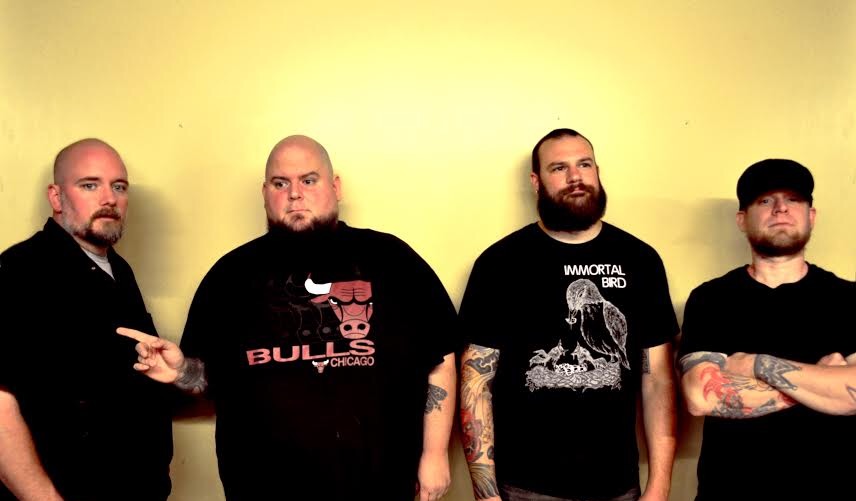 Ohio riff wielders LO-PAN will take to the streets again for a short run of live dates later this week supporting The Atomic Bitchwax on a portion of their tour through August 27th. Additional support will be provided by Dirty Streets. Set to commence this Friday, August 19th in Charlotte, North Carolina, LO-PAN's latest trek includes a performance at Psycho Las Vegas at the Hard Rock Hotel & Casino alongside the likes of Alice Cooper, Blue Öyster Cult, Electric Wizard, Sleep and many others. It also marks the four-piece's first tour with new guitarist Chris Thompson.
Comments drummer Jesse Bartz, "The train don't stop! New guitarist Chris Thompson has us practicing some older stuff too. We will be playing a wide variety of material from our previous recordings as well as some new material. Really stoked to be able to tour with The Atomic Bitchwax and Dirty Streets. Both are top notch not to be missed rock bands. We cannot wait to see some of our favorite bands of all time at Psycho Vegas!"
LO PAN w/ The Atomic Bitchwax, Dirty Streets:
8/19/2016 The Milestone – Charlotte, NC
8/20/2016 The Tavern – Hattiesburg, MS
8/21/2016 Siberia – New Orleans, LA
8/22/2016 Limelight – San Antonio, TX
8/23/2016 White Oak Music Hall – Houston, TX
8/24/2016 Grizzly Hall – Austin, TX
8/25/2016 Rail Club – Ft. Worth, TX
8/26/2016 Ned's Bar – Albuquerque, NM
8/27/2016 Flycatcher – Tucson, AZ
8/28/2016 Hard Rock Hotel & Casino – Las Vegas, NV @ Psycho Vegas
LO-PAN continues to tour in support of their critically lauded Colossus full-length, released via Small Stone. Produced and engineered by Andrew Schneider (Unsane, Rosetta, East Of The Wall et al) at his own Translator Audio in Brooklyn, New York and named for an ancient statue of the Greek titan-god of the sun, Helios, the record continues to raise the eyebrows of fans and media globally.
"…an essential heavy rock album…" — Sputnik Music
"Not only do they bring the rock to the world of stoner rock, they are also master craftsmen, knowing how to write classic-sounding tunes." – Verbicide
"Like the real-life manifestations of the album's title, LO-PAN are giants walking the earth and Colossus will leave a heavy footprint in the mind of anyone who hears it. Rarely will getting stepped on sound so good." – Hellride
"…if you're into powerful, driving, stoner influenced heavy rock that is big on riffs and melodies and gut punching grooves then this album will thrill you." — The Sleeping Shaman
"If Torche and Roadsaw had a baby, the resulting bouncing baby boy would be Ohio's LO-PAN. Take those sludgy riffs and clean vocals that bring to mind Roadsaw's Craig Riggs and you have the recipe for something great…a monumentally monolithic masterpiece from start to finish." — Rockandrollfables.com
Colossus is out now via Small Stone Recordings. Order your copy today at THIS LOCATION.
http://www.lopandemic.com
http://www.facebook.com/lopandemic?fref=ts
http://www.smallstone.com
http://www.facebook.com/smallstonerecords?fref=ts