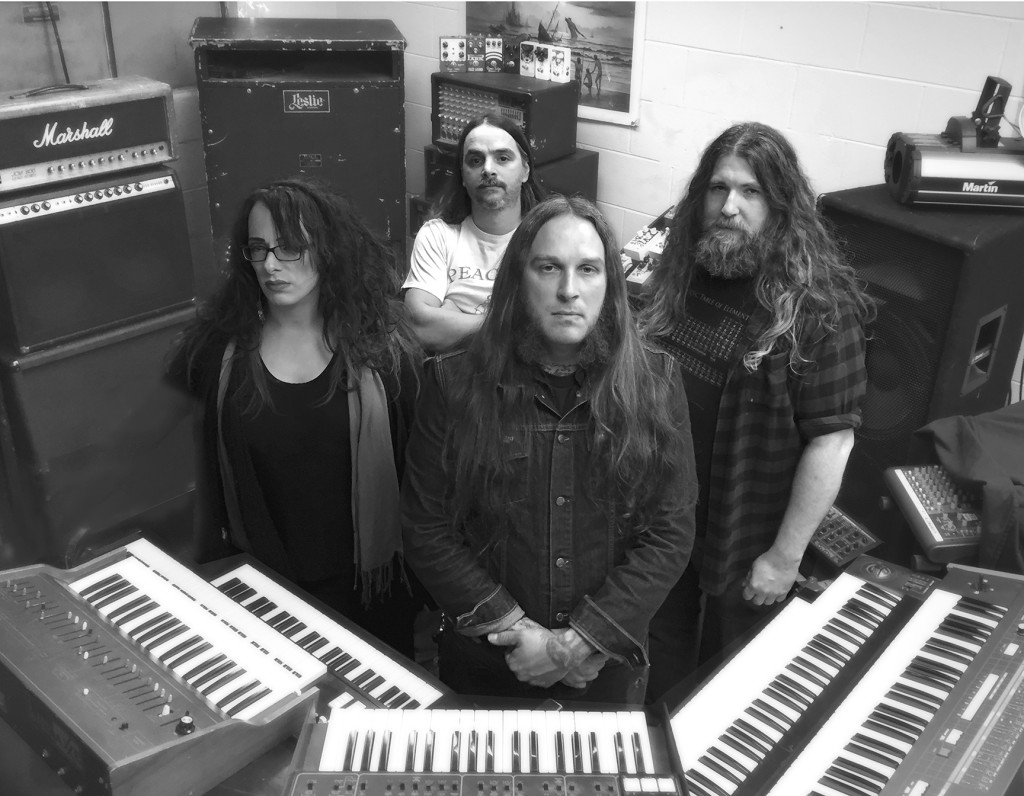 The taskmaster at rock underworld portal The Obelisk has posted a preview for Ohio-based psychedelic rock outfit, EYE, as the band prepares to play the web portal's mighty All-Dayer gathering this Saturday, August 20th in Brooklyn. The trailer offers the first preview of the band's impending Laser's Edge LP, Vision And The Ageless Light, displaying the cover art and clips from the opening track "Book Of The Dead."
EYE continues to connect with established fans and newcomers alike with their fourth release, Vision And The Ageless Light. Offers The Obelisk, "EYE were the final band to be added to the lineup for the first-ever The Obelisk All-Dayer, and what they bring to the lineup is something distinct from every other band involved. Their lush, melodically rich progressive psychedelia is utterly spaced in its atmosphere, but still maintains an emotional crux, as the swirling synth and guitar, vocal harmonies and contemplative rhythms display across their first to albums leading up to this one." The All-Dayer also features sets from Mars Red Sky, Death Alley, Snail, Kings Destroy, Funeral Horse, King Buffalo, and Heavy Temple.
Check out the trailer for the new EYE album and more on the gathering RIGHT HERE.
Vision And Ageless Light is full of ever-changing moods, sound and color. Laser's Edge will issue the album on CD, LP, and digital formats on November 18th, 2016; additional audio samples, preorders, tour dates, and much more from EYE will be released over the coming months.
EYE Live:
8/20/2016 Saint Vitus Bar – Brooklyn, NY @ The Obelisk All-Dayer [info]
Vision And Ageless Light Track Listing:
1. Book Of The Dead
2. Kill The Slavemaster
3. Searching
4. Dweller Of The Twilight Void
5. As Sure As The Sun
6. As Sure As The Sun (Continued)
The writing process for Vision And Ageless Light began immediately after the recording and mixing of EYE's previous album, Second Sight. Brandon Smith and Lisa Bella Donna met almost every day for several months greatly inspired to continue the prolific spirit of writing they had developed together on the prior release. Many sessions would start with just sitting together with pen, paper, and a cassette recorder. Songs like "Searching" and "Dweller Of The Twilight Void" were penned in one session. While the epic "As Sure As The Sun" was written and arranged over many sessions in the rehearsal studio jamming and fleshing out ideas.
During this time original bassist Matt Bailey and Guitarist Matt Auxier had amicably parted ways with EYE. Bassist Michael Sliclen and guitarist Jon Finely joined and the chemistry and connection was immediately intact. They both began learning and honing the back catalog of EYE, not skipping a beat with live shows, and both came into the songwriting fold as well.
The recording and mixing sessions for Vision And Ageless Light were quite unorthodox. Starting at Relay Recording with Jon Fintel where they had just finished tracking a full 2xLP of unreleased material with the original lineup, they experimented with cutting tracks at their roomy rehearsal studio; their sole intention was capturing the moment and searching for new sounds. After cutting lots of tracks with their mobile recording setup, they picked up momentum at Lisa Bella Donna's Backroads Recording studio where all of "Second Sight" was recorded and mixed. They incorporated many classic studio techniques to create a mountainous curve to the atmosphere to the record; vintage instruments guitars, keyboards, and amplifiers, a mass of modular synthesizers, upright bass, reverse tape editing techniques, mixing down to different reel to reel recorders, singing and playing together, gongs, Tibetan prayer bowls, chimes, and much more. The production of the record was fully intended to keep a flowing river of sound and atmosphere throughout its duration, yet centering it with raw, visceral live performances to tape.
During this time EYE was approached by Ken Golden of Laser's Edge, who was already a fan of the band, and was excited to get involved with the release and promotion of the record. Upon completion, Vision And Ageless Light given the finishing touches by the talented Phil Demetro from Lacquer Channel Mastering in Toronto, Canada, and as with the previous three EYE LPs Anthony Yankovic completed the artwork and illustration.
Vision And Ageless Light is a clear capturing of an epic and ecliptic chapter for the band. It stands as a sonic document of a spirit of a band that rolled through a plethora of endless changes and seasons during its writing, recording, and completion. It also marks as an introduction to a new solid, more musically communicative lineup of the group with the original songwriting foundation of it still mightily intact.
EYE is:
Brandon Smith – drums, gongs, bells, chimes, percussion, voices
Lisa Bella Donna – organ, mellotron, guitars, synthesizers, voices
Michael Sliclen – electric and upright bass, percussion, voices
Jon Finley – electric and acoustic guitars
https://eyemusic.bandcamp.com
https://www.facebook.com/EYE00
http://eyemusic.bigcartel.com
http://www.lasersedgegroup.com
http://www.facebook.com/TheLasersEdge
http://www.twitter.com/thelasersedge