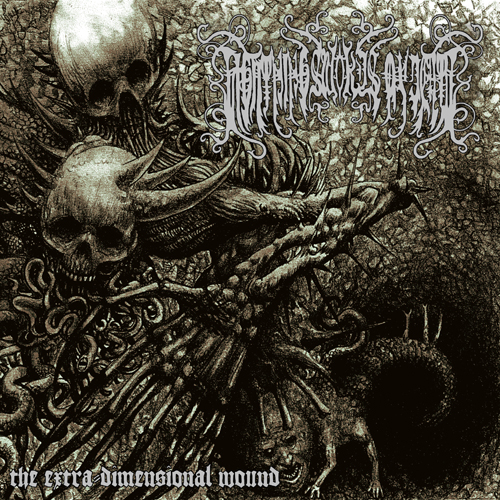 The Extra Dimensional Wound, the second full-length from California black metal legion LIGHTNING SWORDS OF DEATH, will see its vinyl release via Canonical Hours Records. The wax version will be released on December 15th as a deluxe gatefold LP featuring two 200-gram discs with a 12-page booklet and expanded artwork in a limited edition of 500 copies.
Said the band in a collective statement:"If you enjoyed this release you MUST hear it on 200 gram vinyl as it was intended. We've also included a poster featuring new art."
The Extra Dimensional Wound was released earlier this year via Metal Blade Records. Their second official studio offering (and first for the label) continues to reap critical accolades for it's infernal crushingness. Said About.com of the outing: "one of the label's best releases in recent memory. What makes this album work so well is that LSOD haven't lost their powerful low end, their penchant for blasphemy [or] their H.P. Lovecraft tinged-lyrics….." Stereogum commended the band saying The Extra Dimensional Wound is, "brutal, icy hot, super heavy, [and] full of lurching 'grooves,'" while Invisible Oranges added adamantly: "…perhaps the first American black metal band who can go toe-to-toe with Europe's heavy-hitters in terms of force." Sea Of Tranquility called it "a solid old school sounding release the ups the ante as far as the brutality goes," and The Gauntlet put it simply: "LIGHTNING SWORDS OF DEATH evoke unforgiving torture and terror with every note."
In conjunction with the vinyl release, the band will take their auditory brutality to the stage later this month for a special pre-holiday one-off show with more dates to be announced in the coming weeks.
LIGHTNING SWORDS OF DEATH Live:
12/17/2010 The Blvd – Los Angeles, CA
http://www.myspace.com/lightningswordsofdeath
http://www.facebook.com/lightningswordsofdeath
http://www.metalblade.com
http://www.canonicalhours.com