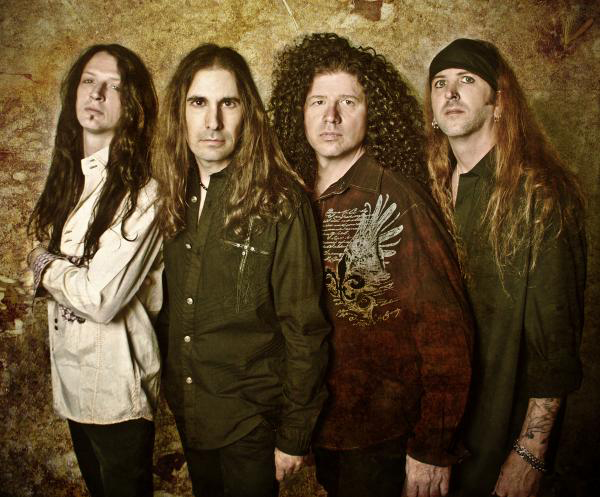 American power metal kings CIRCLE II CIRCLE — featuring vocalist Zak Stevens of Savatage fame — are currently rocking through the Midwest US on the newest leg of their ongoing world tour, which is in support of their latest album Consequence Of Power. The band will play Kenosha, Wisconsin tonight on their way to the final two shows in Chicago and Cleveland.
Stated Zak Stevens from the road this week: "We're still cruising along playing shows in the Midwest in Ohio, Illinois, Wisconsin, Minnesota in November and December to finish off our initial world tour in support of our new CD Consequence Of Power. We'll be touring out across the U.S. supporting the new album throughout 2011. We're looking forward to seeing all our fans across the country in the coming year and we're very excited about the worldwide response to the new record."
CIRCLE II CIRCLE Remaining Midwest US Shows:
12/04/2010 Hattrix Bar – Kenosha, WI
12/10/2010 Nitecap Chicago – Chicago, IL
12/16/2010 The Phantasy Nite Club – Cleveland, OH
Interviews with the CIIC frontman will be available for phone interviews this week in a limited fashion while still on the road this week, and then again once they return from the current tour. Please get in touch with Earsplit right away to schedule an interview!
+++++
When Savatage singer Zak Stevens left the band in 2000 to form CIRCLE II CIRCLE, the whole power metal scene listened up. Right from the debut of their first album Watching In Silence, Zak made it unmistakably clear that he was willing and able to continue where Savatage had left off, but without giving his new band's sound a more up-to-date feel. His charismatic personality and unmatchable vocal talent established the name CIRCLE II CIRCLE in the metal scene within a very short period of time.
With the release of CIRCLE II CIRCLE's fifth studio album Consequence Of Power, the master vocalist and his band return with their ultimate masterpiece. This release is musically the most mature album in the band's history, wrapped in outstanding lyrical content, and sure to please and amaze every fan of Zak and Savatage.
"…what tends to make CIRCLE II CIRCLE albums resonate with a cross section of hard rock, heavy metal, and even prog fans is the purity of delivery and the fundamental basis of the songwriting, both of which characterize Consequence of Power." – Blabbermouth
"On Consequence of Power, Circle II Circle proves over and over again that power metal doesn't have to be alienating and wanky, over-the-top absurd, or dependent on flashy solos in place of meaningful expression; it can be melodic hard rock played with talent and both instrumental and compositional skill." – All Music Guide
"If pondering the output of Savatage members in the 2000's, one could argue that Zak Stevens and his group Circle II Circle has been the most productive as well as adhering to his emotional, confident metal sensibilities." – Blistering
"Musically, this is a great album with equal emphasis on the drums and guitars both competing with Zak for supremacy." – Metal-Rules
http://www.circle2circle.net
http://www.myspace.com/circleiicircle
http://www.afm-records.de
http://www.myspace.com/afmrecordsgermany