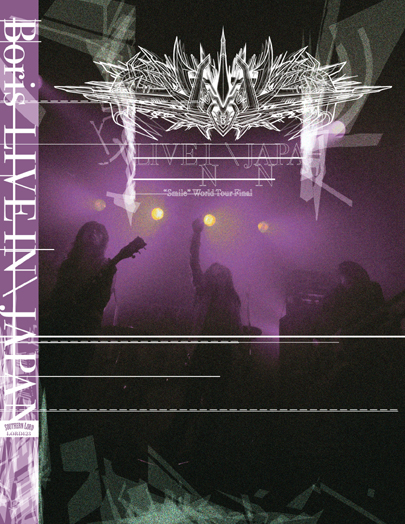 Japan's rock experimentalists BORIS are well-known not only for their epic discography — as they've unleashed multiple releases to the public every year in countless formats since their formation in the early 90s — but also for their captivating live performances they're constantly booking, playing live throughout every habitable continent on the planet over the past decade and a half. The next official release from the band will bring fans a bit of both worlds, in the form of the band's first official domestic live DVD from the band!
Set for release via Southern Lord on January 18, 2011, the Live In Japan DVD captures the intriguing power, majesty and unique psychedelia that only BORIS can deliver, and will bring the band's incredible stage act to fans who have never witnessed the band live, as well as diehards who venture out to see the act every chance they get. The footage on this official DVD release was filmed in Tokyo at the final show of the band's 2008 Smile World Tour. Featuring a full set of eleven BORIS originals filmed at Daikanyama Unit, as well as three bonus videos from a set at the Shibuya Club Quattro, this DVD is quite special since BORIS actually play on other continents much more often than in their home country!
Check out the new trailer from the DVD here:
BORIS Live In Japan DVD Track Listing:
1. Flower Sun Rain
2. Buzz-In
3. Laser Beam
4. Pink
5. Statement
6. Floor Shaker
7. Rainbow
8. My Neighbor Satan
9. Ka Re Ha Te Ta Sa Ki – No One's Grieve
10. You Were Holding An Umbrella
11. " "
Bonus Tracks From Shibuya Club Quattro:
12. Tokyo Wonder Land
13. A Bao A Qu
14. Farewell
Stay tuned for more updates on BORIS in the coming weeks, as 2011 will prove to be yet another extremely productive year for one of the hardest working bands in rock!
http://www.inoxia-rec.com/boris
http://www.myspace.com/borisdronevil
http://www.southernlord.com
http://blog.southernlord.com
http://www.myspace.com/southernlordrecordings
http://twitter.com/twatterlord