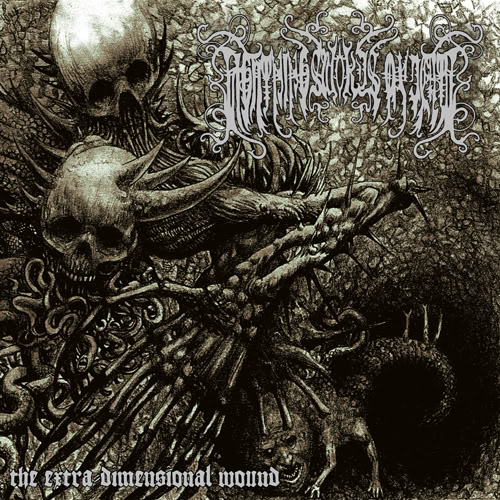 Los Angeles black metal collective, LIGHTNING SWORDS OF DEATH, who were slated to kick off a month-long U.S. tour supporting death metal legends Master last week, were forced to head back home when the headliners were prevented from entering the country.
Commented vocalist Autarch of the unfortunate tour cancellation: "Know this: LIGHTNING SWORDS OF DEATH was thoroughly prepared for this tour only to be thwarted by circumstances beyond our control. I assure you all, we shall return with a vengeance in the near future. Already the black teet of kaos have begun to drip strange opportunity upon the ashes of this Master disaster. I shall reveal more details as they materialize."
LIGHTNING SWORDS OF DEATH's The Extra Dimensional Wound, their second full-length, released via Metal Blade Records last year, was released on vinyl in December via Canonical Hours Records and is available as a deluxe gatefold LP featuring two 200-gram discs with a 12-page booklet and expanded artwork in a limited edition of 500 copies. In honor of its infernal magnanimity, Decibel Magazine is holding a special caption contest this weekend. The photo to be captioned features LSOD guitarist and Endless Blizzard mastermind Roskva manning the merch table. Best caption wins the vinyl. For further details (and to check out the photo) visit Decibel Magazine. Contest ends at 8:00am Monday! Don't miss it.
"LIGHTNING SWORDS OF DEATH evoke unforgiving torture and terror with every note." – The Gauntlet
http://www.facebook.com/lightningswordsofdeath
http://www.myspace.com/lightningswordsofdeath
http://www.metalblade.com
http://www.canonicalhours.com